We're halfway through the year and 2023 has been an epic year for new anime shows that are totally worth watching. If you're wondering which animes are the best in 2023 then we bring you the list of 10 best anime of 2023 so far.
From action-packed adventures to fantasy, romance, comedy, or drama we have seen it all and after considering all the aspects like jaw-dropping action, mind-blowing animation, captivating storytelling, awesome world-building, or overall character development, we bring you the best of the best. So, here are the top 10 best anime of 2023.
Here are the top anime of 2023
10. Trigun Stampede
Starting off with a surprise pick with Trigun Stampede. If you've read my blog then, you'll know I love the original Trigun. So, when Stampede was announced and aired, my expectations were high, and I wasn't disappointed. Enjoying Trigun Stampede is like appreciating Ruby's Ice Queendom.
It may not be the ultimate remake, sequel, or new anime that perfectly matches the original Trigun, but such instances are rare. Still, Stampede satisfied my thirst for Trigun in the 2020s. It offers a familiar yet different experience, and I believe it compares quite favorably to the original.
The focus on characters gives it a similar taste to the old one with a new twist. Plus, the production quality is commendable. Overall, it's an awesome anime like the old ones.
| | |
| --- | --- |
| Japanese Name | Trigun Stampede |
| Genre | Action, Adventure, Sci-Fi |
| Studio | Orange |
| Dubbed | Yes |
---
---
09. Blades of the Guardians
Taking my number nine spot, Blade of the Guardians! What makes it stand out are the mind-blowing action scenes – they're simply amazing! The animation is super cool and stylish, making you jump with excitement from your seat.
The battles showcase incredible strength and lightning-fast combos, like a martial arts symphony for your eyes. If you are looking for the best sword fight in 2023 then Blades of the Guardians is the anime for you. You'll be left in awe and cheering for more, for sure! But it's not just about the action and emotions; this Chinese anime also explores some seriously cool themes.
So there you have it, folks! Blade of the Guardians is an anime taking 2023 by storm, with its awesome action, lovable characters, and powerful messages, securing its spot among the best of the best.
| | |
| --- | --- |
| Japanese Name | Biao Ren: Blades of the Guardians |
| Genre | Action, Historical, Adventure |
| Studio | Colored Pencil Animation |
| Dubbed | No |
---
08. Heavenly Delusion
Coming up next, we've got Heavenly Delusion. I might be influenced by its recent release, but Heavenly Delusion has genuinely impressed me so far. Initially, I almost overlooked it during the seasonal preview for Spring, but I'm so glad I gave it a chance.
The anime boasts a unique atmosphere that's not commonly seen in other shows. People have even drawn comparisons to series like Promised Neverland, Sunny Boy, and The Last of Us, and I find myself agreeing with them. It's a captivating series that keeps you hooked with its mystery and layers of questions.
Heavenly Delusion thrives on its atmosphere, setting, and occasional action that keeps the pace intense and engaging. And all of this is complemented by excellent art and sound direction, creating the perfect ambiance for a story set in such a world.
I didn't expect it to become mainstream, but for those who enjoy this genre, Heavenly Delusion is definitely a show you won't want to miss.
| | |
| --- | --- |
| Japanese Name | Tengoku Daimakyō |
| Genre | Adventure, Mystery, Sci-Fi |
| Studio | Production I.G |
| Dubbed | Yes |
---
07. Dr. Stone: New World
Right before the halfway mark, let's shine a light on Dr. Stone's New World! Wow, Dr. Stone has come a long way from its first season, hasn't it? If you're into exploration and a fantastic world, this is the story for you. One of the best adventure anime of 2023
Sure, there are other shows with adventure and exploration, but Dr. Stone takes a scientific approach that works really well. Stone Wars was great, and I was a bit sad to leave that part of the story, but New World showcases the beauty of expanding the Dr. Stone universe.
I'm always impressed by how seamlessly the focus shifts in the anime. It's the same characters and overarching theme, but the change in approach and overall tension keeps things fresh.
New World is the third season, and I'd recommend starting from the beginning to fully enjoy it. Dr. Stone is all about the journey, not just the hype of the moment. So take your time and savor every moment!
| | |
| --- | --- |
| Japanese Name | Dr. Stone: New World |
| Genre | Adventure, Sci-Fi, Shounen |
| Studio | TMS Entertainment |
| Dubbed | Yes |
---
06. Hell's Paradise
Hell's Paradise is an anime I eagerly waited for this spring in 2023. I had really high expectations for it, and as a Shounen fan, I thought it could become a big super hit in the anime world. While it hasn't made a huge impact yet but people are responding well to it.
It's not difficult to see why Hell's Paradise has become one of the most popular shows from spring 2023. The plot may not be super-mature or philosophical, but it does an excellent job with character development. It's really enjoyable to learn more about the convicts and their goals as the story unfolds. They all have their unique charms and are easy to root for, making their fight scenes a joy to watch.
If you love action, adventure, and anime fights, Hell's Paradise is a must-watch, and it's a great anime to start with since it's new and likely to have more episodes in the future.
| | |
| --- | --- |
| Japanese Name | Jigokuraku |
| Genre | Action, Adventure, Fantasy, Shounen |
| Studio | MAPPA |
| Dubbed | Yes |
---
05. Bungo Stray Dogs 4
Coming in at fifth place, we've got Bungo Stray Dogs 4. From being one of the biggest shounen series in the last five years to what I'd call an underrated seinen, especially outside Japan, it's been consistently loved by fans in its home country. But let me tell you, overseas viewers are missing out on one of the best action seinen anime out there! Bungo Stray Dogs proves its worth once again in its fourth season.
While I had many memorable moments from the previous seasons, this one takes the intensity to a whole new level. The stakes feel higher, the thrills and suspense have been cranked up big time, and there's even more character development.
Although the second season's climax, with the hero facing his rival against the villain, set an incredible bar for hype, the fourth season does an excellent job living up to its predecessors.
Bungo Stray Dogs is like a diamond in the rough, a hidden gem that deserves more love and recognition. It's not entirely a niche show, but I genuinely believe it should receive more appreciation and popularity. So, if you haven't experienced the awesomeness of Bungo Stray Dogs yet, then 2023 is the best time to give it a shot!
| | |
| --- | --- |
| Japanese Name | Bungo Stray Dogs 4 |
| Genre | Action, Mystery, Super Power, Supernatural, Seinen |
| Studio | Bones |
| Dubbed | Yes |
---
04. Demon Slayer: Kimetsu no Yaiba Swordsmith Village Arc
Now, let's talk about the newest season of Demon Slayer, because why not, right? Demon Slayer has left a big mark on the anime community since the end of the last decade, and Ufotable shows no signs of slowing down, breaking records left and right. This new Swordsmith Village Arc got the best fight of 2023
This momentum carries into the latest season, which I didn't personally hype up as much as Infinity Train or the Entertainment District arc, being a source reader. But don't overlook Swordsmith Village; it's a crucial part of the story with many memorable moments, shining a spotlight on important pillars.
If you have watched the previous Demon Slayer seasons Entertainment District Arc, you know what to expect in this one. Beautiful colors, mind-blowing animation, and top-notch production have become the norm in modern shounen blockbusters.
Sure, it might not break new ground in writing or characterization, but does it really have to? when its main appeal has always been the epic fights and thrilling moments that keep you on the edge of your seat. Not to mention, the characters who get to shine every other episode.
For me, Demon Slayer still does an excellent job of entertaining, and I believe it will maintain its momentum all the way to a fantastic cinematic finish as we approach the home stretch. So, get ready for more action-packed fun!
| | |
| --- | --- |
| Japanese Name | Kimetsu no Yaiba: Katanakaji no Sato-hen |
| Genre | Action, Demons, Historical, Shounen, Supernatural |
| Studio | ufotable |
| Dubbed | Yes |
---
03. Vinland Saga S2
I've always been a big fan of Vinland Saga because it's a complete package. It has action, character development, an engaging plot, meaningful story beats, and a captivating world, among other things.
I'm happy to say that this season of Vinland Saga maintains the same greatness, even with the significant shift in tone. Sometimes, when a series changes its tone drastically, it can be not that great to watch. But that's just how Vinland Saga is now. It's no longer a violent and perilous adventure; instead, it's become a slower-paced drama.
Despite this, the magic of the show is still present because its strength lies in its immersive world-building and character development. Even though this second season was no longer all about battles at sea, there's a whole new world to explore and more characters to get to know.
Now, the spotlight is on Thorfinn as a war veteran, and the focus is on what life means to people in this era. It might not be the best anime of the year 2023 just yet, but it's making a strong case.
| | |
| --- | --- |
| Japanese Name | Vinland Saga S2 |
| Genre | Action, Adventure, Drama |
| Studio | MAPPA |
| Dubbed | Yes |
---
02. Attack on Titan: The Final Season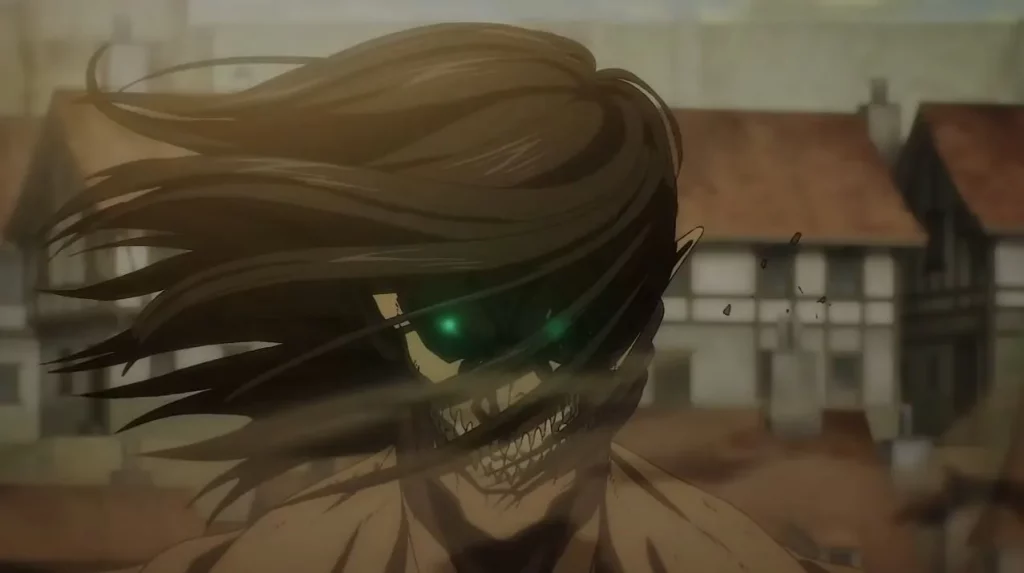 A decade ago, the world was introduced to the epic anime series known as Attack on Titan, and it has taken us on a roller-coaster journey since then. From tense and bleak opening seasons to the current state, I must say that Attack on Titan has given us the best of many worlds.
Despite its long run, I can't go into much detail about the latest season, but throughout these years, Attack on Titan has maintained its consistent tone and excellent production, even with the change in the studio. This show never fails to engage you with its action-packed fights, keeping you hooked with all the intriguing questions and mysteries that challenge your understanding of humanity.
It was a modern masterpiece a decade ago, and if you're one of those LAPS fans who watched only the first few parts, I suggest joining the ride again; it's totally worth it.
The hype may have toned down from the glory days, but the journey remains incredibly amazing, especially now that we're at the climax of the story. While many fans might be aware of the controversy surrounding its manga ending, I'm genuinely excited to see how the anime will handle it as we approach the final stages.
| | |
| --- | --- |
| Japanese Name | Shingeki no Kyojin: The Final Season |
| Genre | Action, Military, Mystery, Super Power, Drama, Fantasy, Shounen |
| Studio | MAPPA |
| Dubbed | Yes |
---
01. Oshi No Ko
The best anime of 2023 so far is Oshi No Ko. 2023 has seen one of the biggest anime phenomena, and it's on the list for sure. From the creator of the hit show Kaguya-sama, comes another title that takes a darker turn. Oshi No Ko had a lot of hype before the season began, and the anime team didn't disappoint; they surpassed expectations in many ways.
This show is receiving a lot of love and attention, starting from the movie-length opening episode to extensive social media marketing. They went all out for Oshi No Ko, and I believe it truly deserves all the praise. While the show's production is commendable, I personally focus more on its themes.
Oshi No Ko handles the criticism of the entertainment industry and parasocial relationships in a unique and impactful way. The characters are so compelling, and the crime thriller aspect hooks you in. The show delves deep into the darker aspects of showbiz matters.
Oshi No Ko is definitely one of the best hits this year, and it's gaining well-deserved praise. Not many shows can handle a genre like Oshi No Ko, and that's why it holds the top spot as my favorite anime of 2023, at least up until June. Don't miss out on watching this one!
| | |
| --- | --- |
| Japanese Name | Oshi No Ko (My Star) |
| Genre | Drama, Supernatural |
| Studio | Doga Kobo |
| Dubbed | Yes |
---
Similar Stories
10 Best Harem Anime with OP MC of 2023
---
Follow us on Facebook and Twitter for all the latest updates & top 10s.
---
Explore our full Top10 categories
Do you agree with our list of the 10 best anime of 2023? Tell us your favorite anime of 2023 in the comment below.