For some people, a 9-6 job is the only way to make a living. For others, entrepreneurship is the only way to achieve financial freedom. However, regardless of your career choice, you've probably watched at least one anime that features some business-related plotline. Business anime can teach us about the struggles and rewards of running a company and inspire us to make our own unique paths through life. We bring you the 10 best anime about business.
Here are the 10 best anime about business
Business is a system for creating, exchanging, and delivering value. It's the foundation of our economy and the backbone of our society. We're surrounded by it, but most of us don't think about how it works or manage it effectively. Anime is a great medium for exploring complex topics like business, and there are some animes on the subject that are worth watching.
Here are the 10 best anime about business. Must watch shows if you want an anime that shows the ins and outs of running a business.
10. C: The Money Of Soul And Possibility Control
The story revolves around a second-year economic student who frequently struggles to make ends meet while everyone around him is living a life of luxury. Be that as it may, his life takes an extremely odd turn when a strange person with a top hat pays him a visit one night.
Now, how will this young man change his life? This is kind of a sci-fi economics anime in which the basic economic hinges on these regular competitive duels that greedy people consistently compete in, but of course, there can also be severe consequences when one is offering their future as collateral.
---
---
09. Maoyu Archenemy & Hero
This is a really interesting anime that focuses on rebuilding a war-torn world now that humanity is more united than ever. It all begins when after 15 years of continuous war, the hero decides to forge ahead all by himself towards the demon queen's castle.
However, upon his arrival, he is mesmerized to find out the demon queen is a woman of unparalleled beauty. Plus, she also seeks the hero's help. Of course, the hero isn't so easily swayed by beauty. He refuses to ally himself with the enemy, but the queen makes an interesting point.
She tells the hero that the war has united the human race and has provided them with opportunities of building wealth and prosperity. The hero realizes that the woman's got the point. He agrees to join her and help her end the war and seek a better, more economical future for the world.
---
08. Ascendance Of A Bookworm
A girl named Urano Motosu has a natural knack for reading books. She loves them so much that she wants to make it a point to read all kinds of literature regardless of whatever topic it may fall in. She gets closer to her dream by almost becoming a librarian but loses her life in a traffic accident.
However, she gets reincarnated in a fantasy world but is quite disappointed when she finds out that there is an overwhelming lack of books in this world. However, she doesn't lose her passion.
In fact, she decides that if there are not many books, she'll make them herself. So, her entrepreneurial side comes to the surface and the whole new realm of struggle is about to begin.
---
07. The Great Passage
A veteran editor of Genbu Publishing seeks to retire in order to take better care of his ailing wife, but before that, he also seeks to find a replacement who can complete his latest project in his steed. This latest project is creating a new dictionary named "The Great Passage", but he can't seem to find someone who will be a suitable editor for this dictionary.
Then there is a man named Mitsuya Majime. He has poor people skills but adores words because of his love for reading. The veteran editor considers Mitsuya a suitable replacement.
He accepts the position but suddenly the imposter syndrome kicks in and he is unsure about the whole thing. Now, how will this story continue?
---
06. Hanasaku Iroha: Blossoms For Tomorrow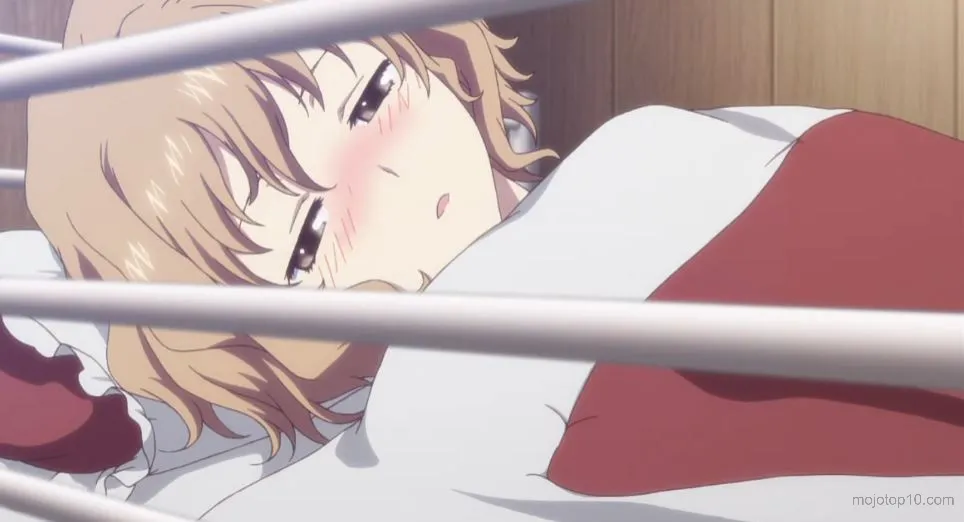 Here we have an anime that revolves around the continuous struggle of running an Inn as well as the human drama that comes with it. A young girl named Ohana ends up having to go to her grandma's inn after her mother sort of leaves her on her own and it is there that she experienced what it is like to work with co-workers.
Make sure the needs of guests are met and not trying to cause too much trouble considering how she is a newbie. This delightful human drama is perfect for those who find comfort in the slice of life genre.
---
05. Golden Boy
Kintaro Oe is a man who excels at doing part-time work. He rides over the highways of Japan and finds employment wherever he can. On his job, he learns of things that a classroom could never have taught him.
Like, what goes on behind the scenes of political corruption? How delicate is a woman's heart? This is a six-episode short anime, where each episode focuses on him doing a different job.
Still, it's all quite fascinating because whatever Kintaro does, he finds it very educational. Yes, even the spicy itchy scenes in between.
---
04. Food Wars!
Food wars is an anime that focuses on all things related to food and of course, business is one of the areas where this anime excels the most. How the students make revenue from the food stalls they have to run to basic obstacles that one can face while trying to run a food-related business.
It's got everything. Even a sinister entrepreneurial prodigy who somehow ends up making ridiculous amounts of money despite being only a second-year high school student. Well, it's not like this anime has any lack of prodigies, right?
---
03. Planetes
This anime is a sci-fi masterpiece. Set in 2075, the story takes place in a futuristic setting where space travel is now a natural thing and is also extremely commercialized. However, the endless possibilities of interspace travel that once used to inspire people are now imbued with a strange sense of mundanity.
Now space travel is not so fascinating as it once used to be. There is also a corporation that oversees picking up trash in a certain section of the space. It's an extremely significant yet sensitive job that often gets severely underrated and undervalued by the general public.
I'd say the way this anime develops its characters along with the themes and the settings it's a surreal experience and much recommended for everyone.
---
02. Bakuman
As people who love anime and manga medium, some of us are also interested in finding out what goes on behind the scenes. How is a manga made? How is an anime made? How does this industry business work?
Well, then these next two animes have got you covered. Bakuman tells us the story of two teenagers who seek to earn a living as manga artists and all of their experiences in between. The process of getting yourself serialized, the always impending threat of cancellation, and the controversy that often comes with being an unconventional author.
This anime has everything and more. Definitely a must-watch for every anime fan.
---
01. Shirobako
While Bakuman is an anime that revolves around the prospects of creating manga, Shirobako is an anime that shows us the prospects of creating an anime. What goes on behind the scenes?
All the crucial components, all the people involved, all the different departments. The story essentially begins with five high school girls vowing to one day help create an actual anime by fulfilling the areas they excel at and the way the story sets up is to straighten the events in a manner that the five of them end up doing just that.
I'd say just like how you shouldn't miss out on Bakuman, you definitely shouldn't out on Shirobako either. Now, how many of these animes have you already watched?
---
Also, Check Out
10 Anime with OP MC That Cannot Be Defeated
10 Best Upcoming Isekai Anime of 2022
---
Follow us on Facebook and Twitter for all the latest updates & top 10s.
---
Explore our full Top10 categories
Do you agree with our list of the 10 best anime about business? Tell us your favorite business anime in the comment below.