Mentors in battle shounen anime are the ones who guide and help our MC to become better. But sometimes moments come when they showcase their power and strength. When this happens, it's almost always a moment worth quoting and remembering. This is the moment when they show us their fighting strength and show us how cool they are. We bring you the best mentor fights in anime.
Here are the best mentor fights in anime of all time
Mentor fights in shounen anime are one of the best memorable moments of the series. From the first time we saw them, we knew that these fights were destined to be epic, and with each appearance, we were rewarded with an exciting new angle on their abilities.
These are the best mentor fights in anime of all time, the kind that made our jaws drop and our heart race. They were the kind of moment that made us say, "Oh my god, that's so cool!". Here are our picks for the top 10 mentor fights in anime.
Benimaru VS Holy Sol (Fire Force)
Benimaru and cool fights appear to go together. This time, the opponent is Holy Sol Shadows. Is anyone up for a one-man army fight? Benimaru brings the heat when he takes down the Holy Sol Shadows by himself in a stunning way.
Even when they try to mob him, he simply uses them as a display of dominance, blasting them again. Even when the Shadows appear to have scored a hit, it is really a setup for Benimaru's amazing conclusion.
One of the memorable Fire Force mentor fights. Although calling it a fight would be a stretch, dominance is more accurate.
---
---
Koro-Sensei VS Kanagisawa (Assassination Classroom)
Class 13 favorite mentor Koro Sensei has often been referred to as one of the most overpowered characters in anime, and the fight at the end of Assassination Classroom is no exception. Koro Sensei and Kanagisawa face off in a climactic showdown.
In a series like Assassination Classroom, a final fight like this is pretty much all you could ask for. Koro Sensei was pushed to the limit by Kanagisawa's perfect performance as the final boss. Throughout the fight, there are revelations, intense attacks, and jaw-dropping scenes.
In addition to Kayano, Reaper 2.0 also features plenty of drama. That's an awesome and impressive way to end this anime that's given so many fans so many good memories.
---
Chiron VS Achilles (Fate/Apocrypha)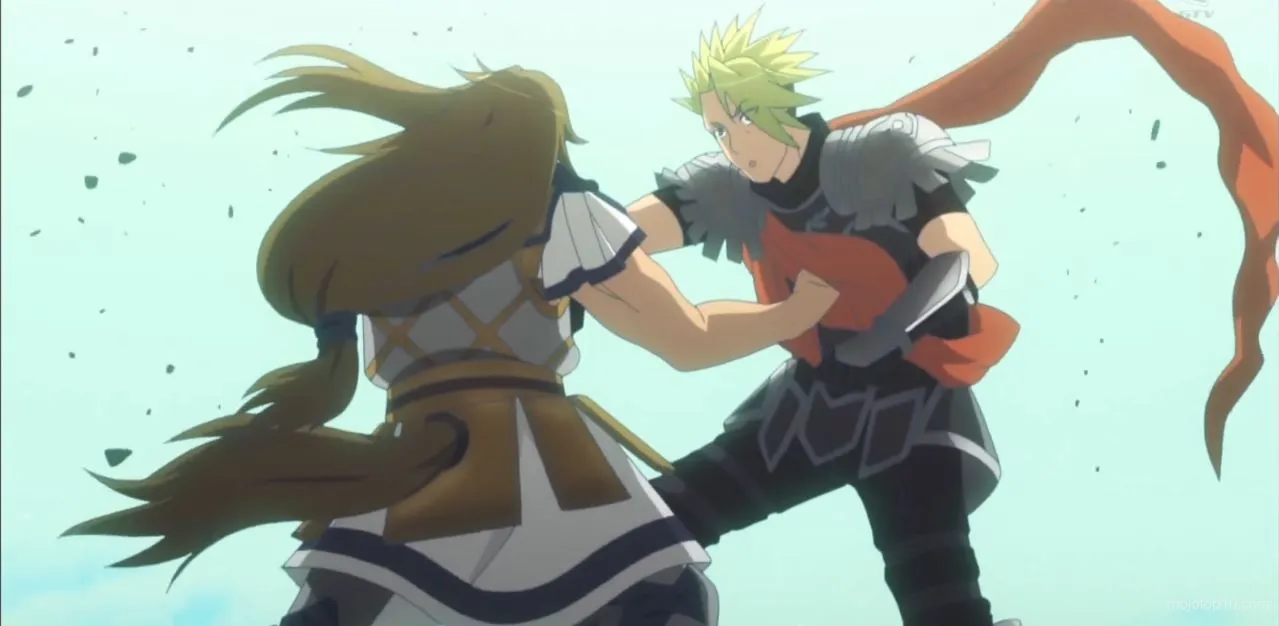 Chiron versus Achilles is one of the most overlooked fights, and I don't blame you; Fate/Apocrypha is the Fate universe's most niche anime.
It doesn't have the heritage of Stay Night or Zero, nor does it have the game and cinematic presence of Grand Order, but it continues the fate tradition of having clean, eye-catching fights, and this Chiron vs Achilles fight is the poster child for that. Because it's so fantastic, I mentioned it in my top 10 best hand-to-hand fight article.
It's a good old anime where the animation team went above and beyond to convey the action and the barrage of attacks the two unleash on each other. If you're searching for beautifully animated fights in fantasy action anime, give this one a try.
---
All for One VS All Might (My Hero Academia)
My Hero Academia excels at developing excitement and hype. Anime has worked hard to make All Might into an unstoppable force of good, one that even the most powerful villains fear.
He easily wins all of his fights and saves his kids on multiple occasions. Still, every light has a shadow that serves as an adequate contrast and gives a balance of strength, which is why everyone was so pleased to hear that All Might was finally going to confront his counterpart All for One, and the fight did not disappoint.
There's something magical about seeing the two strongest forces in My Hero Academia go toe-to-toe. Everyone in and out of the universe was taken aback by the fight between All for One and All Might. Even though more seasons have passed, the United States of Smash moment remains one of my favorites.
Another thing to keep in mind is that this is a fight for the entire universe's status. I'm glad to see All Might go out in style. One of the legendary mentor fights in anime that every anime will remember forever.
---
Asta & Yami VS Dante (Black Clover)
This is one of the best fights Black Clover has ever given us, and it's only fitting that it occurs near the end of the anime, right? What I like about this fight isn't just the fighting itself.
However, the fighting is fantastic, and I'm all for seeing more of Yami's dark magic and all shades of awesome, but I believe the most important aspect of this fight is how it demonstrates Asta's growth. You'd be hard pressed to find that annoying little kid from his childhood being this badass, and here he stands toe-to-toe with his captain, fighting one of the most powerful enemies they've faced so far.
Asta has matured and become a badass, which is a source of pride for Yami. His students have matured into one of the most dependable allies he could ever hope for.
---
Gintoki VS Utsuro (Gintama)
What better way for Gintama to complete their epic battle? Gintoki ultimately confronts Utsuro in a battle that Gintama fans will never forget. The foreshadowing in this fight is underappreciated.
Remember how this was hinted a long time ago, with everyone believing Takasugi would be the final villain, just an added layer of bonus to what ends up being a very fantastic fight? Gintama is no stranger to bringing fans on emotional rollercoasters, and this fight is no exception.
I also like how the combat ends up being pretty methodical. Instead of showering us with fireworks, the film makes extensive use of calm and flashbacks to build tension while the two spar. It certainly contributes to the solemn ambiance, and it gives each blow more weight if you know what I mean.
A fantastic battle that serves as a great ending, one that both amazes and reminds us of the road that brought us here.
---
Gojo VS Jogo (Jujutsu Kaisen)
This is one of my favorites. Not because of some mind-blowing combat choreography, but simply because it was such a turning point. It's the first time we see Gojo wield power over someone, and MAPPA had to put up some of their greatest artwork for this.
Let's be honest, this early in the show, there's never going to be any serious back and forth between the mentor character displaying his strength and a character who doesn't appear to be a major threat.
It's just Gojo demonstrating his superiority to his learner by utilizing this as a lesson level, but boy did he put on a show. If we're talking about outstanding Gojo moments, I'm not sure I'd put this above hollow purple.
Still, it's the one that got the most attention from the community, which is understandable given that the latter is the cherry on top of the already fantastic Hanami fight.
---
Tengen VS Gyutaro (Demon Slayer)
It's difficult to pin this conflict down with a starting point and an endpoint. The climax battle in Demon Slayer's Entertainment District Arc is a series of fights with participants tagging in and out of action and being assigned a focus. That is also what makes its presentation interesting and distinctive.
The entire sequence contains spectacular moments, but I think the Tengen moments are my favorites. The Nezuko sections are cool, but I get the most excited when Tengen takes the lead. It's always interesting to witness a pillar in action, but Tengen takes it a step further with his blitzing technique, mixing speed and power and pushing the fight to the upper moon duo.
Tanjiro's addition to the fight raises the stakes significantly, as it is the first time our protagonist has joined his mentor in a fight of this level.
---
Kakashi VS Obito (Naruto Shippuden)
For the most part, Kakashi vs. Obito appears to be a hyped-up fight based on history. It's been a long time coming between the two, and we know it's going to be massive when the two longtime friends turned foes finally square off.
It's the Naruto vs. Sasuke of another generation, and the anime made sure to emphasize that. In some ways, this fight is even better than Naruto vs. Sasuke. The battle is all about blistering speed paired with the Naruto magic system.
I particularly appreciate how physical combat enters the picture as the two blitzes each other. Some quite amusing comments claim that this is the most authentic ninja-like fight in the series, but can we disagree?
Take a look at how these two are going. It's a duel with a compelling backstory, high gravity, and huge risks. While it did not match the special effects extravaganza of modern fights, it still gave us a good moment to remember. Without a doubt, Kakashi vs. Obito is the best mentor fight you can find to this day.
---
Also, Check Out
Best Anime Fights of Spring 2022
---
Explore our full Top10 categories
Do you agree with our list of the 10 best mentor fights in anime? Tell us your favorite fight in the comment below.