Anime has given us some of the most epic love stories, which have been the perfect backdrop for some of the most passionate, heart-wrenching, and all-consuming romances. One of the most powerful types of romance is the love between childhood friends who become lovers. We have compiled a list of the top 10 best anime where childhood friends become lovers, without a doubt some of the most iconic and passionate anime romances of all time.
Here are the 10 best romance anime where childhood friends become lovers
As we all know, some of the most popular anime series usually revolve around themes of friendship, love, and other related emotions. One of the most common themes used in many different anime series is the theme of childhood friends turning into lovers. This has been a theme that has been used in a lot of different anime series for a variety of different reasons.
It is usually used to create a really interesting dynamic between the characters and to create a lot of really interesting plot points and background for the story. These are the 10 best anime where childhood friends become lovers.
10. Just Because!
Nostalgia is one of the better feelings of school, even for those who may not have had the best moments of their high school years. Our MC Izumi has just transferred into a high school back in his hometown. On the cusp of graduation, his future is assured with a paid scholarship to a top university, with graduation being all that's left for him.
However, our mc meets Haruto, a former baseball teammate and his love interest Komiya. This love triangle becomes a polygon as other members join the party. Each of them pushes each other forward, but with all this romance blooming. The final days of graduation are coming and with that, will everyone get their loved ones?
---
---
09. Cross Game
The tale is as old as time. Two families bond by a sport and because their kids are of the same age, they ended up growing together. Our MC and the girl next door love each other so much that they started to have plans for their future. However, the female lead died in a swimming accident due to a twisted fate.
Don't worry; it's not a major spoiler. This all happens in the first episode and the other 49 episodes are for the main story. The female character also has a little sister who happens to have a crush on our MC as well. Technically, they were all childhood friends, so there is no wrong answer no matter who he picks. This is a show where childhood friendship must win and there is no other way around.
---
08. KimiKiss: Pure Rouge
We are no strangers to people leaving town for a while then coming back to their childhood friends. In general, it's the boy who leaves and not the girl. As for the case with KimiKiss, three childhood friends have reunited after many years apart.
Our female character moved to France for a few years, and when she returned, she burst into her friend's house as if she lived there. Her parents agreed to let her live alone with her childhood friends. Now all three of them reunite after two years apart, and they will attend the same high school together, where they experience the ups and downs of high school and love.
There is also a love triangle involved to keep the story entertaining. Overall, it's a great show if you want to see how relationships progress and change with time.
---
07. Anonymous Noise
Childhood romance with a love triangle always brings a somewhat different vibe to it. As for Anonymous Noise, it has a unique character design and a musically driven story. A girl named Nino, wearing a mask, stands by the beach and sings a nostalgic melody. She made the promise with two of her childhood friends, Yuzu, who composed the music, and her first love name, Momo.
All of them individually promised to help Nino continue her music journey. After six years apart, they reunite in the same high school. With time, many things have changed in their lives. However, one thing remains the same as music, a complicated love triangle.
---
06. I've Always Liked You
If only life was as simple as a Disney high school movie. Everyone is meant to be for someone and the side character is meant for no one. Similarly, in Sakuragaoka High School, our female character Natsuki mustered up the courage to confess to her childhood friend.
Whereas her little brother has feelings for his sister's love interest little sister. A simple rule of equal love exchange. In the whole movie, we get to see both couples desperately attempt to get their loved ones and the side characters whose feelings have never been answered.
The entire story is divided into two movie sequels. It feels like a failed attempt to create a romance movie by Honey Works. However, the animation quality is top-notch and is the reason why I completed these movies.
---
05. Tamako Market
Two families run a mochi shop in a shopping district of Usagiyama. Tamako is the oldest daughter who knows everything about mochi. Whereas Mochizo had some other plans for the future. Both grew up together in the same neighborhood and had feelings for each other. In their high school, MC tries his best to hide his emotions.
Things change when our MC decides to go to Tokyo for further education. For those who are in the market for cute couples, Tamako Market is something you need to look for. The story is simple and does not try to be a masterpiece or anything. Its only goal is to provide an overdose of cuteness.
---
04. True Tears
At first glance, it looks like a normal high school story, but from the title, something needs to be tricky, right. Our MC Nakagami is exceptionally good at drawing. His dream is to become an artist. She lives along with his childhood friend Hiromi who they took in a year ago because her father passed away. Although she is good at school, she can't get familiar with her new foster family.
With chicken-loving Isurugi, the story turns into a love triangle. It has a good amount of potential, but it annoys me from time to time due to some character. The story reminds me of a show like Sing Yesterday to me.
---
03. Nyan Koi!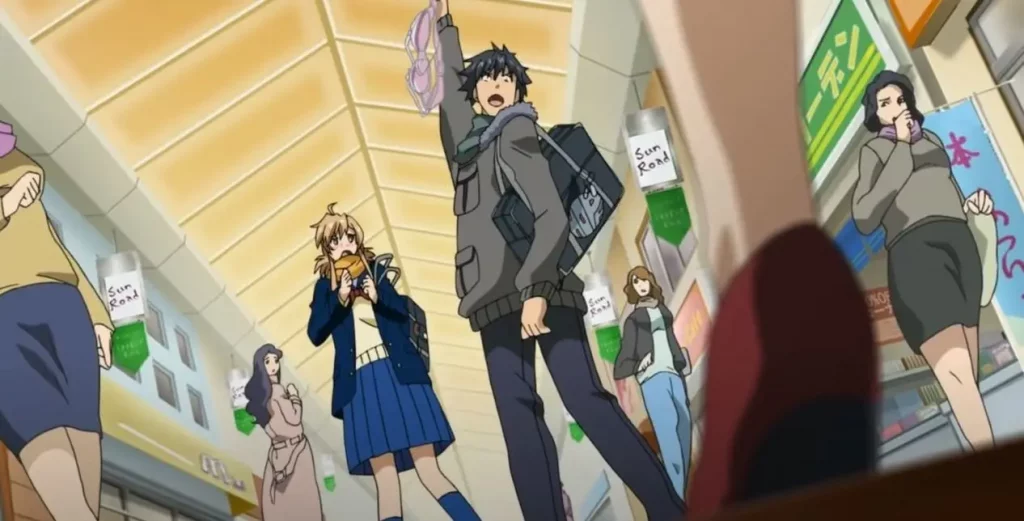 Let me ask you something are you a cat person or a dog? I know it is a subjective topic but what if I tell you some people don't like any of these and our MC Junpei is one of those allergic to cats. However, her whole family is a cat lover, including the girl he had a crush on. Her family is a dog lover. Well, I guess different families have different problems.
One day while passing a local shine, our MC attempts to throw an empty tin can into a bin. The shot misses and it ends up hitting a statue. In return for his mistake out, MC needs to fulfill 100 cat wishes, or else he turns into a cat in return. At first glance, this seems to be a cat-obsessed show. Apart from cat's comedy, it's an excellent romance show, including some pants-down moments.
---
02. Myself; Yourself
Many people will turn a blind eye to a show as old as this one. However, the feeling I get while watching this is something I want you to try yourself and let me know what you think. Our MC Sana moved back to his hometown after five years of being apart.
Due to his parent's business plan, he was surprised to see nothing much had changed but the childhood promises to Nanaka. Not only did he forget the promise but her whole existence. Now our MC tries to help her and promises to stay by her side. The story is rather simple; however, the dramatic touch they add to make it quite interesting. In the end, the story is majorly focused on romance, and with that, the ending has been quite satisfying.
---
01. 5 Centimeters Per Second
An underrated masterpiece created by Makoto Shinkai. A film is broken into two parts, covering our MC's childhood and young adult life. Takaki and Akari became best friends in elementary school, and our MC started to have feelings for her.
Unfortunately, due to Akari's parent's job, she had to move to the other side of Japan. Both decided to stay in contact; however, the distance will go larger, and we get to see their desperate attempt to keep their connection alive. In addition, movies capture the essence of young love. No matter how old we get and how far we are, the feeling for the first love never fades away.
Throughout the screenplay, you will keep rooting for them and asking for a happy ending they both deserve. Will they get one? Well, that would be a spoiler which I want you all to find yourself.
---
If you are looking for anime then you can also visit here.
---
Explore our full Top10 categories
Do you agree with our list of the 10 best romance anime where childhood friends become lovers? Tell us your favorite romance anime in the comment below.