Are you tired of reading subtitles or hearing Japanese? Are you a romance anime fan who prefers English dubs? Then we have the right stuff for you! We've rounded up 20 of the best dubbed romance anime titles of 2022 that you can watch right now. You can enjoy the best of both worlds with this list.
Here are the 20 best romance anime with English Dub
This list of dubbed anime contains the 20 best dubbed romance anime that have been released from the past decade to 2022. This list is updated regularly, so make sure to revisit this page if you want to see the most recent entries. Here are our top 20 picks.
20. Snow White with the Red Hair
No, you don't find the seven dwarves here, but you find a charming love story between a poor village girl and a rich prince. First, the girl is captured by an evil prince who has a really cruel face but along comes the overpowered warrior who decides enough is enough and punches the evil guy in the face.
But all jokes aside, Snow White with the Red Hair is one of the best fairy tale romance shows I watched. It doesn't have anything innovative; it just plays its tropes really well.
Genre – Fantasy, Romance, Shoujo
---
---
19. Nodame Cantabile
Finally, we have a music anime that doesn't end on a sad note. This time we have our guy playing the violin and the girl playing the piano and as soon as they catch each other's music, it becomes one of those love at first sight scenarios.
This also has some nice drama and tension, plus this is one of those girls obsessed with the guy type of stories, so expect some Mikasa levels of simping.
Genre – Comedy, Romance, Slice of Life
---
18. Shikimori's Not Just a Cutie
This is an anime that is currently airing and it's mostly about an overprotective girlfriend and a sweet innocent boy who loves the sadistic side of his girlfriend.
It's got some nice romance and comedy and the main goal of this show is to establish Shikimori as the best girl of the season. Sadly, we have another pink-haired girl as the competitor, so it's not happening.
Genre – Comedy, Romance, Slice of Life
---
17. The Quintessential Quintuplets
Five girls, one tutor, and who will our guy date? This is one of those fun romance harem shows that is getting a movie released very soon. It happens when one boy is sent to tutor 5 twins who have different personalities.
It also has that poor boy-rich girl theme plus one of those childhood mystery girls who was the protagonist and then disappeared shortly.
Genre – Comedy, Drama, Romance
---
16. Tonikawa: Over the Moon For You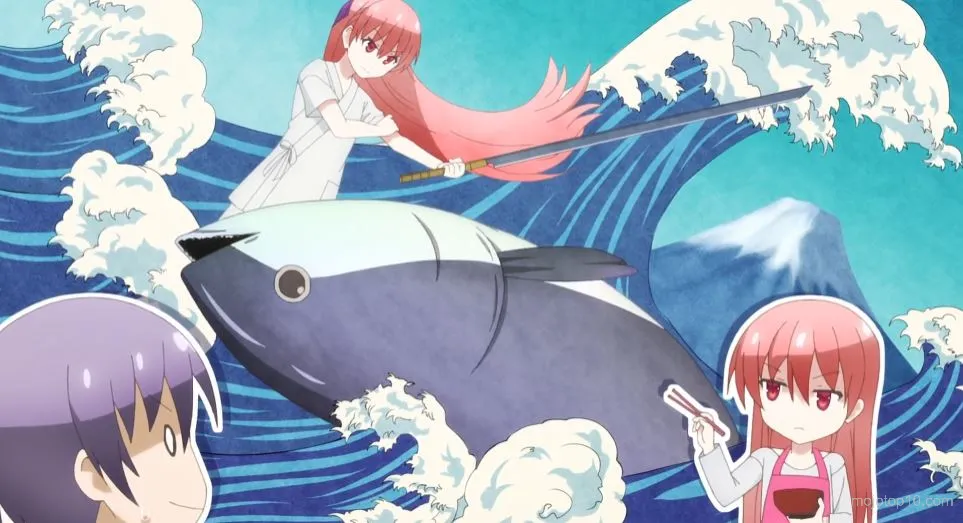 This is one of those wholesome anime you can watch while having a box of chocolates. The main premise involves a guy having an accident and getting saved by a mysterious girl, then the guy proposes to the girl and the girl appears a few years later with a marriage certificate to fulfill the promise.
The rest of the anime involves their married life, so if you're tired of the protagonist taking ages to confess, then this is the show for you.
Genre – Comedy, Romance, Slice of Life
---
15. Ouran High School Host Club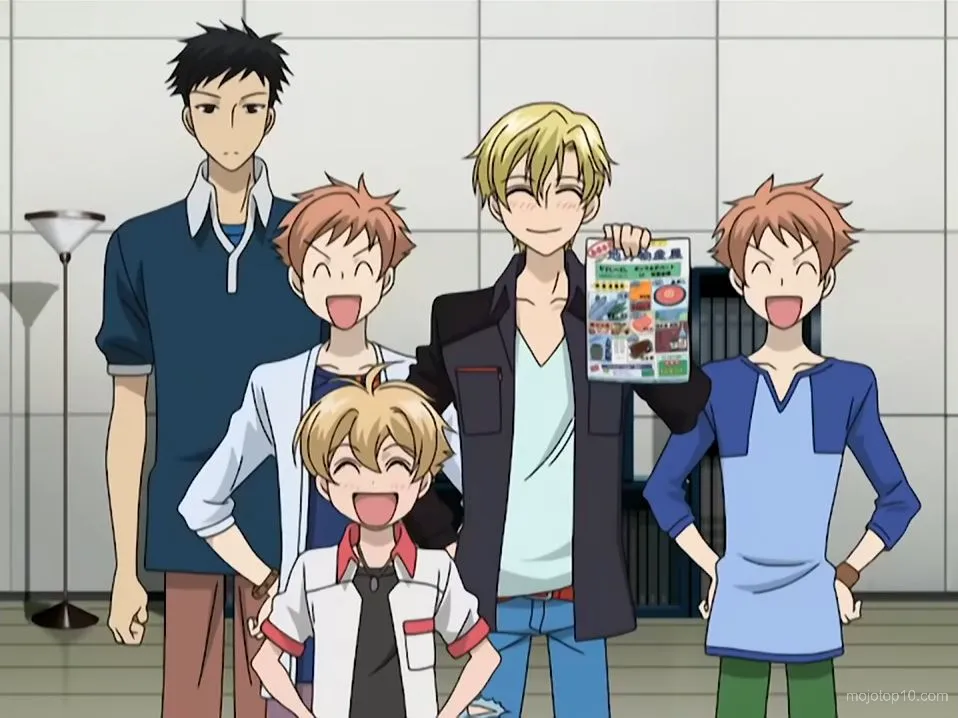 Ever heard of the genre called a reverse harem. It's where more than one guy falls in love with the girl and Ouran is one of those stories. The anime follows the adventures of Haruhi Fujioka, who accidentally breaks a vase in the host club room and later joins the club in order to repay the debt.
The host club is a boy's club that serves as enjoyment for the girls in the school, and it is filled with characters of bizarre and weird personalities that you'll immediately fall in love with.
Genre – Comedy, Romance, Slice of Life
---
14. Love, Chunibyo & Other Delusions!
All our main characters want to lead a happy and peaceful life, but along comes Rikka Takanashi, who is still a devoted chuunibyou and knows our main character's middle school life as a Chunibyo. She forces him to start an occult club, and soon, several other weirdos join in.
This anime portrays how you have to push away your childhood fantasies when you become an adult, and trust me, that's pretty painful.
Genre – Comedy, Romance, Slice of Life
---
13. I Want to Eat Your Pancreas
Do not let the comedic title fool you. This anime will bring you the opposite feeling of laughter and joy. The protagonist Haruki Shiga is a distant individual who keeps himself detached from the world. However, things take a turn when he discovers a handwritten book titled "Living with Dying."
He later finds that book belongs to a girl named Sakura Yamauchi. Sakura lets Haruki know of pancreatic disease. After hearing that, Haruki decides to accompany her for her remaining days.
This movie shows Haruki developing new meaning in life through the limited time he spends with Sakura as feelings blossom. Before watching this anime buy a full pack of tissue boxes.
Genre – Drama, Romance, Slice of Life
---
12. My Dress-Up Darling
Have you ever seen a blonde girl going around on the internet last season? Well, it's thanks to this anime. It is about a doll maker named Gojou, a very shy introvert. After being in the wrong place at the wrong time, he meets Marin, a girl who is the complete opposite and wants to be a cosplayer.
The two decide to get together and find new roles martin can cosplay in. At least now you know why you saw the same blonde girl in different outfits.
Genre – Comedy, Romance, Slice of Life
---
11. Maid-sama!
We had a bunny girl and a cosplayer, so why not a maid. Maid-sama may feature the sundress slowly falling in love but before you say it's been done a million times before, note that this story features a slowly blossoming romance.
It is also one of those good girl stalker boy love stories, so if that's your type, you'll love this one.
Genre – Comedy, Drama, Romance
10. Darling in the FranXX
Get ready to hear the world darling several billion times. Darling in the FranXX follows a premise similar to Neon Genesis Evangelion, where teenagers should get inside robots and fight giant mecha monsters.
The romance part comes with Zero Two. A girl who has a connection with our main character hero. Even though the ending is a love it or hate it sort of thing, the romance in this one is really great.
Genre – Action, Romance, Sci-Fi
---
---
09. Weathering With You
Prepare your tissue boxes gentlemen because this is going to be a sad one. It is about a high school boy who runs away from home and meets a girl who can control the weather.
The first thing that will catch your heart when you see this anime is the visuals, but there are a few shows that could top off the visuals of this one but this definitely takes animation to a whole new level.
Genre – Fantasy, Romance, Slice of Life
---
08. Horimiya
This is one of the most realistic romance anime out there. It follows the dating life of a girl and a boy with different personalities who fall in love after meeting at school. Remember that I said it follows a couple who has already fallen in love.
This anime discusses the struggles you face during relationships and all the hurdles you have to jump through to get everything right that's why so many people love this show.
Genre – Comedy, Romance, Slice of Life
---
07. A Silent Voice
Hate bullying, right? Well, our main character Shouya is a bully. He initially acted like a bully toward a girl named Shouko, who was deaf and had hearing problems.
Now the times have changed and he finds himself growing pessimistic and antisocial. Silent Voice is more than just a simple love story. It is all about how we understand each other and how to accept everyone's flaws.
The ending is something bittersweet and if you want some tears plus a story about self-realization, then make sure to add this to your watch list.
Genre – Romance, Slice of Life
---
06. 5 Centimeters Per Second
Here we have another masterpiece with some gorgeous visuals. This movie is about two friends who are seen slowly being torn apart by life, despite their best efforts to stay in touch with each other. Despite this, they never lose their memory of each other and what the other person means to them. The story's main theme is being forgotten.
Once again, this is one of those tearjerkers so when you watch this movie keep your tissue boxes beside your couch.
Genre – Drama, Romance, Slice of Life
---
05. My Teen Romantic Comedy SNAFU
I know the title has the word comedy in it, but it is the story about how our main character Hachiman slowly opens up to the people around him while also forcing them to change along with him.
He's more like a villain in the first few episodes but you'll soon realize that's his way of looking cool. This anime focuses more on a lot of issues teenagers have and gives off those nostalgic high school feelings.
Also, here we have a love triangle and you know what they say orange is the new black.
Genre – Comedy, Romance, Slice of Life
---
04. Your Name
Yep, it's time for swapping bodies and I know this concept has been done to death but combine that concept with all those village verse city themes and add some beautiful animations that will make you drool, then you get Your Name the movie.
If you didn't know, this was one of the highest-grossing anime movies until Demon Slayer surpassed it, so if you haven't watched it till now, make sure to give this a shot.
Genre – Drama, Romance, Supernatural
---
03. Clannad: After Story
Once again, time to cry gentlemen. This is considered as one of the saddest anime of all time. The premise of this anime has us following the two protagonists, Tomoya Okazaki and Nagisa Furukawa after their high school graduation.
This is a sequel to the anime called Clannad, so before you watch this one, you have to watch the previous series. Once again, go with your tissue boxes.
Genre – Drama, Romance, Slice of Life
---
02. Your Lie in April
If Clannad's going to break your heart, then this anime is going to pull out your heart, feed it to you, then choke you. It's about a couple slowly finding love through their passion for music and the struggles they face along the way.
Both of them have past they wish to avoid, but the difference is that one person is cheerful and the other is depressed. The ending is going to break your heart and then you're going to stay depressed for a couple of days, wondering what the hell happened to you.
Genre – Romance, Slice of Life
---
01. Toradora!
We have Toradora as number one. Why? Well, it's got an interesting couple, tsundere done right, a story that touches all the themes of being in high school, and a final arc that punches you in the ribs, and no, we don't have a sad ending this time.
The anime follows Ryuuji, a boy with a scary face and Taiga, a fierce girl with a quick temper. The two join forces to help get their crushes but instead fall in love with each other.
This is one of the best romance anime ever made and it will definitely leave an impact in your heart forever.
Genre – Comedy, Romance, Slice of Life
---
Also, Check Out
10 Best Romance Anime Movies with Happy Endings
10 Best Romance Anime Where Enemies Become Lovers
10 Most Sad Heartbreaking Romance Anime
---
Follow us on Facebook and Twitter for all the latest updates & top 10s.
---
Explore our full Top10 categories
Do you agree with our list of the 10 Best Dubbed Romance Anime of 2022? Tell us your favorite English dub anime in the comment below.