The anime world is full of romance, but sometimes the best romance comes from the past. Old anime, such as the ones from the 90s, are often better at expressing romance than the latest rom-com. They're also typically richer in character development and better at capturing the raw human emotions of love, which is why we bring you the 10 best old but gold romance anime.
Here are the 10 best old classic romance anime
I know we all love the classics and they never disappoint. If you are looking for some best romance anime of all time to watch then we suggest you go for some classic anime. I know these anime are old but gold. These anime will make you fall in love with the characters, their story and their relationship with each other.
So don't forget to watch these old anime which are still awesome and will keep you hooked for hours and hours. If you are looking for the best romance anime of all time, then you can't go wrong with these. Here are our top 10 picks.
10. Romeo X Juliette
Let's start with a bit of Shakespeare. Nope, we're not following the same story because this has the good old anime touch to it. Juliet Lord Capulet's young daughter escapes the tyranny of Montague and fights as the red whirlwind.
Yeah, so she's like a female version of batman, wearing a costume and being your typical robin hood. On one occasion, she meets Romeo Candorebanto the son of Laertes and despite the parents struggles, they fall deeply in love with each other.
They carry out their relationship in secret just like in the original play, but the settings and story arcs differ from one another and the ending involves a mystery that can decide the fate of the world.
If you found your English lesson about Romeo and Juliet boring, then you'll definitely like this one. It's got that love, drama, politics, and an ending that doesn't involve corpses coming back to life.
---
---
09. Shuffle
Shuffle is an anime with a psychopathic childhood friend. Shuffle starts when gods and demons decide to live as MC's next door neighbors.
Our main two love interests are the daughters of the gods Sia and the daughter of the demons Nerine but it turns out none of the girls are crazy and the one with the mental issues is our childhood friend.
She doesn't like our guys starting to date angels and demons and wants them all for herself. You know what? That's pretty great, in my opinion. We always see the childhood friend getting kicked around and then getting rejected in the final episode.
Shuffle says no to that concept and it makes the childhood friend to yandere and we all know it's better to jump off a building rather than have an angry yandere inside your house.
---
08. Earl and Fairy
The title speaks for itself. We've got an earl, we've got a fairy, and the earl wants the fairy because it turns out she's a fairy doctor, so she decides to serve under him and our rich guy becomes her master.
I know master-servant relationships aren't very original, but Earl and Fairy definitely deserve a top spot when it comes to anime of this niche. It takes this whole concept of fairies and presents it in a very unique and interesting way and don't forget the Japanese love western folklore and mythology.
So, the novel this anime was based on was an instant hit. This also has many shouju elements but doesn't affect the overall story, so make sure to give this one a watch.
---
07. Love Hina
I know you're going to ask, hey why are you bringing haram anime into romance anime but come on fellas, what matters is that our guy chose the girl he wanted in the end, and Love Hina is one of the most popular titles back in the day and I'm speaking about the days when you're probably two or three years old and we're learning how to walk.
The guy here is Keitarou Urashima, a boy who owns his grandmother's apartment named Hinata house and must deal with its issues while also facing his university exams. Here we meet Naru Narusegawa, a girl who excels at studying and also has a fiery temper and beats the hell out of you if you get to her bad side.
Keitarou now has to live with Naru while also finding answers to a mystery he had in his childhood. If this gives you Nisekoi vibes, then just remember it comes before Nisekoi so that doesn't matter.
---
06. Ah! My Goddess
Let's get to a comedy show because these are the shows that could put a smile on your face and in this world, we have a goddess help hotline. What does this hotline do? Well, when you call this number, a goddess will land on your doorstep and grant any of your wishes.
Yeah, I know that's the type of world we all want to live in but our main character doesn't ask for any wish. He just asks to live with the Goddess herself. Yep, Kazuma style.
Ah! My Goddess may not be very good with its pacing but you've got tons of fun characters in the show. The comedy is what carries this show since it doesn't have any long and boring dialogue or any action scenes.
So, if you need a laugh while sipping a goddess and a human, then make sure to watch this one.
---
05. Nodame Cantabile
If you want to watch a story about two musicians that doesn't give one of them a heart disease, then Nodame Cantabile is the show for you. The romance relationship is also very interesting and also feels unique.
This time we have our guy playing the violin and the girl playing the piano and as soon as they hear each other's music, it becomes one of those love at first sight scenarios. This how also happens in Europe and not in Japan, so it's nice for the setting to change every once in a while.
The characters also have their own quirks like the guy being a perfectionist and the girl not knowing what to do with life.
Instead of seeing everything in high school instead of romance anime here we have a musical school. If you're a music genius you'll love it, and if you're a romance anime fan you'll love it more.
---
04. His and Her Circumstances
This one's old and by old, I mean really old. It was released in 1998; for me, this is one of the best shows released in that era. Just like Ah! My Goddess, this goes for a comedy first romance later approach and the characters we meet are the people who make this show so interesting. Here we have Yukino Miyazawa, the most popular girl in the school and everyone's favorite idol.
She loves the attention, but in truth, her best girl appearance is just a mask. So, when her rival, the class's male representative Arima makes a love confession.
She turns him down and later regrets it but then Arima comes back the next day and starts to blackmail her and the two's rivalry soon develops to a whole new level. Yup, this is one of those enemies turned lovers stories and it's one that plays all the right tropes.
---
03. Inuyasha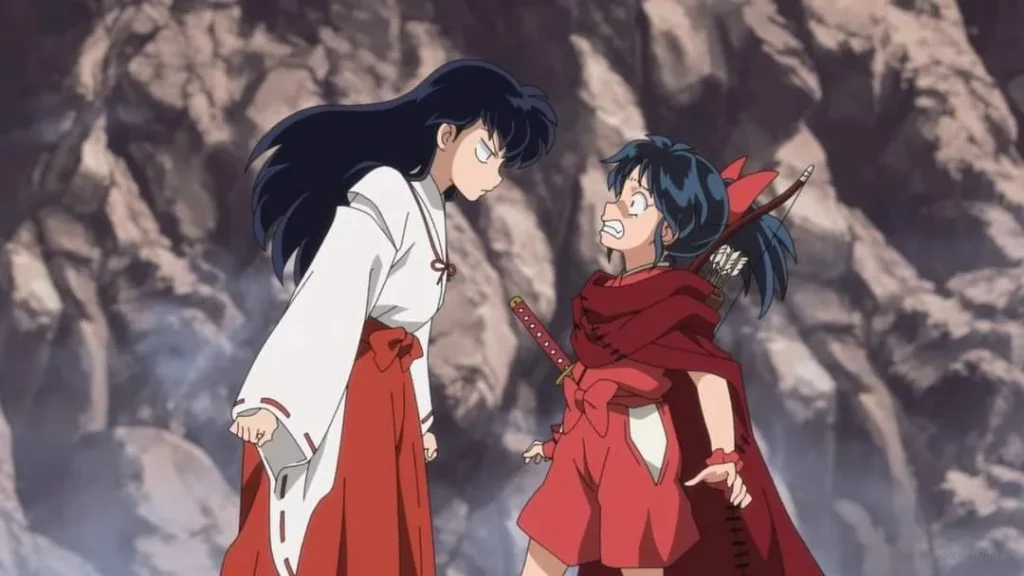 Everyone heard of Inuyasha, but if you're going to kick this anime away thinking this is all action, stop there and look at it. The premise of Inuyasha is pretty simple.
A middle school girl from modern-day Tokyo is transported to the Sengoku period of Japan after falling into a well in her family shrine, where she meets the half-dog demon half-human Inuyasha. If you were listening, Inuyasha is the main character with the demon powers in this series. Inuyasha is both a human and inugami.
The romance in the series comes a bit later but it's present in the anime more than others shounen anime in the era, and did you know Inuyasha even has a sequel series. So if you love this show, you can check that one out too.
---
02. Nana
This is definitely one of the most realistic animes I've watched. I'm not going to start with names because these two women have the same name but they have two completely different personalities. One's very cheerful and friendly but also naive and the other is more ambitious and can keep her head held high even in the most desperate situations.
The entire world the manga author crafted feels addictive to the point you wish the anime stopped being realistic. If you're tired of romance anime that repeats the same old plots and character tropes over and over again, then give Nana a shot.
The 47 episodes feel like seven because when the realism and pain kick in, you're definitely going to binge-watch this show until the end.
---
01. Clannad
You might remember after story as the anime that broke your heart; it made you a cry baby. Clannad is the prequel of it and tells you about the characters' high school years. Clannad follows Tomoya Okazaki who wastes his high school days by acting like a delinquent.
Things change when he meets Nagisa Furukawa and join her drama club. Now with the help of several other girls, Tomoya's life-changing story begins.
Clannad is pretty simple compared to its sequel and the first few episodes have a ton of comedy but once you finish watching the series and you move on to after story that anime is going to break your heart. It is one of the saddest romance anime ever made and you're going to stay depressed for a couple days after you finish watching that anime.
So, Clannad is old but gold and can make you cry in your sleep; that's why it's going to be number one on this list. Clannad is the best old romance anime of all time and you should definitely watch this one.
---
Also, Check Out
10 Best Romance Anime Where Older Girl Love Younger Boy
10 Best Romance Anime With Happy Endings
13 Best New And Upcoming Romance Anime of 2022
10 Best Romance Anime With Married Couples
---
Follow us on Facebook and Twitter for all the latest updates & top 10s.
---
Explore our full Top10 categories
Do you agree with our list of the 10 best old but gold romance anime? Tell us your favorite classic anime in the comment below.