More than a hundred mobile games are released every month but only a few of them are worthy of your time. If you are looking a new android and iOS games to play in July, then we bring you the 10 best new Android & iOS games of July 2022. The list is based on user reviews and feedback, so make sure to check it out and let us know in the comments which game you're planning to play first.
Here are the 10 best new android & iOS games of July 2022
These are the 10 best new mobile games to play for the month of July 2022. From role-playing to puzzle games, these games keep you entertained and offer some of the best quality experiences on the platform.
10. Go To Car Driving 4
You play as a man who receives various missions to complete around the city in this GTA and Cyberpunk style action and open-world adventure game. You must navigate the game's situations and interact with the various vehicles and other objects you come across while exploring the city.
You can also drive modern cars, fly planes, helicopters, jet packs, etc. The game has its unique story and offers good graphics and decent controls. All in all, it is a decent game, but currently it does have a lot of bugs.
---
---
09. Truckers of Europe 3
This one's a driving simulator game that features stunning visuals. It puts you behind the wheel of different trucks to compete in various missions across Europe.
In the beginning, it is really easy and it seems the game is just another driving simulation and you will have limited options for the first little bit. The unlocked tracks will be few and the overall gameplay is quite casual. However, you'll only realize the depth of the game as you progress throughout the game.
You will have to manage your time, fuel, and truck maintenance while completing the missions. The game features diverse modes, including a story campaign and quick jobs. It also offers a large garage where you can purchase and upgrade your trucks.
---
08. Car Mechanic Simulator Racing
The goal of the game Car Mechanic Simulator Racing is for players to own and run their own auto repair shop. Players will be tasked with managing their car garage, taking jobs, and fixing cars that gradually get more challenging over time.
Car Mechanic Simulator 2022 does begin with simple fluid changes. Still, we do see players eventually rebuilding entire junk cars from scratch to resell on the open market.
As you progress, you have an opportunity to upgrade your garage and take part in racing challenges on several tracks and could be with other players.
Genre – Racing, Simulation
---
07. Uncharted Island: survival
As you can probably tell by the name, this action-adventure game lets you experience a deserted island survival with many dangers and challenges.
In the game, you are thrown onto a small island. It is a deserted island, so you don't have any useful tools or items available. Therefore, you have to create important things to help with your life, especially the weapon systems that are extremely important for survival.
In the game, you can extract ore and wood and even destroy the local fauna, turtles, goblins, and pitch-black hairs. All in all, it's a good survival game with decent graphics and good controls.
---
06. Toy Rider: All Star Racing
The tabletop racing game inspired this game but with lots of upgrades and some unique mechanisms. Similar to Mario Kart, you can choose different kinds of bombs and traps to mess with the enemy, and time stops at this point.
That is, since such features cannot be used in multiplayer mode, we might not see it. To complete the levels and cross the finish line first is your primary objective. More than 100 unique cars, 24 racing venues, and offline play are all on the developers' list of promises.
---
05. Sniper League: The Island
In the shooting game Sniper League, you use a sniper rifle to take out targets. The game is broken up into levels where we gain experience and blueprints for new guns' upgrades.
Interestingly, the game doesn't highlight who exactly needs to eliminate, just NPCs walking around the location. If you eliminate the wrong one, then you fail the mission. In general, there are three conditions for which you can get the maximum reward.
Although the graphics in Sniper League is clearly not on the level of the pc version of sniper elite but it's a fun game to play.
---
04. The Sea of Death- Adventure
This one's a fun and incredible adventure game developed by HoitStudio. Players can enjoy a thrilling adventure that combines an adventure escape puzzle and a story in the game. In addition, there are multiple endings that your choices will determine.
The game follows the story of the main character, who gets into a boating accident and loses all his memories. Then he embarks on a quest to uncover his memories and encounters numerous narratives. As you try to make sense of your memories, the decisions you as the player make will have an impact on the plot. There are more than 50 puzzles and mini-games in this game.
All in all, it's a great game that offers cute pixel art graphics in good control as well. So, I highly recommend it to try.
Genre – Adventure, Puzzle
---
03. Air Twister
This imaginative game allows its players to take on the role of princess arch battling invaders to keep her world at peace. Players can swipe shoot their way through a number of levels in various settings while taking out a variety of invaders, or bad guys.
From an Alice in Wonderland-style garden to a sky filled with floating houses carried by balloons, each level is overflowing with surreal imagery. There are also a few cut scenes throughout to move the story along and each one is more jaw-droppingly weird than the last.
---
02. Cozy Islands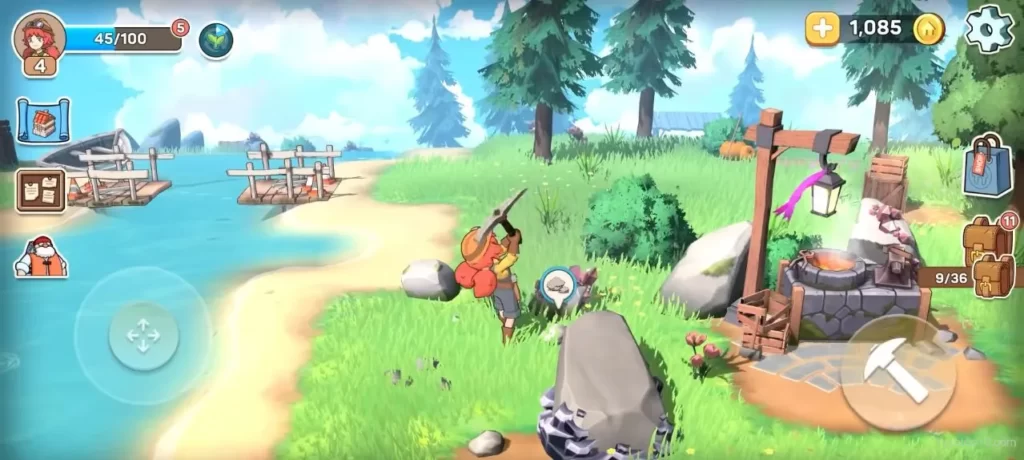 This one's an adventure game with a mixture of island management. The objective is to build a variety of structures and other components in an effort to gradually restore this deserted island to its former glory.
Here, players can gather different building materials to construct their own island. In the construction process, there may be some encounters to various issues and a variety of warm stories.
This game uses beautiful animation and a pretty design that makes people feel very relaxed. Overall, it's an awesome adventure game you can play right now.
Platform – Android, iOS (Upcoming)
---
01. Hello Neighbor Diaries
This undercover game puts you in the shoes of Nikki, obsessed with the rumors of murders in her neighborhood. Her and your goal are to find out what her mysterious neighbor is hiding in his basement.
You must use your creativity to interact with the environment around you to make detours and avoid traps in order to accomplish this. Since Nikki is still a young child, if your creepy neighbor sees you, he will send you right back to your room. The game features excellent graphics and has immersive sound effects to back up the gameplay style.
Currently, the game is only available in selected regions, including Singapore, the Philippines, Canada, etc. For now, Hello Neighbour Diaries is only available on Android.
Genre – Adventure, Action
---
Also, Check Out
10 Best Car Games for Android and iOS
New & Upcoming Mobile Games in 2022
15 Best Offline Games For Android Under 100MB
10 Best Roguelike games of 2022
---
Follow us on Facebook and Twitter for all the latest updates & top 10s.
---
Explore our full Top10 categories
Do you agree with our list of the 10 best new android & iOS games of July 2022? Tell us your favorite mobile game of July 2022 in the comment below.