Here is the list of the 10 best food anime of all time. If you are looking for top anime about cooking or food-related anime then we got you covered.
Food is a significant aspect of human life and has immense cultural value. Anime has explored this aspect through its creative storytelling, offering unique perspectives on food and its influence on society and I truly believe that watching a relaxing and peaceful anime about food whenever you're stressed or anxious can do wonders for your everyday life.
In this article, we bring you the top 10 anime shows that showcase food in all its glory. It's a very underrated theme, one that deserves more love from all you anime fans out there.
10. Gourmet Girl Graffiti
Our next entry is Gourmet Girl Graffiti. This delightful anime follows the story of Ryo Machiko, a young girl who is suddenly overcome with the fear of being alone for the rest of her life. This prompts her to recall the words of her grandmother, who said that "the path to becoming a fine wife begins with being a phenomenal chef".
Machiko's cooking skills are already more advanced than most of her fellow middle school students, yet something about her food is missing that special flavor. Fortunately, things change for the better when her younger cousin moves in with her and the flavors of her cooking suddenly become much more enjoyable.
In the series, Machiko is determined to perfect her cooking and share her delicious creations with her family and friends. She experiments with a variety of recipes, from savory dishes to sweet desserts. Later, Machiko discovers that the secret to creating a delicious meal is to cook with love and passion. Through her journey, she learns the importance of savoring every bite, sharing her cooking with those around her, and putting her heart into everything she does.
If you are looking for a wholesome cute food anime then Gourmet Girl Graffiti is the anime for you.
---
---
09. Ristorante Paradiso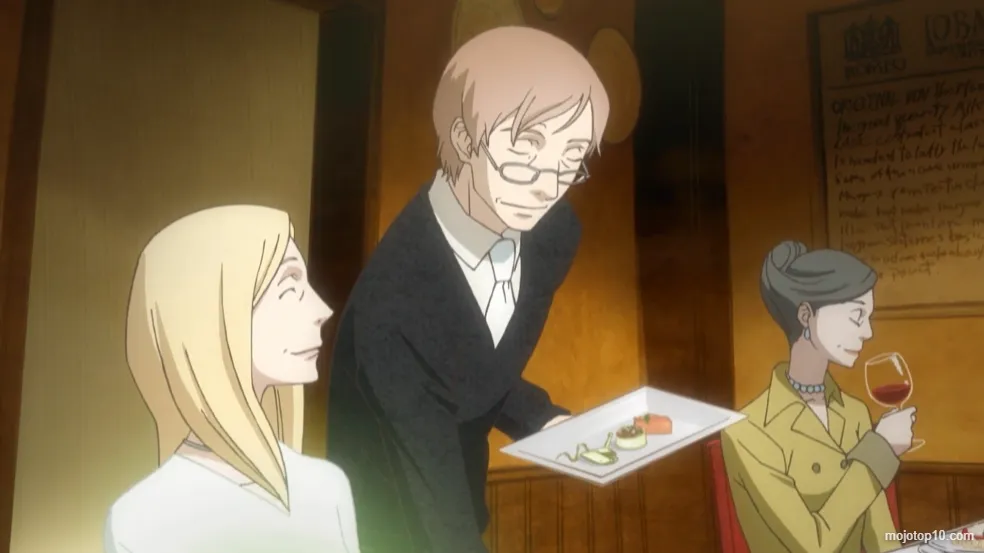 Moving forward, we come to Ristorante Paradiso located at number nine. It is a slow romantic journey that takes place in Italy and revolves around a young woman named Nicoletta. Years ago, her mother abruptly walked away from her when she was still just a child. Now, Nicoletta is a grown woman who decides to travel to Rome in order to exact revenge on her mother for abandoning her.
Though it may seem violent at first, there is a deeper message. After arriving at the restaurant, Nicoletta finds herself awestruck at the mature and handsome gentlemen that occupy the warm and inviting space.
In that moment, all the anger she felt melts away and is replaced with love. If you are looking for food anime with a pinch of romance then look no further than Ristorante Paradiso.
| | |
| --- | --- |
| Japanese Name | Ristorante Paradiso |
| Where To Watch | Crunchyroll |
| Studio | David Production |
| Dubbed | No |
---
08. Isekai Izakaya: Japanese Food From Another World
We move beyond Italy to a world of imagination where we encounter a traditional Japanese bar called Nobu, run by a skilled veteran chef and his charming waitress.
They have gained quite a reputation for their amazing food and drinks, which leave customers feeling satisfied and happy every single time. Nobu is well-known for its exceptional food and beverages, and customers always leave the establishment content and happy with their experience.
However, something happens, and Nobu opens its doors to a new world, quickly spreading the word about its delicious cuisine. The locals from different places travel to Nobu to try out its mouth-watering dishes.
| | |
| --- | --- |
| Japanese Name | Isekai Izakaya: Koto Aitheria no Izakaya Nobu |
| Where To Watch | Crunchyroll, Bilibili |
| Studio | Sunrise |
| Dubbed | No |
---
07. Yotsuiro Biyori
Coming in at number 7 on our list is the heartwarming tale of Rokuhodo, a traditional Japanese cafe that was passed down to a man named Sui by his grandfather.
Sui now runs the cafe alongside a few companions, and their level of hospitality is truly unmatched. From the moment you step through the doors, you are greeted with exceptional service that will keep you coming back time and time again. Whether it's a busy day or a quiet one, you'll always experience the best service possible at Rokuhodo.
So, if you love watching food anime, make sure to add this anime to your watch list. Yotsuiro Biyori is one of the best underrated food anime out there and it deserves all the love and attention it can get.
---
06. Princess Connect!
After delving into the world of Japan, we find ourselves transported once more to the enchanting realm of Isekai. This time, we embark on an adventure with a group of few adventurers who have banded together to form the Gourmet Guild, a team dedicated to discovering and relishing all the delectable food this world has to offer.
While the culinary aspect is undoubtedly a focus point of this anime, Princess Connect also offers plenty of the typical lighthearted Isekai humor, making it a delightful and enjoyable viewing experience. In many ways, it can be seen as a more similar counterpart to the beloved Konosuba series.
| | |
| --- | --- |
| Japanese Name | Princess Connect! |
| Where To Watch | Crunchyroll |
| Studio | CygamesPictures |
| Dubbed | No |
---
05. Campfire Cooking In Another World With My Absurd Skill
Taking the fifth spot on our list is a newly released Isekai tale. The main character, a 27-year-old Japanese man, finds himself summoned to a fantastical world alongside three other heroes.
However, unlike the others who were summoned for a specific purpose, our protagonist was brought over by chance and deemed unnecessary. Nevertheless, he possesses a unique and absurd skill known as "Food Menu," which grants him access to a virtual interface that allows him to purchase Japanese cuisine from supermarkets.
With this ability in tow, he sets out on a solo journey to introduce the foreign world to the delectable flavors of his homeland.
| | |
| --- | --- |
| Japanese Name | Tondemo Skill de Isekai Hourou Meshi |
| Where To Watch | Crunchyroll |
| Studio | MAPPA |
| Dubbed | No |
---
04. Moyashimon
If you happened to have enjoyed Silver Spoon, then you might want to check out Moyashimon for another great viewing experience. Like Silver Spoon, this anime also centers around agriculture and presents it in a genuine way.
One of the main characters, Tadayasu, possesses extraordinary eyesight that allows him to see microorganisms. As a student at an agricultural university, his unique ability proves to be quite valuable. I highly recommend giving Moyashimon a chance. You might be pleasantly surprised by how enjoyable it is.
| | |
| --- | --- |
| Japanese Name | Moyashimon |
| Where To Watch | Crunchyroll, Justwatch |
| Studio | Telecom Animation Film, Shirogumi |
| Dubbed | No |
---
03. Sweetness and Lightning
We're nearing the end of our anime recommendations, and one that I highly recommend is Sweetness and Lightning. It's the perfect anime to watch when you need a break from reality.
Grab a warm cup of coffee and immerse yourself in this heartwarming series. The story revolves around a father and his daughter, who, after the mother's passing, had to rely on convenience store meals.
However, when the father discovers the beauty of homemade cooking and finds a place to learn how to cook, everything changes. Sweetness and Lightning is a beautiful anime that is sure to touch your heart.
| | |
| --- | --- |
| Japanese Name | Amaama to Inazuma |
| Where To Watch | Crunchyroll |
| Studio | TMS Entertainment |
| Dubbed | No |
---
02. Todays Menu for The Emiya Family
In the second position we have a supplementary narrative from the highly acclaimed Fate franchise, Todays Menu for The Emiya Family.
The plot revolves mainly around deciding what to have for dinner tonight, but there are also some thrilling volleyball scenes later in the episode, showcasing Ufotable's exceptional animation skills. Since it is a supplementary narrative, I won't delve into too much detail. If you are already familiar with the Fate series, be sure not to skip this one.
However, if you are new to Fate, you can still enjoy it. One of best anime about food, so simply watch the episodes and relish the delightful character interactions along with the magnificent animation by Ufotable.
| | |
| --- | --- |
| Japanese Name | Emiya-san Chi no Kyou no Gohan |
| Where To Watch | Funimation |
| Studio | ufotable |
| Dubbed | No |
---
01. Food Wars
Lastly, it's probably no surprise that our top pick is Food Wars – the most popular anime about cuisine. While most of the other anime in this video are heartwarming and cheerful, Food Wars is all about competition. If you enjoy watching young teens put everything on the line to determine who is the best cook, then this is the show for you.
Although the most recent seasons received mixed reviews from the community, don't pass up the opportunity to watch this show, especially the first two seasons.
Without a doubt, Food Wars is the best anime about food of all time till 2023.
---
Similar Stories
10 Best Anime About Business of All Time
---
Follow us on Facebook and Twitter for all the latest updates & top 10s.
---
Explore our full Top10 categories
Do you agree with our list of the 10 best anime about food? Tell us your favorite food in the comment below.