In the anime world, romance, isekai, action, and sometimes harem genres get attention all the time. But recently, sports anime is getting more love too, which is awesome because it means more exciting content to enjoy. As a huge sports anime fan, I've been loving all the new ones that came out recently and have watched all of them.
If you're like me who love sports anime or are new to the sports anime genre and looking for the best ones then here in this list you will find the 10 best new sports anime of 2023. Whether you're into football, golf, tennis, or racing, you'll find your perfect sports anime here.
10. Yowamushi Pedal: Limit Break
Let's begin with an anime that's been airing since 2013 and still going strong even after 10 years. The main character, Sakamichi Onoda, is a relatable hardcore otaku with no friends.
He faces a tough situation when he discovers his school's anime club is closing due to a lack of interest, which is hard to believe, especially in Japan. But okay, that's the original storyline. As we reach "Limit Break," running from late 2022 till the first quarter of 2023, Sakamichi enters a whole new world filled with fresh challenges, new opponents, and, most importantly, another chance to achieve his dream of becoming the country's top cyclist.
This inspiring show will keep you hooked, so I recommend starting from the beginning to witness Sakamichi's character development. With its competitive moments and heartwarming goodness, "Limit Break" is worth your time!
| | |
| --- | --- |
| Japanese Name | Yowamushi Pedal: Limit Break |
| Genre | Sports |
| Studio | TMS Entertainment |
| Dubbed | No |
---
---
09. Shoot Goal To The Future
Football, being the most popular game worldwide, it's no surprise that a country like Japan would have anime dedicated to it. One show that caught my attention is "Shoot Goal To The Future," with 13 episodes spread across its winning seasons.
The name may sound a bit unusual, but let's be honest; these days, anime titles can be quite revealing. Anyway, the anime revolves around our hero, Atsushi Kamiya, a former captain at his high school and a courageous leader during his time at a famous Italian soccer team.
Alongside him is Hideto Tsuji, a student at the same school who's hesitant to join the weakened team. The meeting between these two characters sets the stage for the entire show, and as the story unfolds, we get to witness some exciting plays.
What's even more intriguing is that "Shoot Goal To The Future" is set in the same universe as the Shoot manga series, hinting at the possibility of more seasons to come. If you haven't watched it yet then do yourself a favor and go watch this one right now.
| | |
| --- | --- |
| Japanese Name | Shoot Goal To The Future |
| Genre | Sports |
| Studio | Magic Bus, EMT Squared |
| Dubbed | Yes |
---
08. The Prince of Tennis II: U-17 World Cup
Calling all tennis fans! While football is undeniably popular worldwide, tennis comes in as a close second with a massive global fanbase. And when it comes to tennis anime, "The Prince of Tennis" stands out as a legacy show with a huge cult following.
This series started way back in 2003, and even after 20 years, fans are still crazy about it, especially the latest season featuring the Under-17 World Cup. Our hero, Ryouma, returns from America to take part in the competition, facing off against a roster of talented players.
Get ready for some thrilling tennis action in the anime, complete with enthusiastic grunts, hardcore smashes, and lots of spinning balls (not to be mistaken for something else!). The show is available on various streaming platforms worldwide, so don't miss out on it if you're looking for a refreshing break from another Wimbledon Highlights reel.
| | |
| --- | --- |
| Japanese Name | Shin Tennis no Oujisama: U-17 World Cup |
| Genre | Sports |
| Studio | M.S.C, Studio Kai |
| Dubbed | Yes |
---
07. MF Ghost
Alright, this anime is a bit unique and different from the others. It's all about street racing, which is not a common sport in the anime world. The release date for this anime is in October 2023, so we'll have to wait a little longer.
However, I really recommend watching it because MF Ghost is based on a manga with the same name and serves as a sequel to the Initial D Racing Series. In this anime's world, self-driving electric cars have taken over, replacing the old standard internal combustion engines. However, the MFG organization in Japan has other plans; they organize street races using old-school engines.
The leader of this organization is Ryousuke Takahashi from the Initial D Series. And there's a newbie named Kanata who races against cars like Lamborghini and Ferrari using a Toyota. There are also multiple side plots that will keep everyone engaged, even those who aren't racing fans. I'm really excited to watch this sports anime, and I hope you'll be tuned in for it in October.
| | |
| --- | --- |
| Japanese Name | MF Ghost |
| Genre | Racing |
| Studio | Felix Film |
| Dubbed | – |
---
06. Birdie Wing Golf Girl's Story
Equality is essential to me, and that's why I think about women in sports too. But let me be clear, I won't promote a mediocre anime just for representation's sake. Birdie Wing Golf Girl's Story perfectly captures two important elements: women and sports, specifically golf.
Golf has always struck me as a classy game, and it feels right to have girls involved in it; they seem like a natural fit. But don't be fooled, it's not all smooth sailing until Tiger Woods makes his appearance with his version of a hole-in-one. Jokes aside, Birdie Wing is a well-crafted series that explores various themes such as family, determination, and identity.
The show revolves around our lead character, Eve, who's a skilled hustler in unsanctioned golf matches. She knows how to make money and supports her adopted family well.
However, everything changes when she encounters the golfing prodigy, Aoi Amawashi, who easily embarrasses her. This moment becomes her primary motivation throughout the series as she strives to overcome her struggles and achieve her goal of defeating Aoi.
There are two seasons of Birdie Wing, and I highly recommend starting from season one, as it doesn't take long to catch up. Keep in mind that the plot I described mainly relates to the first season because I don't want to spoil anything for you guys.
| | |
| --- | --- |
| Japanese Name | Birdie Wing Golf Girl's Story |
| Genre | Sports |
| Studio | Bandai Namco Pictures |
| Dubbed | No |
---
05. Left-Hand Layup!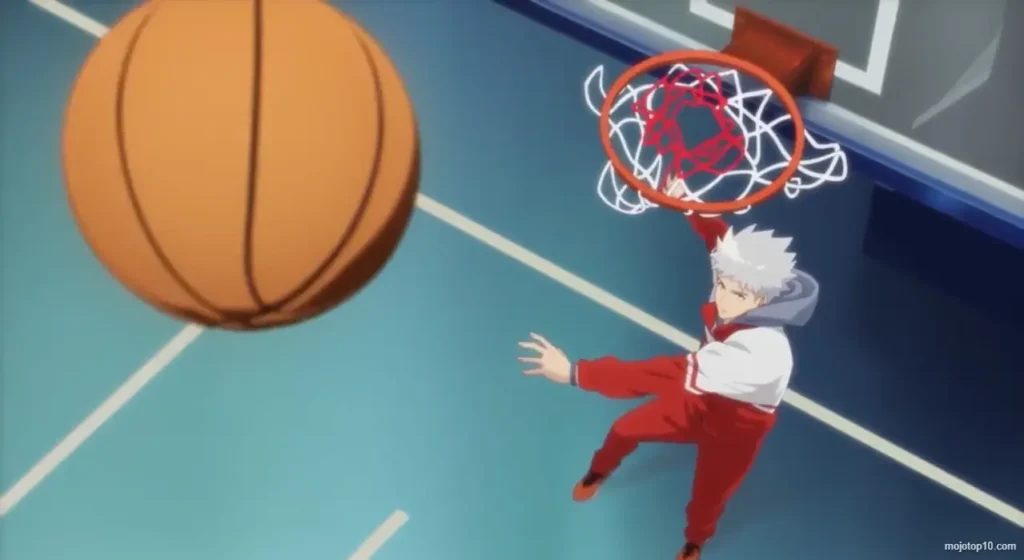 Let's talk about number 5, the left-hand layup, Season 1. I like to cover a variety of topics, and this list includes different sports. This time, we're adding basketball. You might think basketball is only popular in America, but guess what? The Chinese love it too, and that's evident in the anime "Left Hand Way."
Chinese animation has been getting more popular, and this series fits right in. The story follows Xu Xingze, a passionate basketball player who wants to make a name for himself in the competitive world of sports. He gets inspired after seeing a star player in action. But there's a little problem. Xu's sister accidentally enrolls him in a lesser-known school, which means he has to work harder to succeed.
The anime shows his high school journey, balancing studies, love interests, and basketball while trying to keep his sanity. Even if you're not into sports, you'll find it relatable and enjoyable. Left-Hand Layup has only 8 episodes in its first season, so you can finish it in no time. Give it a try!"
| | |
| --- | --- |
| Japanese Name | Zuoshou Shanglan |
| Genre | Sports |
| Studio | Heart & Soul Animation |
| Dubbed | No |
---
04. Tsurune
This super cool sport that needs more love! It's Archery, or as the Japanese call it, Kudo. It's all about showing off your precise skills, you know? If you wanna watch an anime version of it, then Tsurune is the way to go! The story's about Minato Narumiya, who used to be really into his school's archery club, but something happened that made him give up on his dreams.
His friends try hard to bring him back, but he's not interested until he meets a mysterious guy who inspires him to follow his passion again. It's an awesome journey of determination and grit, with our hero rising to the top and showing off some epic archery skills.
Minato overcomes his doubts and becomes a master! Season 1 was intense, and Season 2 just builds on that, continuing the awesome storyline. It's only 26 episodes plus a Nova, so you can binge-watch it in one go. Trust me, once you start, you won't be able to stop!
| | |
| --- | --- |
| Japanese Name | Tsurune: Kazemai Koukou Kyuudou-bu |
| Genre | Sports |
| Studio | Kyoto Animation |
| Dubbed | No |
---
03. Ao Ashi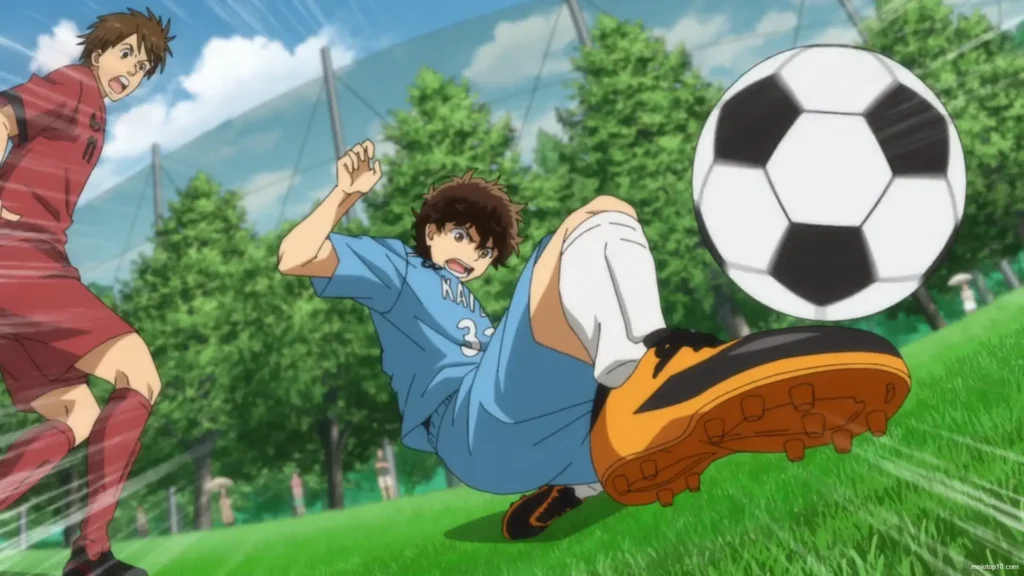 At number third, we're back to football, but there are so many awesome shows to watch, that you just can't resist! This one's all about Ashito Aoi, a young soccer star with big dreams. He's super dedicated to becoming a revolutionary player, and his coach takes notice of his skills.
Of course, being a kid his age, he's a bit tough to handle. Things get really exciting when Aoi has to change his position on the team, leading to some interesting conversations. The best part is that Aoi is believed to be the boy who can change Japanese football's fate forever. It's like a classic Wonder Boy story but set in the modern world.
Football fans will love the amazing animations that make it feel like the real game. The writing keeps it real, with Aoi at the center of it all, driving the plot forward. The anime is based on a manga of the same name of Ao Ashi, and it's a great adaptation.
| | |
| --- | --- |
| Japanese Name | Ao Ashi |
| Genre | Sports |
| Studio | Production I.G |
| Dubbed | Yes |
---
02. "Ippon" again!
You won't believe how amazing this one is! If you don't know then Judo is a very famous sport and people from all around the world come to take part in it. It's tough and requires lots of practice, so not everyone can be an expert. But guess what? Our hero, Michi Sonoda, is an incredible judoka, and her skills are impressive!
The story is simple: Michi wants to quit after the final year Judo tournament, but her friend Sanae encourages her to keep going. It's a heartwarming tale about friendship, growing up, and finding motivation. I really loved Michi and Sanae's bond the most because having someone to support us is vital.
They make such a cute and wholesome duo, providing a nice break from the intense moments. The anime closely follows the manga, and it's relatively new, so you can catch up with us in just one weekend
| | |
| --- | --- |
| Japanese Name | Mou Ippon! |
| Genre | Sports |
| Studio | Bakken Record |
| Dubbed | No |
---
01. Blue Lock
Blue Lock is the best sports anime of 2023. This anime topped my sports anime 2022 list, and now it's even more popular, making Blue Lock the number-one sports anime of 2023 too.
Yes, it's about football, but not your typical football story. It's all about intense training and the perfect blend of technology with the sport. Our main character, Yoichi Isagi, starts as a nervous outsider trying to find his place in the game. But in the show, things take a different turn, and he becomes the team's leader, transforming into a fierce competitor.
The concept of the anime is fresh, tailoring football to Japan's current situation. The studio has put in a significant budget, making it one of the most-watched sports anime in both 2022 and 2023.
The cast, including cool characters like Bachira and Chigiri, keeps you engaged throughout. The strategizing during the football matches is mind-blowing, proving the creators' passion and research for the sport. Blue Lock is available on Netflix in many countries, so give it a watch if you love football. I've seen it twice already and can't wait for the next season which is coming in 2024.
| | |
| --- | --- |
| Japanese Name | Blue Lock |
| Genre | Sports |
| Studio | 8bit |
| Dubbed | Yes |
---
Similar Stories
10 Best Harem Anime with OP MC of 2023
---
what is the best sports anime?
The best sports anime of 2023 are Blue Lock, Ao Ashi, Mou Ippon, Left-Hand Layup, and Yowamushi pedal limit break. These are a few names of the newly released anime in the sports genre.
What is the best soccer anime?
These are the best three soccer anime Blue Lock, Ao Ashi, and Shoot Goal To The Future.
Follow us on Facebook and Twitter for all the latest updates & top 10s.
---
Explore our full Top10 categories
Do you agree with our list of the 10 best sports anime of 2023? Tell us your favorite sports anime in the comment below.