Explore the top 15 must-play Netflix games with our ultimate guide. We've filtered through 40+ ad-free games to bring you the best.
Last year, Netflix released more than 40 games that were free from ads and in-app purchases. I recently took it upon myself to play through all 40 of these games and filter out any that weren't worth your time. These games are comes under categories like truly amazing games, great casual games, good games, the games that were actually okay, the pay-to-win games, and the kid's games.
From all these, we bring you the 15 best Netflix games that you absolutely have to check out. Here are our top 15 picks.
15. Teenage Mutant Ninja Turtles: Shredder's Revenge
The first game on the list is called Teenage Mutant Ninja Turtles Shredders Revenge. It's a fun game that you can play alone or with friends in co-op mode. The game has gained popularity on Steam and consoles, and now it's available on mobile thanks to Netflix.
The game is well-made and enjoyable, featuring a retro art style and animations that capture the original vibe. The level design is also impressive, and you'll need to remember over 12 different attacks and combos to win.
The co-op multiplayer has quick matchmaking, and with six players, the game gets really intense and exciting. If you're a fan of multiplayer fighting games then I highly recommend giving this one a try.
---
---
14. Lucky Luna
At number 14 we have Lucky Luna, developed by the same team behind Alto's Adventure. The game puts a unique spin on traditional platformers by removing the ability to jump. Instead, players swipe left and right to move and must use quick reflexes and precision to navigate past dangerous traps and tough boss rooms.
The game awards points based on completion time, pearls collected, and deaths, making it highly competitive for those striving to top the high score charts. The game's touch controls are perfectly designed, and players will delight in discovering the many secret areas throughout the levels.
Lucky Luna also features an endless mode for added replayability after finishing the main campaign. I'm confident that most players will enjoy this game, and if you want to learn more about it, I recently covered it on my Games Discovery Platform mini-review.
---
13. Into The Breach
While there are many fast-paced action games available on mobile, there are also some great turn-based strategy games, such as Into the Breach from the developers of Faster Than Light.
In this sci-fi game, players must use their customizable troops to protect their cities from invading alien armies. The game is played like a roguelike, with randomly generated campaigns that become more difficult as players progress.
If players die, they must start from the beginning. Into the Breach offers great gameplay and plenty of replayability, and it has received almost 100% positive user scores on mini-review. So, if you're interested, I recommend checking it out.
---
12. Spiritfarer
Netflix has brought several popular PC games to mobile, including the serene management game, Spiritfarer. This story-based adventure game features charming characters with great humor and immerses players in the task of guiding stranded spirits to their afterlife.
Beyond the main objectives, players can also explore islands, catch fish, and upgrade their boats. With over 30 hours of gameplay, Spiritfarer is a highly recommended game for anyone seeking a relaxed gaming experience.
---
11. Dust & Neon
Another PC game that has made its way to Netflix mobile is Dust & Neon, a western-themed roguelike twin-stick shooter. Players control a cyborg gunslinger and must complete missions to defeat monsters, find secret areas, collect ammo, and defeat bosses.
In between missions, players can improve their skills and upgrade their base to make future playthroughs easier. While the touch controls have some room for improvement, the game's art style and enjoyable gameplay make it a must-try for fans of the genre.
---
10. Reigns: Three Kingdoms
At number ten, we have Reign's Three Kingdoms, the latest installment in the popular decision-based strategy game series. Here players are presented with a series of events that they must respond to by swiping left or right, with each decision impacting one of four traits. Recruiting units is also a new feature in this game, which players must use to fight in the new combat system. The game even features a game mode focused on real-time multiplayer combat.
If you enjoyed the previous series of this game, you'll likely enjoy the fresh take on gameplay in Reign's Three Kingdoms.
---
09. Twelve Minutes
I recently played a top-down point-and-click thriller game called Twelve Minutes, and I have to say, it really got me hooked.
This one is about a complex time loop where we have to figure out how to convince our girlfriend that time is repeating itself, and then try to break the cycle. I don't want to spoil anything, so I'll just leave it at that. But I highly recommend giving it a try!
---
08. Relic Hunters: Rebels
The eighth game on the list is Relic Hunters Rebels, an RPG shooter game with twin-stick controls and a looting mechanic. Surprisingly, I enjoyed the game more than I initially anticipated. In the game, players have to take on the role of a certain character which comes with unique abilities.
The objective is to complete each level by defeating enemies and collecting as much loot as possible. Additionally, players can upgrade the six stats of the various weapons available.
The game has a slightly retro vibe, which is evident in the gameplay footage. If you're a fan of the retro style, then you should definitely give Relic Hunters a try.
---
07. Skies of Chaos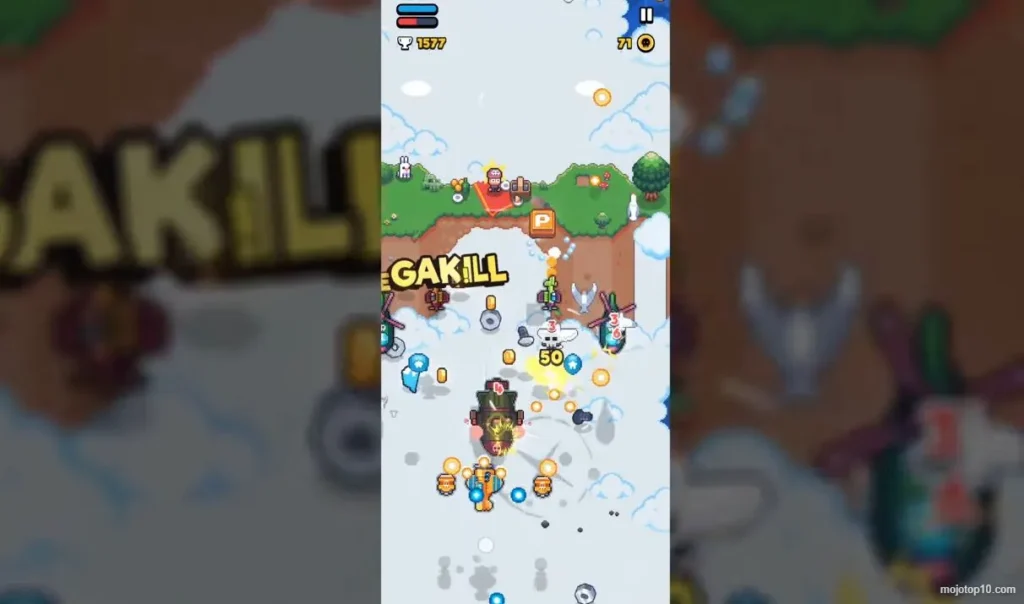 As someone who enjoys the bullet hell genre, Skies of Chaos immediately caught my attention. The game's captivating art style and challenging boss fights kept me engaged throughout my playthrough.
This one comes with over 50 levels and players can earn resources to upgrade and customize various parts of their airplane, making it easier to tackle upcoming challenges. I am very much impressed with this game and even wrote in my notes, "This is awesome."
It's difficult to explain, but the gameplay just feels fantastic, and it's rare to come across a game of this caliber nowadays. I highly recommend giving Skies of Chaos a try.
---
06. POINPY
POINPY is a new game developed by the creators of Downwell. It's an arcade action game with a unique twist. Instead of moving downwards, the player has to move upwards.
Here you have to swipe, aim, and release to jump around the vertical level while collecting and feeding fruits to a giant monster chasing them. However, you must also avoid various enemies that pose a threat to their survival.
The gameplay is enjoyable, and there are several characters with distinct abilities to unlock. If you're a fan of arcade games then POINPY is definitely worth checking out.
---
05. Desta
Monument Valley's creators have launched their latest game, Desta. It's a turn-based dodgeball roguelike game set in a captivating storyline about dreams and regrets with exceptional voice acting.
I really love team-based dodgeball gameplay where players collaborate with their childhood friends to conquer dream versions of real-life people, even if the story doesn't interest them.
It's a remarkably original concept, and I found it to be an absolute blast to play. It's definitely one of the most distinctive games I'll be talking about today, and I thoroughly enjoyed it.
---
04. Tomb Raider: Reloaded
Here's something a bit unusual since it's not an exclusive Netflix title, it's Tomb Raider Reloaded. This game is essentially an Archero clone with some new twists and fantastic boss fights.
However, I must caution you that the free version is packed with ads and has aggressive pay-to-win mechanics.
However, the Netflix version is entirely free of these issues, making it one of the best Archero alternatives in my opinion. I won't go into too much detail since there are already a plethora of these types of games available, but Tomb Raider Reloaded offers plenty to keep players engaged. Although the energy system is a bit odd, it's easy to play for an hour without running out of energy.
So if you enjoyed playing Archero, I highly recommend giving Tomb Raider game a try.
---
03. Into The Dead 2
At number three we have Into The Dead 2 and this one is also available outside of Netflix and is unfortunately a pay-to-win game. It's a zombie shooter where players automatically run forward, while they move left, right and shoot to fend off the attacking zombies.
The game is divided into a well-organized story-based campaign and players can unlock and upgrade a variety of weapons and companion pets using the game's goldware currency.
With the removal of ads and in-app purchases, the gameplay is incredibly enjoyable and makes for a more casual take on the traditional zombie FPS genre. I believe that many players will appreciate this game as a fun and laid-back alternative.
---
02. Moonlighter
Even though Netflix removed the previous standalone paid version, Moonlighter deserves mention. The game itself is incredibly entertaining and its mechanics are awesome.
It's a mixture of an action RPG and a shop simulator where players venture into dungeons to collect goods and items. They then need to guess the appropriate price and put them up for sale in their shop while also growing stronger over time.
As someone who used to spend entire days on RuneScape's Grand Exchange, I found myself completely hooked on this game, and I think many players will feel the same way.
---
01. Asphalt Xtreme
Coming in at number one is an awesome but older racing game, Asphalt Xtreme. It used to be a pay-to-win game, but thanks to Netflix that's no longer the case.
The core gameplay is impressive and really shines through. Personally, it's one of my go-to racing games right now. The art style still looks great, and there's plenty of content to keep players engaged. If you haven't played it yet, I highly recommend giving it a shot.
---
Similar Stories
10 Best Offline FPS Games for Android and iOS in 2022
---
Follow us on Facebook and Twitter for all the latest updates & top 10s.
---
Explore our full Top10 categories
Do you agree with our list of the 10 best Netflix games? Tell us your favorite mobile game in the comment below.