October is a month of many great things but best of all – new video games! While many upcoming releases are ports of older titles or expansions to existing franchises, there are also a good number of brand new games and original titles to get excited about. Here are 12 of the most promising new games coming out this October 2022.
Some of these games may be familiar to longtime video game enthusiasts, while others may be completely new to you. Regardless of whether or not you're familiar with them, all of these games are sure to provide hours of entertainment. Here are the 12 best new releasing games of October 2022.
01. Overwatch 2
We'll start with Overwatch 2. Dare I call it an Overwatch sequel? No, it does not. This is a functional update and overhaul of the original game. We even found out a while ago that it would completely replace the game. Overwatch 1 will be decommissioned when Overwatch 2 is released. It simply vanished. The following changes will be made to the game in terms of what is new. It will be a free-to-play live service title, so there will be no box prices, and it will have seasons.
These will be free updates that will add new content every nine weeks. Season 1 is already planned to include three new heroes, six new maps, a new game mode, and over 30 skins. Subsequent seasons will contain significantly less content, as much of it is reserved for the release of Overwatch 2. Season 2 will, for example, include one new hero, one new map, and, of course, more skins.
In terms of gameplay changes, PVP has been reduced from 6v6 to 5v5. They have also reworked many of the heroes in order to freshen things up a bit and balance things around one less person per team. They have removed loot boxes with great success, so you will no longer have to spend money on a random chance to get a skin; instead, you can buy them directly from the in-game shop.
Along with the new season, there will be a battle pass that you can level up by playing the game or paying to skip tracks, unlocking different rewards and cosmetics along the way. Now, we don't know when the PVE experience, which was a major selling point for Overwatch 2.
Unfortunately, no official release date has been set. It will arrive sometime in 2023, so we'll just have to wait and see. We're hoping to find out soon. Overall, I believe Overwatch 2 will do well. This will almost certainly be attempted by a large enough number of people. Without a doubt, I believe it will be a huge success on consoles. Personally, I don't feel nearly as excited about the sequel as I did about the original release. The game just doesn't feel fresh enough to entice me to try it.
However, once the PVE content is released, it will be a different story. I'm far more interested in that because it feels new and exciting, and I'd like to try it. Overwatch 2 will be available for free on PC, PlayStation, Xbox, and Switch on October 4th.
| | |
| --- | --- |
| Price | Free to Play |
| Release Date | 4th October |
| Platform | PC, PlayStation, Xbox, Switch |
| Where To Buy | Blizzard |
---
---
02. Super People
Super People is a brand new Battle Royale that's a cross between PUBG and a hero shooter. Much of how the game looks visually is similar to PUBG, and although slightly brighter and more colourful, but nearly everything else about the game, such as character movement, mantling, even how you jump through Windows, inventory management, healing, gunplay, the circle, and other Battle Royale mechanics, are all very similar. So much of the game feels like PUBG, except you play as a super soldier with futuristic and magical technology.
As a result, this is a class-based battle royale, with each class having its own set of unique skills and abilities. When you start the game, you are assigned to one of the game's 12 classes. You can also spend some gold coins to switch classes. You can get 100 gold for a random class or 500 gold for your chosen class by playing the game. Each class will have its own distinct powers, weapon traits, and ultimate abilities.
For example, the Gatlin soldier with the spitfire ultimate can increase the mag capacity of his Gatling gun and fire explosive rounds. The shotgun master can obtain a tank shotgun, with rounds as lethal as a tank. Their strike force gains a dash ultimate that increases their moving speed by 200 for five seconds, and there are 12 of these classes available. One of the classes' abilities is to summon in a vehicle similar to a jeep. So many intriguing ideas here. It also has match-based progression.
As you play, you will gain new abilities and your ultimate. Throughout the game, you build up the ultimate charge by doing things like surviving, taking out enemies, and collecting special resources. As you level up, you gain access to new items, including your alt. The more active you are, the better you will perform. The more you live, the faster you'll get this stuff. There is also looting, as in other BR, and finding weapons and consumables. It also has a system of red, green, and blue super capsules.
Each of these corresponds to one of your unique traits or abilities, and collecting the corresponding coloured capsules will level up that skill. Leveling up also improves your stats, such as your health and damage. The game has an in-game crafting system that allows you to collect resources while playing.
You can craft any of the available weapons, items, and armour to the point where you shouldn't feel out of geared if you're active. So, they have stated, this game has gone through several rounds of beta testing over the past year and is now officially entering Steam Early Access with the Early Access release "Based on the data we've gathered, we'll pay special attention to the balance of classes' TTK and in-game economy. One of our top priorities is also optimization and security ".
Aside from that, they're introducing a new game mode and a new class. On October 11th, Super People will be available on Steam Early Access. The game is free to play and will feature numerous microtransactions.
| | |
| --- | --- |
| Price | Free to Play |
| Release Date | 11th October |
| Platform | PC |
| Where To Buy | Steam |
---
03. A Plague Tale: Requiem
A Plague Tale Requiem is the sequel to Plague Tale Innocence, which was released in 2019. The game appears to be taking what made the original so successful and hoping to improve on it. Everything appears to have improved, from the visuals, storytelling, level design, and world to the gameplay and mechanics. I say this because I played the game for several hours a couple of weeks ago and was quite impressed.
The story picks up six months after the first game, with Amicia and Hugo, the two main characters, leaving their home to start a new life, but things don't go as planned, and they're surrounded by enemy soldiers and an overwhelming swarm of rats. Because it is a narrative-driven adventure game, you will spend your time moving through the world, with gameplay revolving around the story. In general, you'll arrive at a specific location based on where you are in the world.
You might interact with some NPCs or something will happen. You'll see a cut scene, then there'll be danger, and you'll have to either hide, run, or fight before moving on to the next. In terms of gameplay, it is a stealth title to the core. You spend the majority of your time navigating the environment, solving puzzles, and engaging in light combat. Much of your time will be spent hiding behind objects or hiding in Grass, staying in the shadows as you survey the area and plan your next move.
Whether it's sneaking around enemies, using objects in the environment, or taking them out at close or long range. You will use a lot of range, which is the primary method of dealing with things I discovered, and the gameplay is mostly in service of the story. This isn't a high-octane, never-ending action game. No, you're playing through the world and experiencing its story.
This type of game is about the evolution of these characters and the experiences they have. So, based on what I've seen, I believe they've done an excellent job. If you enjoy narrative-driven Adventures, this is one to keep an eye on. That said, the build I played had quite a few performance issues, and I have a pretty beefy PC, so hopefully this is something they can fix by the time the game is released.
A Plague Tale Requiem will be released on October 18th for $49.99 on PC, PlayStation, and Xbox.
| | |
| --- | --- |
| Price | $49.99 |
| Release Date | 18th October |
| Platform | PC, PlayStation, Xbox, Switch |
| Where To Buy | Steam, Focus, Xbox GamePass |
---
04. Uncharted: Legacy of Thieves Collection
The Uncharted Legacy of Thieves collection includes both Uncharted 4: A Thief's End and Uncharted: The Lost Legacy's critically acclaimed single-player stories. These are basically beefed-up versions of both of those games. It has finally arrived on PC.
The Collection includes multiple modes as well as PC Centric enhancements such as improved UI, scale sliders, and GPU and VRAM detection. Auto pause, variable load speed support, and a slew of other features have also been added. A slew of options for you to experiment with. This collection was released on PS5 earlier this year to positive reviews, as it is essentially those games but better.
Like I said, it's also finally now coming to PC this month, which is why this is on the list, and it's because I'm happy to see Sony finally bringing some of their best big budget titles over to the PC platform, even if it takes them a while.
Unfortunately, as with the recent remake of The Last of Us, the Uncharted Legacy of Thieves Collection lacks the game's multiplayer modes, which is a bummer. They had the excuse of working on a standalone multiplayer game in that Universe with The Last of Us. There will be a standalone Last of Us multiplayer title.
As far as I know, there will be no multiplayer for Uncharted. They simply did not want to include it in this bundle. They didn't feel like improving those multiplayer modes, and while multiplayer isn't the main selling point of The Last of Us or Uncharted, both games have devoted fan bases. So it's a shame for those people that they were simply left out of these remasters.
If you're primarily a PC gamer and have yet to play either of the Uncharted games, this is your chance. The Uncharted Legacy of Thieves Collection will be available for $49.99 on PC via Steam on October 19th.
---
05. Gotham Knights
Gotham Knights is an open-world action RPG set in the "most dynamic interactive Gotham City ever," according to the developer. You will explore Gotham as Red Hood, Robin, Batgirl, or Nightwing, beating up bad guys, completing objectives and side missions, and doing a lot of what you do in other open World Games. The city is divided into five distinct Burrows, each with its own set of problems to solve and enemies to contend with.
There are a variety of events to deal with, such as Mr. Freeze controlling the weather and attempting to ice over everything in one burrow, or a gang of Vigilantes hacking the city's infrastructure in another. There are even vehicles to ride, allowing you to move faster through Gotham. There are also numerous traversal options, such as climbing most buildings and using grapple hooks, gliding, dashing, and even teleports to move around.
Combat is referred to as free-flow combat in the Batman Arkham series. It's mostly about melee brawling while juggling multiple enemies at once. Aside from the fundamentals of attacking and blocking, each of the four playable characters will have a unique set of special abilities, skills, and fighting styles. Gotham Knights also features numerous RPG progression systems. There will be a home base where you can pick up quests, craft and upgrade your gear, and interact with the various characters.
There will be a full-fledged gearing system with various stats. Rarities and mod slots are available, and the game can be played solo or cooperatively with one other player. It's surprising that with four characters in this game, they didn't do four-player co-op. Technically, that's my only assumption.
For the most part, I like what I've seen, though I should mention that there has been some controversy surrounding this game. A few things appear to be bothering people. For starters, how it compares to the original Batman Arkham series, but also the developers' unique perspective on each of these characters.
My only real concern is how well the game plays and performs. Some of the footage they've released hasn't looked great on either front, which is a concern, but I think the recent footage has looked a lot better in terms of performance and gameplay.
Nonetheless, I like the idea of an open-world Gotham game with four different Heroes to play as. If they can pull it off, it sounds promising. Gotham Knights will be released on October 21st for $59.99 on PC, PlayStation, and Xbox.
---
06. Call of Duty: Modern Warfare 2
The game Call of Duty Modern Warfare 2 is the series' next annual instalment. It claims to be introducing cutting-edge gameplay innovations, as they always do. This one has all new gun handling, Advanced AI, a new gunsmith, and a slew of other gameplay and graphical enhancements. It has a single-player campaign that will take us on a global conflict.
The game will also include the popular Cooperative Spec Ops mode. I played a lot of this in the early COD days and really enjoyed it, as well as competitive multiplayer, which is the backbone. But what interests me the most is Modern Warfare Fair 2's update to Warzone the Battle Royale's spin-off. It will get a brand new play space and a sandbox mode, as well as a slew of free content after launch, including new map modes, seasonal events, Community celebrations, and more.
This is Call of Duty, so you know what to expect. I'm not sure what to say. There will be some new bells and whistles, such as mechanical changes, new maps, and weapons, but for better or worse, it's called for. Here's another Call of Duty game for you to enjoy. If you don't, this is unlikely to change your mind.
However, the most I've enjoyed this series in recent years was when Warzone first came out, and I was really into it. I played it almost every day for several months straight. It was a great time, and I'm curious to see if the updates to Modern Warfare 2 and the changes to Warzone will entice me to return. We'll see. Modern Warfare 2 will be released on October 28th for $69.99 on PC, PlayStation, and Xbox.
| | |
| --- | --- |
| Price | $69.99 |
| Release Date | 28th October |
| Platform | PC, PlayStation, Xbox |
| Where To Buy | Blizzard |
---
07. Marauders
Finally, Marauders, a tactical first-person multiplayer looter shooter, is on our main list, but this is sci-fi Space Tarkov. The game is built around the same extraction-based Loop. Enter a location, look for Loot, and try to escape alive. If you do this, you will keep whatever you find but will lose everything if you die. Marauders, on the other hand, has its own distinct look and setting. You play as a space pirate in an alternate reality where humanity travels the stars primarily using 1940s technology. The technology and weaponry are inspired by the Great War.
Each match starts with you piloting your own spaceship. You'll fly around this vast open space until you reach a station, then dock, enter, and begin looting. The stations will range in size and type from small to fairly sprawling, with tonnes of rooms and corridors to explore, a mix of small and open spaces, and you will simply go from room to room looking for weapons, gear, and other items while fending off enemy AI and other real players.
Much of the gear and weapons you find, as previously stated, are based on the 1940s, but with a Sci-Fi twist because, after all, you are in space. You must keep the loot you successfully extract and then decide what to take with you into the next round, which adds a layer of persistence. Again, very Tarkovsky. It's that loop of gameplay.
There's also account-wide progression and vendors where you can buy and sell gear. There's also an extra layer of spaceships that you can fly around in and they're customizable. You can change the weaponry and defences, and there is actual space combat, such as shooting from your ship at other Pirate players flying around, and then leaving your ship to try to board theirs and steal it. If you kill the enemy player and escape with their ship through the exit, the ship becomes yours. It's fantastic.
It appears to be the latest in a long line of games that attempt the Tarkov extraction formula. A few of these are on the horizon, and I'm looking forward to them. I participated in the Marauders beta test earlier this year. Overall, I thought it was interesting. The controls were a little clunky, but I liked pretty much everything else, and I'm hoping they can tighten everything up for the upcoming release.
Marauders will be released on PC via Steam for $30. This will take place sometime in October. The time of writing has not been determined.
| | |
| --- | --- |
| Price | $30 |
| Release Date | October |
| Platform | PC |
| Where To Buy | Steam |
---
Some honorable mentions that are worth keeping an eye on
---
08. Asterigos: Curse of the Stars
This is a soul-like action RPG with a bright colourful look that is inspired by Roman mythology. This reminds me a lot of Ubisoft's open-world game Phoenix. The game almost feels like a baby's first souls game, which may sound dismissive, but I mean it positively. To be honest, it looks pretty cool. Asterigos will be available on October 11th.
---
09. Fueled Up
Fueled Up is a spaceship recovery co-op game. Consider overcooked, but in space. You must complete a series of mini-games and tasks against the clock. All of this is done to keep your ship from exploding in space. This will go live on October 13th.
| | |
| --- | --- |
| Price | TBA |
| Release Date | 13th October |
| Platform | PC, PlayStation, Xbox |
| Where To Buy | Steam |
---
10. Scorn
Scorn looks fantastic. Scorn is a horror FPS game with a spooky theme. Ebb Software did an excellent job on this one. It's frightening, but it looks good. Releasing on the 14th of October on PC and Xbox for around $35.
| | |
| --- | --- |
| Price | $35 |
| Release Date | 4th October |
| Platform | PC, Xbox |
| Where To Buy | Steam |
---
11. Star Ocean The Divine Force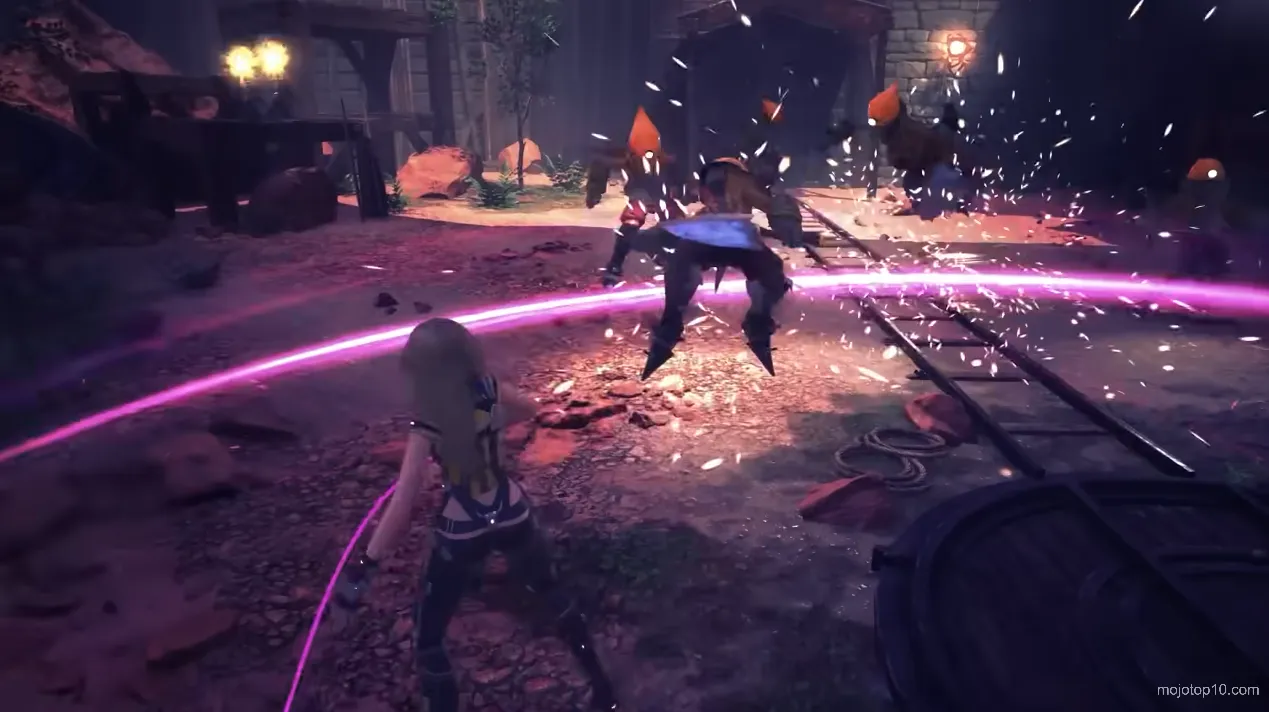 One of the many upcoming Square Enix action RPGs is Star Ocean the Divine Force. This is the most recent installment in the Star Ocean franchise. The game looks cool, if a little dated, but it is what it is. Star Ocean the Divine Force will be released on October 27th.
| | |
| --- | --- |
| Price | $54.99 |
| Release Date | 27th October |
| Platform | PC, PlayStation, Xbox |
| Where To Buy | Steam |
---
12. The Unliving
Finally, the unliving is a dynamic action RPG roguelike. This is one of those indie games that has gotten a lot of attention. You play as a necromancer, running around with your armies of undead, destroying things and resurrecting them. This will go live on October 31st.
| | |
| --- | --- |
| Price | TBA |
| Release Date | 31st October |
| Platform | PC, PlayStation, Xbox, Macintosh |
| Where To Buy | Steam, theunlivinggame |
---
Also, Check Out
10 Best New & Upcoming Mobile Games in 2022
10 New Upcoming PC Games From The Game Awards 2021
---
Follow us on Facebook and Twitter for all the latest updates & top 10s.
---
Explore our full Top10 categories
Do you agree with our list of the 12 best upcoming new games in October 2022? Tell us your favorite new games of October in the comment below.