If you're looking for a heartwarming, happy/feel good romance anime to watch, look no further than these ten titles. Each of these anime is guaranteed to make you smile, with the best of them even managing to tug on your heartstrings. From a modern-day fairy tale to a school life romance, these anime have it all and it's sure to make you happy. We bring you the 10 best happy feel good romance anime.
Here are the 10 best happy feel good cute romance anime to watch
These anime have everything from a modern-day fairy tale to a school life romance. Each of them is guaranteed to make you happy, whether it's something silly and fun or something heartwarming and dramatic. No matter what kind of romance you're into, you can find it here. Here are the 10 best feel good romance anime that will make your heart melt.
10. A Day Before Us
This is more like a flashback anime that speaks about the days our main character spent in high school. Don't worry, this isn't one of those high school anime that is going to get dragged around until the two characters fall in love with each other.
First off, this is a Chinese anime, so you don't get those annoying Japanese romance anime tropes in this story. Okay, maybe a few but not a lot. Second, the storytelling style is kind of different from other anime. It shows how the two main characters Wook and Yeo Reum have a different perspectives about their high school life now that they've grown up.
They wish they could go back but since this is not Steins Gate, they can't. This anime has three seasons in total, so if you want to take a break from work and want something that will make you feel good, then this is the show for you.
---
---
09. The Kawai Complex Guide To Manors And Hostel Behavior
Do you know about the trope where the guy gets thrown into an apartment full of weirdos and then he needs to figure out what the hell he has fallen into? Yeah, this is like The Pet Girl of Sakurasou but this time our main character has his eyes on a single girl.
It happens to high school freshman Kazunari Usa whose parents get a transfer abroad and his mother makes him stay at the boarding house that provides meals for its residents. The problem is the mansion is filled with weirdos.
You've got a masochist, a girl who has terrible luck with men, a predatory college student, and of course among all of them is Ritsu, a senpai that he likes and admires. Can he stay away from the weirdos and get the girl? Watch the anime and find out.
---
08. Acchi Kocchi
Have you ever thought confessing was hard? Ask our girl Tsumiki Miniwa about the pains you have to go through to confess to the person you like. Seriously, this girl has several billion chances to tell the guy she loves him, but each time something comes up and the confession fails and of course, to add more trouble, our male lead seems like the regular oblivious guy who doesn't know that a girl likes him. Seriously man, what's wrong with him? Doesn't he know how lucky he is?
But we all know those glasses-wearing guys in anime are the most oblivious dudes ever. From the visuals, this whole anime gives off that wholesome vibe that makes you want to watch it while eating some chocolates.
So, if you haven't watched this one then it's time to add this to your watch list.
---
07. Honobo Log
Did you know that this anime source material is a picture book? Once you read this anime's premise, you're going to think, wait what the hell did I just read but this isn't some anime you need 200 IQ to understand. The story is simple and the narrative moves fast and even though the episodes are short, you quickly fall in love with all of these characters.
Yeah, you heard that last one right. The episodes are only two to three minutes long, so you can finish the whole anime at the same time you finish an episode of a normal romance anime but that's what's good about it.
So, if you want some boyfriend girlfriend interactions which show the different sides of love, then this is the show for you.
---
06. I Can't Understand What My Husband Is Saying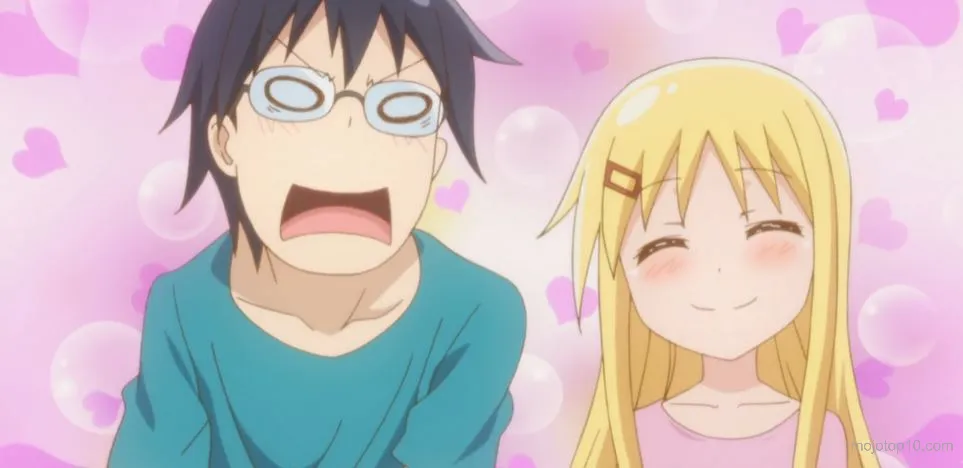 Let's make a bit of a change. I've been speaking about high school romance anime, so how about some wholesome wife husband romance. Don't stick to high schoolers. One day you're going to be an adult and your life isn't going to be an anime, so watch anime like these and daydream about what your life could be if you were in an anime.
I can't understand what my husband is saying about a wife who can't understand what his husband is saying. Why? Because her husband is an otaku and don't worry, our wife is a drunk too. I don't know why but Japan seems to love drunk wives in their animes but this time, our wife is the normal-looking person in the relationship.
She's a hard-working office lady who lives a normal life, while our husband is a straight-up otaku who is held up in his room while making a living using his blog. If you want to see these two weird interactions, then this is the show for you.
---
05. Ore Monogatari
Have you ever met that guy in school who always wants to help each other? Well, in this anime, Takeo Gouda is that guy. He always rejects girls and finds his friend Sunakawa to get all the girls. One day he saves cute and angelic Rinko Yamato and thinks that she will fall in love with Sunakawa as well.
He hopes to act as her cupid hoping to help her find love but in truth, he is in love with her as well. This is the perfect one to help my bro but fell in love with bro's girl type of anime.
Now, a lot of people bash the series for not having what they want but remember this is a shoujo anime, which means this is aimed at girls. So, expect some flowery language, some lovey-dovey stuff, plus the innocent girl with overprotective boy trope played really well.
---
04. Saekano: How to Raise a Boring Girlfriend
One day if someone asks what is the anime with the best girlfriend in the world, then you should answer Saekano. Megumi Katou might not be too popular in school like many other girls on this list but her popularity charts among the anime community clearly show her as one of the most popular waifus one could have.
Saekano tells the story of five high schoolers who try to make a visual novel based on a girl named Megumi Katou. The head of the team, the nerdy Tomoya soon begins to understand the values of Megumi more than just the game's idol.
The story is slower-paced than many other romance anime on this list, but trust me, you'll be crying on how good this show is by the time you watch the movie.
---
03. Tamako Market
Here comes another cute girls doing cute things video done by Kyoto animation. The studio's legacy still remains. One day a girl named Tamako Kitashirakawa stumbles upon a bird named Dera Mochimazzi who comes from a faraway royal country in search of a bride for his prince.
But soon, this bird gets addicted to the mochi made by Tamako's house and becomes painfully overweight after eating a lot of them. Now unable to fly to its home, it decides to stay in Tamako's house.
Tamako's market is filled with a lot of comedy and gags and more than anything, you get to experience the daily lives of cute girls who keep doing cute things until the end of the series. The romance kicks in during the latter parts of the story and the final movies so you'll need to be a bit patient.
---
02. Kokoro Connect
There are five students two boys and three girls and even though they're friends with each other, they hide darker secrets related to themselves or their pasts. Now all smiles and laughs until the five of them begin to switch bodies.
Secrets are revealed and troubled pasts taunt them back and amid all of these, the five friends begin to bond together. Kokoro Connect is one of the more popular animes out there and if you haven't watched it then I hope this gives you that final push to watch it.
The show starts off as a slice of life anime before it pushes into a full romance anime but what's even more interesting than the romance is how the members of the club understand each other better after each body switches.
If you love mystery, slice-of-life, and romance then this is the show for you.
---
01. Tsuredure Children
I consider this to be the most wholesome romance anime of all time. We've got more than one couple a set of really interesting scenarios and all the characters are lovable. The animation perfectly matches the tone of the show and all of these characters have different vibrant personalities that make you fall in love with them.
The reason why this anime is so perfect is because of how it's different from many other high school romance anime. Most high school romance anime focuses on family issues, love triangles, the personal life of the main character, his ambitions, and all that crap. Tsuredure Children is all about young love and how the two get together.
The sad thing about this show is that all of its episodes are only 12 minutes long, but don't worry, that's 12 minutes of wholesomeness heading your way.
---
Also, Check Out
Romance Anime Where Older Girl Love Younger Boy
10 Most Sad Heartbreaking Romance Anime
10 Best Romance Anime With Married Couples
10 School Romance Anime Where Popular Girl love Unpopular Guy
---
Follow us on Facebook and Twitter for all the latest updates & top 10s.
---
Explore our full Top10 categories
Do you agree with our list of the 10 best happy feel good cute romance anime? Tell us your favorite romance anime in the comment below.