Over 25 plus survival games are released in 2021 alone, and 20 more are about to release, and we have reviewed all released games for you. Games, where you have to survive in a hostile open world environment full of enemies and wildlife, starting with nothing and making your way up while monitoring health and hydration, are so fun and satisfactory.
Survival games give you the chance to test your skills in outdoor environments, challenge yourself in rugged environments, and take part in dangerous competitions. Therefore, we bring you a list of the best top 10 PS4 Open World Survival games 2021.
Here is the list of best top 10 PS4 open-world survival games 2021
There are many different open-world survival games that you can try when you have a little free time. This means that they are fun and easy to pick up, but they aren't for everyone. This article will look at the PS4 best top 10 open-world survival games released in 2021 or are about to release.
Sons of the Forest
Sons of the Forest is an upcoming open-world survival craft game, and it's the sequel to the first game, The Forest. A first-person game in which the player finds himself on a strange island full of cannibals and monsters.
After a plane crash, he must scavenge resources, build a base, and survive by fighting enemy monsters, crafting weapons, setting traps, and hiding in the forest, and at the same time, searching for clues to escape the island. This sequel will feature better enemy AI, better graphics, and a better story than everyone is excited for. Sons of the Forest will be released later this year on the PlayStation 4, PlayStation 5, and PC.
---
Vigor
vigor is a free open-world survival looter shooter game. In which players have to remain alive and build a shelter to protect themselves from the hostile environment. In Vigor, players have to participate in an open world like battles against other players to find resources, food, weapons, and better equipment.
The player can take two play routes either use stealth to loot the maximum resources and leave the area as soon as possible or take the messy route and fight opponents to loot their remains. It's up to the player to choose one of them. Vigor was released last December for free, and it's a solid game with outstanding graphics to pass your time.
---
Rust
Rust console edition is a multiplayer survival open-world game that was initially released on PC in 2014. However, because of the massive success on PC and after six years, they decided to make a console edition released in May of this year. Rust's goal is to survive after starting from scratch with nothing but a rock and gathering or stealing resources and building a base.
While also effectively managing hunger, thirst, and health. Despite aggressive creatures such as bears and wolves that try to kill you every time you encounter them, the greatest threat to the player is other players whose needs are the same as yours. The game can be played solo or in teams of 4 players, and it is one of the best open-world survival multiplayer games of all time.
---
Green Hell
Green hell is a survival open-world first-person shooter that can be played solo or in co-op multiplayer mode. In-game, the player must collect raw materials and food while crafting objects and shelters to ensure their survival. The game also has a story in which the player begins in an isolated jungle camp with his wife, who later disappeared after going on a solo trip to the nearby tribal village.
The player has to find her and save her while also making sure he survives in the harsh forest full of wild animals and enemies. Like the previous Rust game, Green Hell out for a while now on PC and in June 2021 was released on PlayStation 4.
---
Dying Light 2
Dying Light 2 is a zombie survival game set in a vast urban open-world city in Europe where players can freely roam. The map, which is four times the size of the first dying light, is divided into seven separate areas, each with its own set of landmarks and locations. Parkour allows players to gather various scraps and resources for crafting new goods and weapons while exploring the city to fight zombies and other human enemies.
Throughout the narrative, the players will encounter many groups, communities and will be required to make decisions. Later, the player has to take sides that will later alter the state of the game's world and change the story. Dying light 2 will release the 4th of February 2022 for PC and all consoles, including PlayStation 4 and 5. We included this game in this list because before the delay it was about to release in 2021.
---
Subnautica: Below Zero
Subnautica: Below Zero is a survival adventure open world game played from a first-person view. The player takes control of a scientist who travels a frozen planet in a quest to find about a research team that vanished there. The player aims to explore the surroundings and survive in the alien world while also completing tasks to advance the story. Players may collect materials, create tools, construct bases, and interact with the planet's creatures.
The game takes place mostly underwater, but there are significant land-based places to explore in the game's world. Additionally, explorable buildings to uncover, both above ground and underwater, serve as critical locations for the storyline and blueprints for crafting.
---
Wild Side
Wild side game's plot takes us to the 1980s, where players take control of a pilot, and Due to bad weather conditions, the player loses control and goes into a spin. He quickly loses speed and eventually collides with the trees of a nearby forest. He lost his consciousness in a place surrounded by a wild environment and abandoned by humanity. After a while, he recovers and understands what happened to him.
Unfortunately, he's in a damaged airplane in the middle of the woods, and the radio station he might use to call for help isn't working. To preserve his life, the player has to go on a challenging journey through an unknown forest to find food and shelter, and resources to repair the radio station.
---
Smalland
Smalland is an open world sandbox multiplayer survival game where the player takes control of a tiny human surrounded by massive creatures & he is at the bottom of the food chain. The player has to Craft weapons, armour, build bases & defend himself against more enormous creatures. Survive the dangers of Smalland's world, from the living animals to the changing weather.
Most creatures like Birds, Rats, Lizards, and Spiders will all see you like tasty food, and you have to be well equipped to fight back and survive. Weather conditions and seasons are also a challenge. New weather conditions not only affect your health but also dynamically changes the world around you too. The game can be played solo or with friends in a co-op PVE environment. Small and will be released in October 2021 for PC, Xbox One and PS4.
---
Breathedge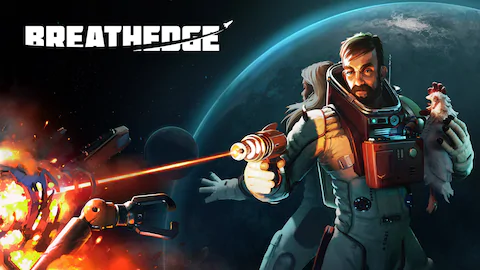 Breathedge game is a survival open-world adventure story-driven game that will trap players in a vast field of space wreckage with nothing but an immortal chicken as a company. It is like Subnautica, but instead of the ocean, there is space and different from other games on the list.
Instead of a harsh jungle environment and fighting for resources, players will navigate a zero-gravity climate to find supplies, craft tools, and survive in space. All while trying to advance in the game's story and the truth behind the crash of the biggest space station in history. Breathedge was released on the 6th of April for consoles, and it's a different kind of survival game that players may like or hate
---
Pray for the Gods
Pray for the Gods is an action-adventure survival open-world game. Here, the player character begins her adventure stranded on a frozen island, with only clothes on her back. She must scavenge for resources to craft weapons, food, and valuable tools and items to survive the frozen landscape.
After some exploration, players must track down giant creatures and figure out how to climb their massive bodies and eliminate them to advance in the plot. During the game, players will also encounter different types of enemies, and they must defend themselves while also monitoring their health, stamina, and hunger.
The game early access is available to play now and will be released for Microsoft Windows, Xbox One, PlayStation 4, and PlayStation 5 in 2021.
---
Bonus – AWAY
A bonus game which is Away. Away is an upcoming indie action-adventure survival open-world video game that lets you take control of tiny creatures in a vast world. You have to survive and stay alive while also exploring the world and progressing in the game's story. Away is scheduled to be released on September 2022 for PC, PlayStation 5, PlayStation 4, and Xbox One.
---
What survival games are coming to PS4?
Best upcoming survival games are Away, Dying Light 2, Icarus, Endling, Smalland, and Sons of the forest.
What survival games are on PS4 for free?
Here are the names of some free to play survival games on PS4 – Vigor, Darwin Project, Resident Evil, Apex Legend, and Don't even think.
What is the best survival game PS4?
Here are names of the best PS4 survival games – Rust, Vigor, Green Hell, Pray for the Gods (Early Access), Last of Us, Resident evil, and Subnautica.
---
Explore our full games categories
Do you agree with our list of the top 10 PS4 Open World Survival games 2021? Tell us your favorite survival game in the comment below.