When it comes to anime, it's easy to find a series to watch with friends or family. Cuddled up on the couch together, you can all experience the same story together and share a joke or two along the way. But sometimes you want to watch something on your own.
This is the type of anime you can't watch with others if you want to. These are the series you watch late at night when everyone else is asleep, and you can watch as much as you want without fear of being judged. Here are the top 16 watch alone uncensored ecchi anime.
Here are the 15 best watch alone uncensored ecchi anime
Watching anime is often a group activity, but let's be honest: there are some anime where you want to sit down and watch these uncensored anime without anyone else around. There are plenty of animes out there that are great to watch when you're all by yourself.
In this article, I'll be taking a look at my fifteen favorite watch alone uncensored anime, ranging from slice-of-life comedies to romance comedy. All of these are great in their own way and are a great way to spend your time if you are alone.
16. Manyuu Hikenchou
We kick start our list with Manyuu Hikenchou. In the golden era, where no currency rules. Where the world is controlled by that one thing, the bigger they are the more respect anyone can have and if you're blessed with them, then the fame and wealth are certain but if the surface is flat, then it will only bring one thing dishonored.
There is a clan that secretly controls everything. They know all the secrets about developing these things and for many years, they have gained a favorable position in the country and in which our female lead Chifusa Manyu is chosen to be the successor. However, she was disgusted by the fact of how society has turned into.
Fortunately, she is not alone. With her friend Kaede, she goes on a journey to see the world. Lucky for us in this journey, we see many ups and down with her. So better watch out and get ready to see some Oppai.
---
---
15. Harem in the Labyrinth of Another World
The title speaks for itself, so there's no point in explaining the show's premise. If you're going to watch this show expecting a well-structured story with some of the greatest characters ever written, then this isn't the show for you.
For those who want what you see in the tags, then this anime delivers you everything you need. It's one of those with great power comes great amount of idol level girls type of show that everyone likes to watch. So, what should you measure when it comes to shows like these? The animation.
Most harem shows just escape with some bad animation but this one's an exception. You've got some nice art and animation plus a story that you've seen seven billion times, so why don't you give this one a go?
---
14. My Girlfriend Is Shobitch
If ever in my life I was liable to judge an anime by its title, now would be the time. This is how the plot progresses, based on school love life. Haruka Shinozaki, our MC, summons his bravery and expresses his love for class representative Akiho. She accepts his affections in some way.
Akiho, on the other hand, has no idea how to have a good relationship or make her lover happy. So, the first thing that springs to mind for her is various X positions and how to make our MC pleased, but unlike others, Haruka actually cares about her and wants to learn more about her.
Akiho isn't a pervert; it's just her way of understanding love is different from others. Overall, the story has some dark humor and if anyone is interested, then try watching it and decide for yourself.
---
13. Super Hxeros
You know power rangers, the colorful heroes of justice. That gang up on one hopeless villain and kick his ass. Yeah, those guys. Well, it comes without question that we love watching them, but you know what could be much better hot attractive half-naked ranger. Don't you think? And they all need to be girls.
Well, fear not, your wish has come true. However, the story makes no sense to me. Hell, some episodes are there to kill your remaining brain cells, but that's okay. Why might you ask? It's because we got some bigger plot transformation to look for.
You are still wondering why I haven't mentioned the plot yet? Well, there isn't too much to begin with. Just a random guy is saving the inner beliefs of the planet and getting naked in the middle of the town.
---
12. Maken-Ki!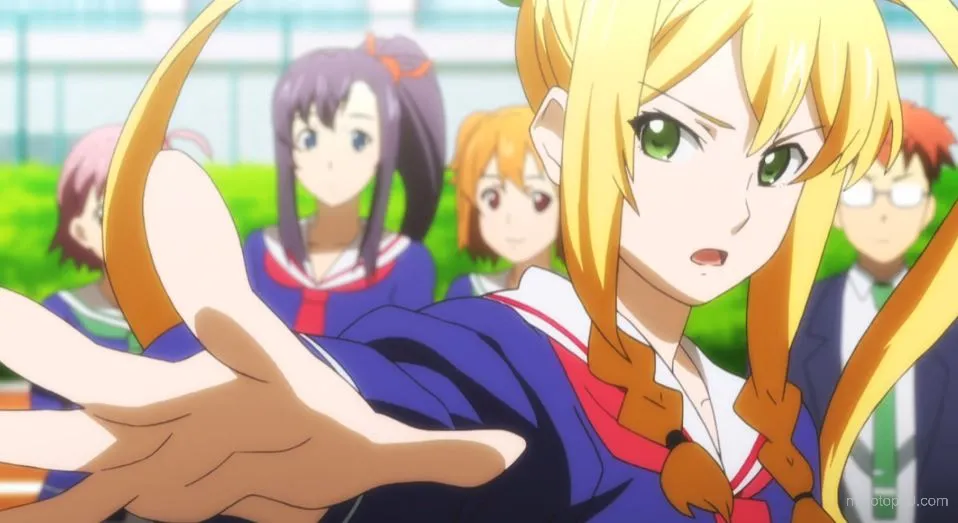 A show without meaning would you like to recommend to others. During the time of DXD, it looks like a big plot war is going on between writers. As a result, we get to see the side effects of it. Our MC transfers to a new school which used to be an all-girl school. On the joining day, MC meets his childhood friend Haruko. I am not sure about you all but I cannot forget that day for the rest of my life.
Little did the talk carrier know the school he arrows due to all those girls are not any ordinary ones. Let me tell you the truth. This series is all about girls; whether it is their silly behavior or team up against the MC, we get to see a lot of material that isn't allowed to be viewed by teenagers. Like we listen to anyone. So, if you are looking for good one-night material, make sure your parents are not at home.
---
11. Eiken
Ever wonder how much fan service is required to make a show like this. What about the times when fan service goes berserk massive in size and has no way to control it? For that, our MC has all the answers for you. Densuke just enrolled in the Zashono Academy.
He was excited to join a school extracurricular activity, but he had no idea he'd end up in the secretive Eiken club. Our MC is solely interested in Chiharu, despite the fact that the club sells bikinis and other accessories. Like everyone else, he wishes to be with her.
Chiharu is shy, and you can guess where this is going, therefore there's no storyline. In the world of anime, this anime contains some of the best female physique proportion. Alongside expressions, moves, and the short oval, you cannot dare to skip.
---
10. Golden Boy
The plot is a straightforward hidden gem. Kintaro is a young man who is on the hunt for a true-life purpose. He is a specialist in all types of work. He is riding on his bicycle, covering all the highways. On his journey, he was offered various part-time jobs. He had won the heart of all the women he came across from each job, but our MC rejected all the offers.
There is someone our MC truly admires, loves, respects, and wants to win his affection. Sadly, the story has only six episodes and all episodes we get to see are all hand-drawn but one thing our MC wants more in life is the amount of education he gets. After all, we all are here for some quality education, right?
---
09. Yuuna and the Haunted Hot Springs
Those stories are everywhere but for our MC Fuyuzora Kogarashi, ecchi ghosts are a common part of his everyday life. Throughout his life, he's been possessed by countless ghosts.
Some of them have given him nightmares, while some of them teach him many great things. With his ability to knock any ghost at one punch, our MC became one punch man of the monster hunt.
Due to his line of work, he has difficulty finding a place to stay. Just then, he discovered a cheap place to rent. Yuragi manor is a place with a haunted reputation, but for our MC, it seems like a normal place to stay.
While everything seems fine until he meets his new roommate Yuuna, a clumsy ghost girl who will be staying along with our MC. It's a fairly predictable story because the show is not there to tell you any supernatural romance. Still for the sake of Yuuna, you have to watch this.
---
08. Queen's Blade
The violent queen's blade tournament takes place every four years. It is a place where the strength and beauty of women are tested, and by victory, they decide the land's next queen. To make it into this tournament, the woman has to be a top-notch player.
When it comes to fighting, what else did you expect? Leina, Tomoe and Risty are three participants who seek to win the tournament but the path is quite dangerous. The anime has a style of showing art, especially regarding bouncy things, even though the main point is women empowerment.
Queen's Blade is one of the few anime shows that manages to maintain its originality. If you're in for some uncensored jiggles, then my friend you are in heaven. This anime will take you on a journey you have never gone before.
---
07. Highschool of the Dead
Have you heard about oppai science? If you have watched High School of the Dead, I'm sure you do. It is an erotic zombie apocalypse anime with lots of fan service. A pandemic has struck, turning people into flesh-eating zombies. Only a few high school students and a nurse managed to survive the attack.
Now they'll learn they can't trust anyone but each other to escape this nightmare. The harsh reality is the outside economy has collapsed completely. The only thing left is together.
They set on a journey to find their family member's well-being and uncover what causes this overwhelming pandemic. This is a zombie action series to its absolute best.
I have watched tons of zombie-themed shows, from western world zombie land to the recent Korean hit All of Us Are Dead and let me tell you, all of them have their perks, but as I said, one thing that differentiates High School of the Dead is oppai science. Believe it or not, it does exist.
---
06. Kiss X Sis
When life gives us two similar options to pick, why not choose both. Our MC Keita Suminoe's father remarries after the death of his mother, which led to him having two twins stepsisters Ako and Riko. Both are the school's top idols. A strong bond between brother and sister and once you get a look at their day-to-day life, you will notice they are far from ordinary.
Our MC, who is a middle schooler slowly started to have affection towards them flirty lustful and everything else that follows. Both sisters are on the hunt for a banana cake but our MC is not yet ready for intercourse; I mean inner communication.
It'll take an extra mile for his misunderstood feelings to evolve into a full-blown sisterly complex. If you want to watch an ecchi anime just for family's sake, you can bet on this one.
---
05. Valkyrie Drive: Mermaid
Valkyrie drive mermaid is a perfect yuri anime for those who just want to witness some extreme level of uncensored hotness, making it a special spot for this list. Due to an armed virus, a small amount of the female population has been turning into living weapons and to take consequences, they are sent to live on islands.
Unfortunately, our main star, Mamori Tokonome, got kidnapped from her gym class and transported to an exotic yet scandalous island called Mermaid. When she finds Mamori who saves her from a threat, she becomes a compatible partner who turns her into a weapon with a kiss and some other touch. By that, they can unleash special transformative powers to fight against these enemies.
So, if you are looking for an island full of hot chicks, I mean the girls telling their life struggles, you should really try watching this.
---
04. Freezing
It looks like we have yet another captivating story where the lady pretends to be tsundere and the man pretends to be a gentleman. Set in the year 2065, when the earth is ruled by the race called Nova, in which our MC Kazuya enrolls for special training in a special school who fights against the aliens by a modified girl called Pandora and a male partner called Limiters.
They use a skill called freezing to limit their opponent's mobility. For that, our MC partnered with Satellizer el Bridget. Also known by the name of the untouchable queen. She happens to be the most powerful pandora of her class. Without any male domination, if you are on the hunt for some good sci-fi stuff that actually makes sense, then this could be an enjoyable entry for you.
---
03. Kanokon
How about we add a supernatural rom-com filled with cuteness for some freshness. What if suddenly so many girls started to chase you? Would you like to have a lifestyle like that? Similarly, our MC Kouta, an incredibly innocent shy freshman, moved from the countryside to a city.
On his first day, our MC discovered Chizuru, a fox spirit. She openly tries to flirt with our MC on every location or occasion she needs. The story gets more interesting when Nozomu, another transfer student, likes Kouta for his smell. Slowly the story takes a love triangle turn. The main plot point of the story is Chizuru's mother. We all know how much motherly love our MC gets.
---
02. The Testament of Sister New Devil
The series focuses on Basara Toujou who is about to experience the greatest twist of his life. When his father decides to remarry, in addition to moving away and getting remarried.
He asks Basara to live with his two young stepsisters but unknown to both, they belong to the demon clan and our MC turns out to be an elite hero, a natural enemy of demons, even though Basara decides to stand up for his sisters and protect them at all costs.
For elderly support, MC got his teacher called emotional support. You know we all need that at some point; talk about weck. It's a borderline softcore uncensored ecchi anime packed with action fantasy elements. Just be prepared to get your hands dirty.
---
01. World's End Harem
When 2020 gets an anime adaptation in 2040, the mankiller lethal disease has spread worldwide. Eradicated 99.9 percent of the male population. Our MC Reito is a medical student who is also affected by an incurable disease. For that, our MC decides to go on a cryogenic sleep.
After five years, when he woke up into ultimate harem reality. The world was a completely new place for him. What awaits him is the 5 billion women population. On his awakening, our MC meets Mira, the female agent assigned to get MC's love. Our MC has no interest in world-saving plots.
All our MC wants is to find Elisa, his childhood friend. Will Reito be able to resist his temptation and find his true love? The answer lies in the great adventure of One Piece. I mean the World's End Harem.
---
Also, Check Out
Top 10 Ecchi Anime With Romance
10 Best Harem Anime Where OP MC
Best 10 Romance Anime Where MC Is Forced To Live Together
10 Best Anime Where Childhood Friends Become Lovers
---
Follow us on Facebook and Twitter for all the latest updates & top 10s.
---
Explore our full Top10 categories
Do you agree with our list of the 16 best watch alone uncensored ecchi anime? Tell us your favorite uncensored anime in the comment below.