Sports anime is a genre of anime that is centered on sports and athletics. The main premise of sports anime is to show the struggles and hardships that athletes go through to become the best in their sport and the glory and fame that comes with being a professional athlete. Some of the most popular sports anime include Haiku, Fighting Spirit and Ace of the Diamond. But today, we are not going to talk about the all-time best sports anime because we know that you have already watched them all.
In this article, we bring you the 12 best new sports anime of 2022 that you must watch if you are a sports fan.
Here are the 12 best new sports anime of 2022
When it comes to sports anime, no genre is better loved than sports. The sports genre has some of the most popular anime of all time and for a good reason. They're centered around athletes, which means they're excited to watch and filled with action and drama. These anime are also a great way to learn about different sports. So, if you are looking for some new sports anime to watch, these are the 12 best new sports anime of 2022.
12. Shoot! Goal to the Future
If you're tired of the wimpy main characters waiting to undergo their character arc, then how about we start from the other end of the spectrum. Atsushi Kamiya is a former captain at Kakegawa High School and he is already dubbed as the courageous captain.
I guess the name speaks for itself, so I won't take the time to elaborate, but when he meets Hideto Tsuji, he sees the potential in the boy's eyes and since he reminds him of his own past after she decides to train the boy. This anime definitely knows how to give that hyped feeling mixed in with some motivation and drama.
---
---
11. Futsal Boys
It's always good to have a role model. Well, our protagonist Haru Yamato's role is as a famous futsal player and his dream is to reach the same level as him. I know what you're thinking. Wait futsal, I know it's a less popular version of mini football and hasn't gained much popularity, but Futsal Boys happens in a world where futsal has become a global phenomenon.
This means that Haru has more chance to gain worldwide recognition if he practices the sport right and then plays the correct matches. Once again, it's that zero to hero's story, but like Love All Play, we're going to speak about an underrated sport. So, it's definitely going to win everyone's attention.
---
10. Birdie Wing: Golf Girls' Story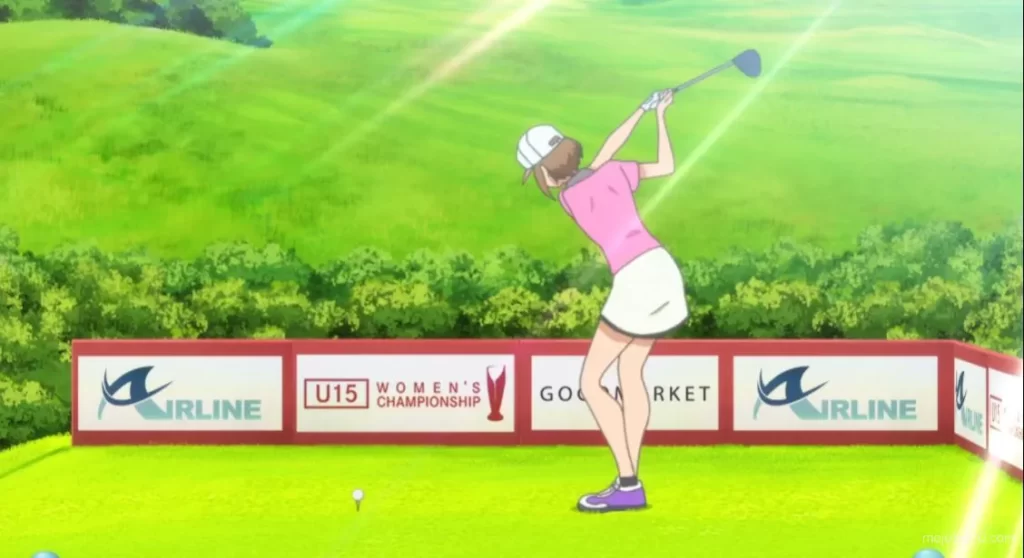 Aired in spring 2022, Birdie Wing is a golfing anime that has very little to do with real golfing, and for that reason, it's actually fun to watch. How could you turn the most boring sport in the world into an actual exciting one? Well, that's an easy answer, you add guns. Our main character, Eve, resides in Nafrece and is attempting to use illegal golf betting to make enough money to keep a group of orphans from being deported.
In golfs, our MC uses unusual golfing methods she refers to as "bullets," and she asserts that she can use every color of the rainbow while playing. Did I mention how much I enjoy this show? Did I mention I predicted this will be a Yuri anime in 2022? In terms of plot, Eve even outperforms the pros until she meets Aoi, a young Japanese girl.
Of course, Aoi is a true jewel in her own right. Also, did I mention the golf game was to the death? There is a Yuri element in it, so if you are a Yuri fan searching for sports anime to watch, this is the anime for you.
---
09. The Prince of Tennis Season 3
Have you ever enjoyed tennis or participated in a match? E-sports do not qualify. If you said no and thought tennis was boring, you should watch The Prince of Tennis. The third season of anime began airing in the summer of 2022, and if you haven't seen it yet, now is the time to binge-watch it all.
Ryoma Echizen, who had recently returned from America and attended Seishun Academy, is the protagonist of the anime plot. In a matter of days, he begins to defeat several of the outstanding tennis program's elite players. Our MC is a mystery; his abilities don't match his excitement for the game, and his classmates are confused as to why he isn't interested in pursuing pro-level tennis. Still, the answer could be found in his family's past.
Later, despite being only a freshman, he joined the squad and started the lineup in the school ranking matches because of his superior skills. If you love tennis and like to see a similar sports anime like Haikyuu in tennis form, this is the anime for you.
---
08. Gunjou No Fanfare
This year seems to open up the path to some really unique sports anime, doesn't it? This time we've got horse racing. Yep, the one you've seen on screens but never thought would get an anime adaptation, but Gunjou No Fanfare still exists to fill that void.
Our main character Yuu Arimura has been obsessed with horse racing ever since he was a kid. So, when he participates in the game, he doesn't hesitate to do it, but it turns out his dream sport isn't as streamy as it seems.
The anime follows the various and challenging things that he's got to face while becoming a pro of the sport and the friends and foes he meets along. Do you need some more inspiration to start horse racing? Well, here you go.
---
07. Ryman's Club
Well, what do you know? We're going to look at batman again, but we're going to dive a bit into the corporate side of things this time. This anime is all about a badminton business group and it will explore both the corporate and sports side of the game. You'll witness the sport using the players' perspective and all the financial machinations that go on behind the scenes through the perspective of your average salaryman.
It's a really refreshing and unique look into both sides of this and I think it definitely helps to make the anime more unique. When you mix up all of that with those good old character archetypes, then this anime is what we're going to get, and Ryman's Club is definitely going to be a better version of Love All Play.
---
06. Tribe Nine
Gang wars and baseball tell me about a combo. Tribe Nine does a great job of combining Tokyo Revengers with a freshly spent football concept. Here we have two boys who meet up with Shun Kamiya, the strongest XB that's an extreme baseball player in the world. This means that they're going to get a lot of adrenaline pumping and motivational speeches to turn them into the world's best baseball players, but this anime isn't all about some training arcs.
At the other end of the city is a mysterious man named Ojiro Otori. He's rising in power, and it's up to our duo and their mentor to face him alone. If you're tired of normal baseball anime, get ready for some gangster baseball.
---
05. Yowamushi Pedal
Your favorite cycling anime is coming back. What is Yowamushi Pedal all about? The series follows a regular otaku named Sakamichi Onoda, who joins the anime club to make friends, but as the club is disbanded, he moves on to the bicycle racing club where he meets another fun group of cyclists aiming to win at the coming competitions.
The show excels at the characters, especially both the protagonists and the memorable antagonists. The fifth season of this show is returning in 2022, and when a series is still going after four seasons and a movie, you know that many fans are going to love to see the return of this show.
---
04. Slow Loop
Every genre wouldn't be complete without a cute slice of life show, so Slow Loop decides to pull that string and make a slice of life sports anime. Now I'm not so sure about the cute part in terms of narrative, but the character design and the overall art style of the anime definitely give us that kawaii vibe and this time, we have fishing.
Many would throw this away, thinking fishing is the last thing they want to spend their time on, but Slow Loop puts a fresh spin on the concept by adding more mystery to the story and giving us an interesting set of characters. If you're tired of hyped-up sports anime, then watch some slice of life sports anime.
---
03. Love All Play
What better way to start the sports trend of this year rather than with some badminton. Since there isn't much anime that revolves around badminton, Love All Play will be a great addition to everyone's watch list. This is the story of Ryou Mizushima, the good old underdog in a school filled with many talented kids and idiosyncratic teammates.
He undergoes the good old zero to hero character arc when he becomes a pro at badminton and soon decides to play against other schools. Yep, it's the same old sports story, but this time with a twist. If you love badminton or want to enjoy a different sports anime that doesn't revolve around basketball or volleyball, then this one is the show for you.
---
02. Ao Ashi
We covered futsal badminton. What's next? How about we dive into some soccer. Like many others on this list, our protagonist here also wants to become popular while playing the sport he likes, but what's the trouble? When he plays soccer in school, he causes a major incident, and because of this, he is forced to take a temporary retreat from his team.
Is all hope lost? It turns out he finds a certain special someone who can rekindle his love for the sport and finally give him the motivation he needs. I know there have been plenty of soccer anime, but this one starts with a bit of a twisted premise. So, a lot of sports anime fans will definitely be hooked on this one. Why not add this one to your watch list and binge watch it all at once.
---
01. Blue Lock
Sports anime have a habit of repeating the same tropes over and over again, so when a single anime comes and makes a difference, you know, it's going to break the records. Blue Lock puts a fresh spin on this sports game genre by putting every character in prison.
What's the end goal? To motivate them hard enough to reach the very top in Japan. Here we meet Yoichi Isagi, who has decided being selfish is a good way to move forward in life. How will he overcome the challenges in this new prison? Will he rise to the top? Blue Lock loves to play with the tropes, so you'll find surprises around every corner, and you'll definitely love its main character.
---
Also, Check Out
10 Best Upcoming Isekai Anime of 2022
10 Anime with Best Hand to Hand Combat Fights
Top 10 Most Anticipated Upcoming Anime of 2022
---
Follow us on Facebook and Twitter for all the latest updates & top 10.
---
Explore our full Top10 categories
Do you agree with our list of the 12 best new sports anime of 2022? Tell us your favorite sports anime in the comment below.