Anime is a rich medium-full of unique and exciting stories. One of the most popular genres is fantasy, with series set in worlds full of magic and monsters. Many of these series follow a reluctant hero's journey, but in some cases, the protagonist is already a lot more powerful than the average person. This has led to some truly epic stories and complex characters that have captivated audiences. If you are looking for a good fantasy anime to watch with an overpowered protagonist, then we bring you the 10 best fantasy anime with OP MC.
Here are the 10 best fantasy anime with OP MC
The world of anime is diverse, with a seemingly endless supply of series to watch. But one genre that has always been popular among fans is the fantasy genre. This type of anime typically occurs in a completely fictional world full of magic, monsters, and other exciting elements. One of the most exciting parts of watching a fantasy anime is seeing a protagonist go on an epic adventure and become stronger as the series progresses. These are the 10 best fantasy anime with OP MC.
10. Ascendance of a Bookworm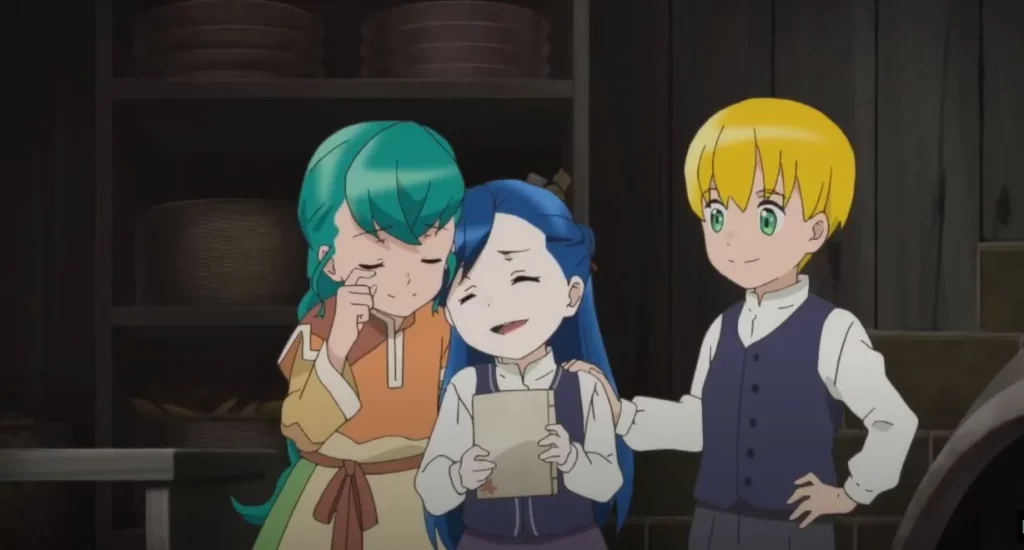 An awesome fantasy isekai series that is seriously overlooked and criminally underrated. You wouldn't normally watch the Ascendance of a Bookworm, but we definitely think you should check out. Watch the first episode, and we guarantee you'll be hooked.
The story follows a student with a huge love of books that aims to be a librarian. The story starts with her dying under a huge pile of books during an unexpected earthquake. As she dies, her last wish is to be reincarnated in a world where she can read books forever. Waking up in the body of a weak five-year-old girl where books are really rare and only available to the rich and powerful.
Our hero sets out and makes her own path, deciding to create and print her own books that she can get back to her love of reading. With some serious emotional and mental themes explored in the series, this isn't the classic fighting and action anime that you're used to, but we know that you'll be crying your heart out before the latest years even gets released.
---
---
09. Seraph of the End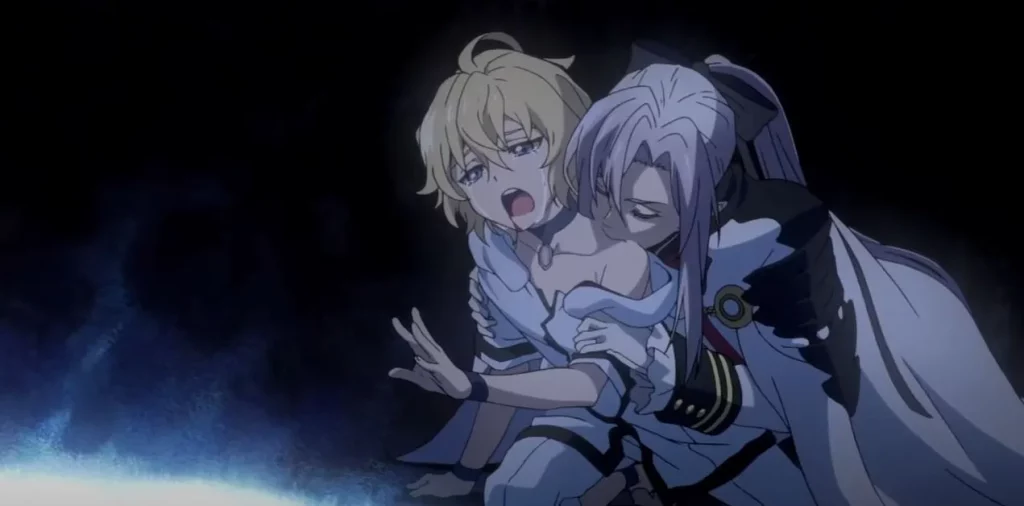 We can't help but fall in love with the dark fantasy themes of this post-apocalyptic vampire anime. Seraph of the End ties together some brilliant artistic stylings with interesting visual storytelling that hooked us from the first episode. Set in 2012, when the world human population was almost decimated due to a crazy artificial virus that left only children under the age of 13 safe.
Vampires began to emerge from the ground and started to rule the earth. The remaining humans on earth pay protection to their vampire masters in blood. We follow the young Yuichiro as he looks to escape an orphanage and attempts to make a life for himself.
After witnessing the brutal death of his friend Mikaela, he vows to avenge him by laying as many vampires as he can get his hands on. He learns that Mikaela is actually still alive and safe and elevates to a whole new level.
It's a brilliant series with a strong core story and an unbelievably savage MC that had us hanging on to his every word.
---
08. Problem Children are Coming from World Aren't They
A brilliant blend of action and comedy set across a fun fantasy world. This is a reasonably well-known series with some of the most insanely overpowered characters you will ever come across in an anime series. We follow three children that live extremely boring lives because they maintain some insanely overpowered and unmatched psychic powers.
The story kicks off when they receive an envelope that transports them to a fantasy realm filled with high-powered magical people who use their powers to play dangerous games for money and respect.
The kids are happy that there is finally a challenge to their sheer overpowering abilities and get caught up in this exciting new world, but they soon learn about the demon lords that run this new isekai world and plan to overthrow them.
It is an epic tale that starts off small and takes us through some very interesting characters and world-building in their little community but begins to grow grander in scale and the children take on more powerful enemies.
---
07. Overlord
Easily one of the biggest names on here but a personal favorite. You cannot mention fear and anime without bringing up the classic Overlord series. With insane levels of success as a manga, light novel, anime, and even film series. If you have not seen Overlord, there is no better time to get involved.
At its core, the Overlord is an isekai anime. Set in 2026, this highly popular and hugely successful multiplayer video game is set to be shut down after a 12-year run. The game is famous for its insane level of detail and the series follows a member of one of the most powerful guilds.
As the game is about to be shut down, our MC and overlord character by the name of Momonga decides to stay online as the game shuts down but soon realizes that he is now trapped in the game world filled with NPCs that start to think for themselves and with no ability to shut down the game and log out.
Our hero has no choice but to learn more about this world while learning how to escape. This series is an insane power fantasy of our MC having insane levels of OP and destroying everything in its path with little to no concerns of the repercussions.
The show gets heavy at points, and the overall story is interesting enough, but at its core, the strong focus on the MC is what makes Overlord an absolutely brilliant watch and one of the greatest of all times.
---
06. The world's best assassin gets reincarnate in a different World aristocrat
Definitely one of the newer series on this list, but still a fantastic watch that we are all so hyped for. Taking a unique look at the isekai genre, we follow an old man that was once considered the world's greatest assassin. On the verge of retirement, his plane was sabotaged and exploded.
Waking up in a magical world of swords and beasts, a goddess requires our heroes immense skills in order to prevent the destruction of her world. Waking up young and with some exciting plans for his new life, a bit on the serious side and aimed at a more mature audience.
We follow an epic hero's journey as this master assassin starts to learn more and more about this strange world. Meeting new and exciting partners and increasing his strength until he is one day destined to save this magical fantasy realm.
---
05. Re: Zero
Seeing many years of success as a manga and light novel, the Re Zero anime adaptation sent waves across the anime world when it was first released. An awesome dark fantasy adventure series with an RPG isekai at its core. We follow the engaging Subaru Natsuki, who finds himself teleported to a magical fantasy world. Shortly after arriving, he meets a half-elf in danger and attempts to help her. Getting killed in the process, but he doesn't die and keeps getting reincarnated a few hours earlier.
It turns out that this half-elf Emilia is set to become the next ruler of the kingdom. Armed with the powerful ability to die and keep getting reincarnated into this magical fantasy world, we follow Subaru on his epic journey across this realm.
Perhaps the most interesting aspect of Re Zero is that this time-travelling immortality is used to develop character relationships in a really interesting way. Seeing characters die or sacrifice themselves just to have Subaru die and reset the entire timeline with our MC being the only character with any memory of it whatsoever.
Seeing character profess their love for one another or reveal their true intentions just to have the entire sleeve wipe clean truly sets up re-zero for some absolutely beautiful moments and some highly engaging plot developments, definitely worth the watch. We cannot wait for the next season.
---
04. Konosuba
It is a fantastic isekai series that is relatively newer than most but still considered one of the greatest of all time largely due to its brilliant core storyline and, most importantly, its absolutely savage main character. We follow Kazuma Sato, a full-blown teenage neat shut-in and never leaving his room. When he meets a goddess named Aqua, that allows him to be reincarnated in a fantasy world filled with adventures and monsters.
However, given a chance to get some overpowered item or ability, Kazuma chooses the goddess herself to accompany him through his isekai realm. He soon realizes that she is absolutely useless. The two form the basis of a party and soon recruit a number of unique and interesting members.
With a lot of humor to be had, the party soon realizes they have no chance of defeating the insanely powerful demon king and just try to live out a comfortable and enjoyable life, but the demon king can't help but send out his many powerful generals to battle Kazuma and his team of adventurers.
---
03. Black Clover
Making huge waves on release, the Black Clover high pads definitely died down a little bit with some brilliant arcs coming up. This is a series you definitely want to get involved with. Delivering a well-polished mix of adventure fantasy Black Clover doesn't exactly innovate but can certainly be considered the best anime in class.
The series itself focuses on a young orphan by the name of Asta. Whereas most people are born in this world with the ability to harness this powerful magical ability, Asta has no magical power whatsoever but chooses to focus on raw fiscal strength.
As opposed to you know another orphan with insane magical abilities. The two journey across and look to become the next wizard king with a friendly rivalry between the two as they travel across the brilliantly designed world of Black Clover. Encountering all sorts of interesting and well thought out characters on their epic journey.
The series itself has recently ended with a lot of material to get into, from an awesome manga series that is still ongoing, a fantastic game, and an upcoming anime film that we cannot wait to check out.
---
02. Rokka: Braves of the Six Flowers
What makes this such a fantastic watch is the intricate and heavy mystery throughout. Although heavily action-based with some awesome fantasy elements, the general tone and plot outlines really had us glued to our seats. Never really sure how things would turn out.
Six people have been chosen and are known as the braves of the six flowers. Selected by the goddess of fate to defeat the demon king, but there are seven when they meet up. One of the seven is an imposter and is actually sent to infiltrate them by the demon king.
Our MC claims that he is the strongest man in the world and he definitely proves it. Another really cool aspect of the series is the artwork and setting.
Even just looking in the background, you get this unique Aztec, my incense with the temples, the language, and the designs. Just a really great anime that is so interesting and well written.
---
01. Tsukimichi: Moonlit Fantasy
Hard fantasy and starting off as a self-published work, Tsukimichi has seen a strange journey since its creation, but luckily enough, this awesome new series is set to see anime form and is one of the most exciting original series out there.
The novel web origins of this series have allowed it to enter some heavy themes and controversial arcs that you don't usually see coming through the traditional manga publishing route. With a solid fan base that has fallen in love with it, we expect the upcoming anime series to push the boundaries of fantasy anime.
Misumi Makoto is a high schooler summoned into a fantasy world by the god Tsukuyomi to become a hero. However, our young MC is outcast by most of the world's inhabitants, including its resident goddess. He is forced to travel and make his own way to protect and defend this new world.
A classic adventure type isekai that introduces a very interesting cast of characters and isn't afraid to deal with extremely emotional themes. Web novels have always pushed the limit and we guarantee that the anime adaptation of Tsukimichi Moonlit Fantasy does the same.
---
If you are looking for more fantasy anime then you can also visit here.
---
Explore our full Top10 categories
Do you agree with our list of the 10 best fantasy anime with OP MC? Tell us your favorite fantasy anime in the comment below.