There are two ways to cure depression. One is romance anime with a happy ending and the other one is ecchi anime. So, if you're not a fan of the first then anime has opened up the possibility to move to the second. So that's why I bring you the top 10 best uncensored ecchi anime list that excelled in the ecchi department and has seemed to make your eyes bleed.
A closer look at the top 10 Best Uncensored Ecchi anime list.
We have seen anime with genres ranging from action, drama, adventure, sci-fi, thriller, comedy, isekai and so on. It has just about enough material for anyone to enjoy. The eye-catching action sequences of an anime are so hilarious they'll make you fall off your chair but today we won't be discussing any of those considerations. I bring you those types of anime that can be helpful when you're just looking to make the most of your solitude. That's right I'm going to talk about the top 10 best uncensored ecchi anime that you need to watch.
10. Seikon No Qwaser
Coming at number 10 on this list is the Seikon no Qwaser. A show is renowned for its violence and fan service. you can rest assured knowing you're in for an incredible experience. The main setting is Saint Mikhailov Academy where a series of serial murders have taken place with the victims being predominantly young women. The culprit is still unknown.
The plot focuses on two adopted sisters Mafuyu Oribe and Tomo Yamanobe that come across a wounded young man Sasha and decide to bring him back to their place for him to recover that night. Mafuyu finally witnesses the infamous serial killer in front of her. Luckily Sasha comes to the rescue just in time saving Mafuyu & Sasha. Then reveals that he is a quasar.
A person is capable of controlling periodic elements by partaking in the soma. A substance found within the breasts of women. After that, he joins the academy and from here begins his peculiar yet interesting school year. As you can tell the plot mainly revolves around soma as all the interesting scenes are based around that.
With decent animation but no engaging plot whatsoever if you're just looking for some fun time then this is an option you should consider.
---
9. Shinmai Maou No Testament
This show is bound to remind you of your normal sessions when you're isolated. Why may you ask? Well, the intimacy in this show is shared between step-siblings and if that wasn't enough one is a hero and the others apparently demons. Yes, even supposedly being a sworn enemy isn't quite enough to stop some people from part taking in sinful deeds.
So, how can someone end up in a bizarre situation such as this? Well, the two supposed stepsisters Mio and Maria try to deceive our main protagonist Basara Toujou. Instead, they only managed to deceive themselves by thinking they could trick our op main protagonist.
Basara first tried to shun them but later started caring for them. You'll understand if you watch the show for yourself. To make sure one of his stepsisters Mio can always be located so that Basara can offer protection a master-servant pact is made.
The deeds that Basara and Mio get involved in because of a consequence of this spell an interesting plot with many more interesting scenes be sure to give it a try.
---
8. Masou Gakuen HxH
Masuo Gakuen HxH is one of the more well-known ecchi anime out there. It would be a disservice to all of you if I didn't add this anime. The main protagonist is Hida Kizuna situated in a supernatural world. Hida possesses the heart hybrid gear ability but it's not quite potent to make him noticeable among his peers.
To get out of this predicament his older sister suggests that he transfer to a strategic defense school to improve his abilities. So far so good where does the ecchi part fit in all of this you may ask.
Well, ecchi authors seem to have the talent to include ecchi in situations where you'd least expect them. Considering many of the students in that academy are large-breasted girls. You get the idea of where you'll get most of the material from.
Furthermore, he does power doesn't measure up to other students therefore his sister gets another idea by having erotic experiences with Hida. The other students get their energy replenished somehow what do you know Hida isn't useless after all.
---
7. Boku No Kanojo
Number seven on our list is Boku no Kanojo. Thank goodness the ecchi isn't based around something unusual this time around. Based on a school love life this is how the story progresses. Our main protagonist Haruka Shinozaki has the hots for the class representative Akiho Kosaka for quite some while.
Now having supermodel looks and doing well in sports she fulfills the criteria of what you'd want in a dream girl. As time passes Haruka decides to confess his feelings to Aikiho and his surprise. She agrees to be his partner however her quirkiness unravels as Haruka spends more time with her.
An inexperienced girl she had quite strangely never been in a relationship though this isn't a hurdle by any means being an ecchi genre you can guess how they'd spend most of their time together.
---
6. Ladies' vs Butlers
With somewhat of a tragic plot but full of sensual content Ladies vs butler lands the number six spot on this list. Our main protagonist is Hino Akiharu not having the happiest of childhoods. Akiharu lost his parents at a young age after that his uncle's family decided to care for and raise him.
Later on, feeling as though he was a burden to his relative Akiharu decides to enter a boarding school Hakureiro Academy to alleviate this unpleasant feeling. Akiharu then proceeds to take the exam and passes after succeeding in passing his exam. He decides to become a butler after managing to secure a place in the house management department.
However, due to his somewhat unusual appearance, he can't seem to get along with his classmates the majority of which are girls who talk about brutality, and if that wasn't enough torture, to begin with, Akiharu meets his childhood friend Tomomi Saikyou.
A girl or a snake for a better description who traumatized him countless times as children fortunately for our main protagonist his relationship with girls starts getting better and so does his relationship.
---
5. To LOVE Ru Darkness
Wanna meet the king of all ecchi anime wait no more. To LOVE Ru Darkness is a sequel to the original To Love Ru franchise. Where a shy high school student named Yuki Rito meets Lala Satalin DEVILUKE. A girl from a planet of devils who runs from forced marriage. Lala declares Yuki as her true love and later in love root darkness, her two sisters arrive to live on with Yuki as well.
To Love Ru purely exists for the fanservice aspects and even has a great plot and premise. It's also a show that excels in the harem aspect and it's no wonder that every girl in the school falls in love with their main character one way or the other.
Speaking in terms of ecchi this is one of the best shows you should watch and probably something that will show how anime can go to the extreme and anything even ecchi anime.
---
4. Monster Musume No Iru Nichiou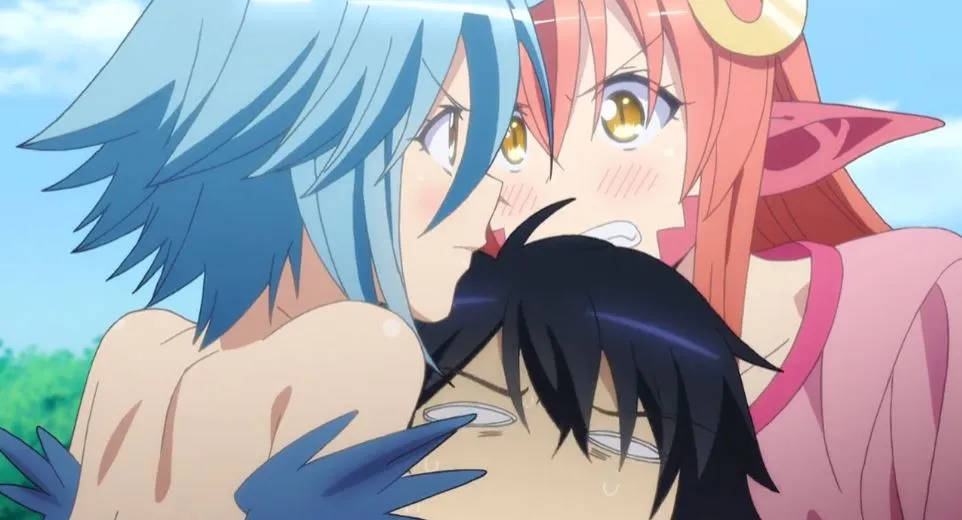 From this point onward things are going to get far too ecchi for your good. For a long time, mythical creatures such as centaurs, mermaids, harpies, etc were thought to be well mythical. However, the government had finally revealed its existence. After passing the inter-species cultural exchange act humans and these mythical creatures known as Liminals live together.
However, they have certain restrictions that include causing no harm to the other species as well as refraining from procreating. In this strange setting, our main protagonist Kimihito Kurusu gets involved with the Lamia.
This Lamia somehow attracts other female Liminals of other breeds building into a dream harem. These girls seek to have sexual encounters with Kimihito. Though since the deed is not permitted by the interspecies cultural exchange activities. Kimihito finds himself in odd but satisfying situations.
---
---
3. Redo of Healer
Number three Redo of Healers. Yes, this anime is the one you always see on Twitter. The one that somehow turned the platform upside down and once again gave birth to a controversy bigger than goblin slayer itself. If you just read the synopsis it may seem like an average healer taking his average revenge but trust me that's not what it is.
The controversy is around how he takes revenge needless to say even though this is ecchi this falls into the darker category of ecchi and instead of a normal anti-hero protagonist we've got an actual villain that would make shield hero look like a nursery boy fighting his best friend. If you need a dark ecchi show then wait no more.
---
2. High School Dxd
How can we have a top 10 etching list and not include this infamous anime? Issei someone who most of us can relate to is nothing more than a pervert who wants his harem one day. Though unlike the majority of us it looks like Issei's fantasies are fulfilled as pretty girls start asking him out.
Unfortunately, for our main protagonist here one of the girls he goes out with turns out to be a fallen angel. This fallen angel attacks Issei causing him to bite the dust just when things were going well for him.
However, the story hasn't quite finished yet as issei gets a second shot at life. You'd expect a shameless person like him to be reincarnated as a cow or a pig or a turtle but that's not quite the case even in his second life. He gets a chance with the beautiful busty hot devil Rias Gremory.
A name I assume most of you are already familiar with as well as quite a harem for himself where he gets to experience some……. good moments.
---
1. Prison School
The hilarious plot, as well as very enjoyable scenes supported with good animation prison school, lands the number one spot on this list. Hachimitsu Private Academy is a prestigious all-girls boarding school. Famous for its high-quality education and disciplined students.
However, after a new policy, the atmosphere is about to change quite abruptly males are now accepted into this school with the majority of the students being girls. You'd expect most young teenagers to be eager to join this academy. However, only a measly five boys are accepted Kiyoshi, Reiji, Shingo, Jouji, and Takehito. As with any empire in history, it's always the minority that suffers persecution.
Unfortunately, our five boys here are no exception. After attempting to make a plan of peeping into the girl's bath they get caught. With the ratio of girls to guys being 201 you know, there's no escaping this mess. Here on our boys find themselves being punished and persecuted daily by the female students.
Of course, having so many girls included in a show can also expect some ecchi scenes along with getting a good laugh or you can pity the guy's situation in which case it just shows that you can't enjoy a good show.
---
What is an ecchi anime?
Ecchi is a slang used in the Japanese language. Generally used for playful sexual actions.
What ecchi anime should I watch?
There are various awesome ecchi anime you can try. Some top anime names are Prison School, High School DXD, To Love Ru, Monster Musume, and many more.
---
I hope you like the top 10 ecchi anime list and now have some shows to look forward to when you're desperately trying to make the most of your isolation.
You can also read –
Explore the full website and find more interesting Top 10's.