Sometimes the best love stories are the ones where the main character is forced to live with their best friend or sometimes with a cousin. These anime explore the complications of being in love with someone and show that true love never dies no matter how hard life gets. From romance comedy to drama, these are the 21 best romance anime where the MC is forced to live with a girl.
Here are the 21 best romance anime where MC is forced to live with a girl.
The shows on this list have one thing in common: the hero is forced to live with the girl. The girl can be anyone from a sister to a best friend, but the hero is usually someone the audience can sympathize with. The girl is often the most interesting character in the show since she's the one the audience can relate to the most. Overall, if you're into pure romance anime and don't mind little comedy elements, I highly recommend you to give it a try these 21 best romance anime where the MC is forced to live with a girl.
21. Choukadou Girl ⅙
Our protagonist is a Haruto Bouida with no interest in real women. However, when Nana, a character he loved from an anime, had her figure released, he purchased it. Later that night, the figure of Nana somehow came to life, and a couple-like lifestyle between man and toy began.
I feel this anime is underrated due to its short episode length. In these times, the anime industry is dominated by isekai plots and shounen giants. Good lighthearted shows are hard to find. Overall, it's not the best one out there but not the worst one either.
It's a decent show to binge-watch and extract some enjoyment out of it. I recommend you give it a try and decide for yourself.
---
---
20. Mayo Chiki
This is one of those oh my god I didn't know you were a girl even though you kept dressing like a boy type of anime and this time our main character even has a disease. Remember how anime characters get nosebleeds. Well, this guy gets nosebleeds 24/7 as long as there is a girl near him. The first person to know about this is the worst girl in the world, and no, that wasn't his story a reference. Mayo Chiki starts simple.
You've got a boy named Kinjirou Sakamachi who has an abnormal fear of women. It turns out every time a woman touches him, he gets a nosebleed but things take a worse turn when he realizes the most popular girl in school Subaru Konoe is actually a boy.
He is forced to protect the secret and if he does, he will be granted a cure for his rather weird gynophobia. Trust me, getting that cure is going to be hard.
---
19. Love Hina
Time to move into an old anime. It's not that old but I'm pretty sure this is one of the anime that gave birth to this whole living together with a girl genre. It starts off similar to Nisekoi, where little kids make promises they cannot keep.
The guy here is Keitaro Urashima, a boy who owns his grandmother's apartment named Hinata house and must deal with its issues while also facing his university exams. Here he meets Naru Narusegawa, a girl who excels at studying and also has a fiery temper and beats the hell out of you if you get on her bad side.
Keitaro now has to live with Naru while also finding answers to a mystery he had in his childhood. The animation may seem old compared to a lot of other anime on this list, but hey, this is the father of force to live with an anime girl, so give it a watch.
---
18. The Maid I Hired Recently is Mysterious
If you didn't guess it by the title, the maid here is pretty mysterious. Nope, not mysterious because she's some secret assassin or anything that would have been cool, but this maid's different because she likes to tease our poor guy who is more delusional than your average Twitter user.
Yes, our MC thinks the maid is plotting something behind his back and is always cautious near her but this makes our maid grow fond of him and she shows her fondness by occasionally teasing him. If you think the art style is pretty similar to Jahy-sama, then that's because this was done by the same author.
The Maid I Hired Recently is Mysterious anime released this season, so it's still ongoing but if you want some cute made master romance, start watching this right now and get ready to be obsessed about a maid.
---
17. Marmalade Boy
Yes, I like to speak about some old anime. This is one of those old shows that might have gone under your radar. Here we have a girl who was having a pretty fun life until her parents decided to get a divorce. Imagine you having a fun holiday with your family only to come home to hear your parents getting a divorce and then your parents say, " Hey, remember that other family we met on holiday? We're swapping partners with them.
If you don't think that isn't the world's strangest divorce, then either you've gotten used to bizarre anime premises, or I need to start watching more anime. This new couple's son is pretty hot, so our girl thinks, okay, perhaps the divorce isn't so bad after all.
Along the way, she meets love barriers, jealous rivals, and all those good old stuff you need in your romance anime.
---
16. The Duke of Death and His Maid
When you see this anime, you might say look at all this CGI. I hate CGI, so I don't want to watch this anime. If you thought that, slap yourself in the face because this is one of those anime you can't judge by the animation. Since this is done by J.C.Staff studios, the animation is pretty great and mix it with that one duke one made love story and you get a perfect romance wild ride.
Yes, this show is about a duke who falls in love with his maid and after deciding to take a retreat. Wait, you think that it doesn't have enough romantic tension? Well, I forgot to tell you, this duke guy also has a disease where he kills anything he touches.
So, how will he kiss the maid if that's the case? Will there be no kissing scenes? Won't they even hold hands? Well, watch the anime and find out.
---
15. They are my Noble Masters
What happens when you're broke? Luckily for our MC that he got a chance to become a butler. There my Noble Masters is about a boy who runs away from home with his sister because of their abusive father. Soon they're recruited by a wealthy family of aristocrats who plan to make the guy their butler. Now the problem is none of the family members are normal ones.
Yeah, you heard that right. This is like Hayate the Combat Butler but we've got way more weirdos in the house. We've got a horny elder sister, a little sister with a superiority complex, two maids with many problems, and the sister once again.
Apart from the romance, this also feels like a slice of life show about a butler and his masters. I guess that's why it's called They are my Noble Masters.
---
14. Mahoraba: Heartful Days
Let's move it to another old anime. Here we have Shiratori Ryuushi, who wants to study at a vocational school. He arrives at his new lodgings to find that the place is occupied by a bunch of weirdos and the main person he should check out for is the crazy landlady, Aoba Kozue.
Now I know this might look like Love Hina but there are a lot of elements different from it. I cannot speak much about them without diving into spoilers but overall, this focuses on multiple personality disorder.
Does this mean the weirdos in the dormitory will switch personalities and start killing each other? Nope but we won't go that far, but we'll come close to that.
---
13. The Kawai Complex Guide to Manors and Hostel Behavior
We have a guy with family issues once again. It happens to high school freshman Kazunari Usa whose parents get a transfer abroad and his mother makes him stay at a boarding house that provides meals for its residents. The problem is the mansion is filled with weirdos.
Here we have a masochist, a girl who has terrible luck with men, a predatory college student, and of course, Ritsu, a senpai that he likes and admires. Also, she is the kind of girl that talks about 10 words in a 1000-word script, so don't expect her to be the extra forward popular girl.
She's that girl who sits in a library, reads a book, and minds her own business. But this isn't the case with the other people in the house, so get ready for an anime with one cute girl and a bunch of weirdos.
---
12. Yuragi-sou no Yuuna-san
Can it still be considered you're living with a girl if the girl is a ghost? It turns out you can. It turns out Yuragi-sou no Yuuna-san is about one guy visiting a hot spring that is haunted by a ghost. Since this is the anime, we're speaking about the ghost is of course going to be a cute anime girl.
Don't tell me you didn't see this coming, but if you think that's where it ends, then let me tell you, the guy keeps getting more girls into the hot spring. Yeah, as soon as this guy lands in the hot spring every girl wants to be in it. What a coincidence.
The anime also has some great comedy not that unique and original comedy but that dumb harem comedy that'll still make you laugh. Sometimes being dumb is actually funny, at least in harem anime.
---
11. Nakaimo – My Little Sister Is Among Them
You know what this anime should be called who is my sister because the premise of this show revolves around the main character finding out who his sister is. Our main character is just the regular rich bastard who just owns his father's company and needs to find a bride.
I know what you're thinking; come on, this guy has the money, he has the looks, he's an anime protagonist, so how hard is it to get a girl. It turns out he doesn't want to have to try that hard. There are five girls who want to marry our main character but one of them is his sister and unless this guy goes Sherlock Holmes, it's going to be really difficult to find who the sister is.
Since none of them look like his sister. Okay, if you want some anime with romance and mystery, who am I kidding? We all know this doesn't have any mystery, just watch it for the romance.
---
10. Nobunaga teacher's young bride
Our protagonist is a middle-class teacher who always dreams of a game-like situation, where a girl who loves me will suddenly appear before me. However, the one who appears before him is a 14-year-old girl named Kichou. She seems to have come from the Sengoku era and proclaims herself as his wife.
She mistakes him as Nobunaga Oda and urges him to conceive a child with her. Despite all the hate, I feel this show is not for everyone. If you're looking for a more ecchi comedy-oriented show, you're going to love this one.
Also, the anime is composed of short seven minutes episodes, but each one manages to make you laugh at least once. Overall, it is not a bad anime, and if you have been looking for a friendly and fun ecchi comedy, then this might be the anime for you. I suggest you try this if you're into these types of shows.
---
09. Mother of the Goddess' Dormitory
Our protagonist is a 12-year-old boy abandoned by his father after their house caught on fire. One day a girl named Mineru finds him lying on the sidewalk. She takes him to a women's college dormitory known for troublesome housing residents and asks him to be their dormitory mother.
Surrounded by older women, he starts his new life. I must say this is pretty much a guilty pleasure of the season. If you're looking for ecchi anime and a good amount of fan service, you shouldn't miss this one. If there's something that this anime does well is staying true to what it is.
Overall, it's a pretty decent show if you're into this genre, and I recommend you give it a try. It deserves more love from you all.
---
08. Akikan!
Our protagonist is a perverted 16-year-old boy who never had a girlfriend. One night after a refreshing shower, he decides to have a drink and opens up a can of melon soda. His first sip turns into his first kiss as the can suddenly transform into a cute girl. He quickly learns that Akikan is created to fight other Akikan to determine a better container.
To be honest, this anime is seriously hilarious. The juice that can turn into a girl is quite random. Yes, it's a silly show with an absurd premise, but you can't miss the fact that it's damn funny. So, if you are seeking some funny show, I'll recommend you try this. But if you are really into deeply complex characters with intricate winding plot twists and love super serious business, then this is not the series for you.
---
07. Final Approach
Our main character is living a peaceful life with his sister. However, everything is about to turn upside down due to a secret government project. In present-day Japan, a rising decline in the birth rate has prompted the government to intervene. Thus, forming the RTP committee whose goal is to promote arranged marriages.
However, a test run was deemed mandatory, and our main character was selected as the test subject. With the megalomaniac, Shizuka was appointed as his fiancée and her secret agent to ensure the success of the new couple. It's difficult for him to live his normal life.
Even though it is an old show, certain twists and carefully plotted scenes make it an enjoyable experience. I feel character plots and personalities made this anime quite fun to watch. All of the characters had their own unique traits and personalities that surprisingly complemented each other.
---
06. Nyaruko: Crawling With Love!
Our main character is just an ordinary high school student. He suddenly gets attacked by a dangerous monster and gets saved by a silver-haired girl named Nyaruko. She's a shape-shifting deity sent by the space defense agency. After rescuing him, she madly falls in love with him and forces herself into his house.
She tries to protect him from the various extraterrestrial dangers. The core of the anime is based around light parody comedy. This anime has so many references to video games, tv shows, anime that you won't even notice, and of course, it's very enjoyable.
When you understand one, all characters are very likable, allowing viewers to become attached to them easily. Overall, if you are looking for a lighthearted comedy show with a touch of sci-fi elements, this one's for you.
---
05. Ground Control to Psychoelectric Girl
Our hero has just moved from his rural hometown to live with his aunt and experience high school life in the big city. Unfortunately, his dreams of an adolescence filled with dates and school activities are soon shattered by having to share his new home with his cousin.
She thinks she's an alien and spends most of her time wrapped in a futon for protection. He soon finds himself drawn into helping her rejoin regular society and stopping her alien antics. It is an excellent series that can be counted as a unique and hidden gem among more popular titles.
If you are looking for a lighthearted approach with a touch of comedy and romance, I recommend this show. Overall, it's a pretty good slice of life-themed anime, and I think more people should consider watching this.
---
04. Invaders of the Rokujyoma?
Our hero is a high school student searching for a cheap place to live by himself. He just grabs the chance when he sees a place for 5000 yen. He finds a mysterious cave while working at his part-time job. Little does he know this incident is going to change his entire life. Later that night, he gets visited by four mythical figures who claim ownership of the apartment.
On the surface, the show does seem like a typical harem show, but it's more than that. The interactions between the characters are hilarious and they will get you to laugh every time. This is what a harem show should be a good comedy that doesn't utilize fan service, romance that feels genuine, relaxing slice of life moments, and one of the most likeable casts you will ever see. I highly recommend you to try this.
---
03. Seto no Hanayome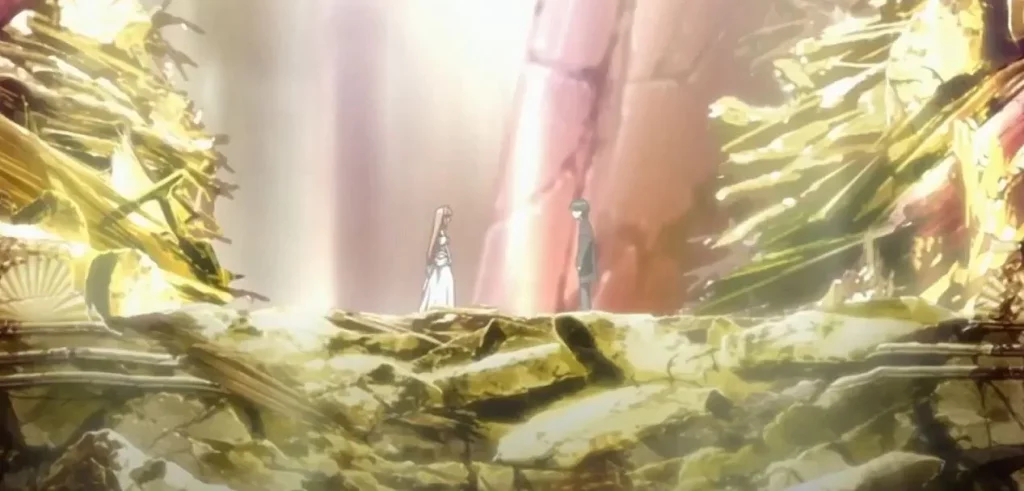 You heard the title correctly. This time our main character's girlfriend is a mermaid. How did that happen? Well, it turns out this guy decided to swim in the wrong place at the wrong time and then started to drown but got saved by a mermaid.
Later the mermaid comes and says he should marry her because that is a tradition among the mermaid folk to marry the first human they come into contact with. My Bride is a Mermaid is a show that executes the landed in the wrong place and got the waifu concept really well and even adds the comedy exactly at the right time.
Yes, there are times when the jokes go too overboard but come on, when was the last time you saw a romance anime that involved a high schooler and a mermaid.
---
02. True Tears
Our hero leaves with his crush; even though the setup seems pretty interesting, the reality is entirely different due to her academic success and athlete record, she's very popular at her school, but at home, she's cold and distant. However, one day a strange girl takes an interest in our hero.
This is the beginning of a new relationship where he tries to figure out his feelings for the new girl while finding a way to unlock the doors of her cold heart. In my opinion, the anime incorporates a lot of realism and really brings out the drama of a love triangle.
I feel this anime is not to be missed, especially if you are a romance drama fan. Overall, the anime managed to portray many key elements in the show within a short time span, and I think it will leave a lasting impression on all who watch it.
---
01. Taishou Maiden Fairytale
In this story set in the early 1920s, our hero is the son of a wealthy family, but his life is changed forever when an accident cripples his right arm. No longer considered by his father as an heir, he is shuffled off into the country to live out of sight. One day he learns that his father has bought him a bride to take care of him.
She comes into his life like an innocent ray of sunshine, and his view of the world and his life starts changing bit by bit. I must say this show is pretty solid. I can assure you that you will definitely like it. It's a sweet love story of two teenagers in old Japan. Overall, if you're into pure romance shows and don't mind little comedy elements, I highly recommend you give it a try.
---
Also, Check Out
10 Best Happy/Feel Good Romance Anime
13 Best New And Upcoming Romance Anime of 2022
10 Best Romance Anime Where Older Girl Love Younger Boy
10 School Romance Anime Where Popular Girl love Unpopular Guy
---
If you want more romance anime like this then you can also visit here.
---
Explore our full Top10 categories
Do you agree with our list of the 21 best romance anime where the MC is forced to live with a girl? Tell us your favorite romance anime in the comment below.