Sword Art Online had a profound impact on the anime community, inspiring thousands of fan theories, memes, and even conventions. If you love the show, you'll likely find yourself wanting more anime like Sword Art Online. Well, good news—there are plenty of other anime series out there with similar levels of action, adventure, romance, and gripping story arcs. We bring you the 10 best anime like Sword Art Online.
Here are the 10 best anime like Sword Art Online
Sword Art Online is one of the most popular anime series of all time. The story of a young man who gets trapped in a video game-like world. Series is packed with action, adventure, and romance. If you enjoyed Sword Art Online, then you're sure to love these animes like Sword Art Online.
All of these animes share similar themes and elements and are sure to keep you entertained. Here are the 10 best anime like Sword Art Online
10. And You Thought There Is Never A Girl Online?
After bracing himself and finally confessing to the girl he likes in an online game, Hideki Nishimura falls into despair when the girl rejects him and tells him that she is a man in real life.
Devastated Hideki decides never to trust a girl in an online game ever again and now that years have passed since that tragic moment, he is in guilt together with three other players. One of them uses a female avatar and also happens to have fallen in love with Hideki.
He considers the possibility that she might also turn out to be a guy but ultimately ends up accepting her proposal and then when an upcoming offline meeting with his guild members takes place, how will things turn out?
---
---
09. In Another World With My Smartphone?
The main character named Touya, unfortunately, ends up dead because of an unexpected lightning strike, but later as it turns out, his death was an accident and so he is given another chance to his life in a fantasy world. Not only that but he is also offered a wish.
Touya ends up deciding that all he wishes for is to be able to keep his smartphone in this new fantasy world and just like that, his new life begins and before he knew it, girls were already struggling for his attention. Now, how will Touya adjust to all these new norms?
---
08. Death March To The Parallel World Rhapsody
Here we have a 30-year-old programmer who is constantly struggling to get his work done. He always has more work than he can handle and never gets enough sleep, but when he finally gets a chance to get some proper sleep, he wakes up in a different world.
As it turns out, this world is a collective mashup of all the games he had ever debugged over the years. His physique has changed, he now looks a lot younger, and his nickname has also changed to the one he used to use while debugging those games.
However, before he can fully grasp what happened, he is attacked by rather speaking-looking lizardmen and that is the moment he realizes just how overpowered he is in this new world.
---
07. Grimgar: Ashes and Illusions
This one follows a more realistic kind of approach and the story takes place in a world where survival is just as difficult as existing. Suddenly, a distinct number of individuals end up in this fantasy world and can't seem to recall much about their past or backgrounds.
However, one thing is clear to survive you have to become a member of the army and get rid of anyone who poses a threat to the order of this world.
The strong ones heard together while the weak are left behind and it is this strange ragtag group who happens to be the group of main characters.
---
06. The Rising of The Shield Hero
Getting isekai to a fantasy world may not always be all fun and games, such as the story of a 20-year-old college student named Naofumi who was summoned to another world and was supposed to be their hero together with three other notable individuals. When unfortunately, he learned of the dark discrimination against a certain type of hero.
He was humiliated and then he was forced into a deep hatred, but what else can he do? He was humiliated in a very depressing manner.
However, he soon finds companions who love and respect him for who he is. I'd say if you haven't watched this anime yet, you definitely should. The second and third seasons are already in production, so you'll have a lot to look forward to.
---
05. No Game No Life
I know it's been like eight years and we still have no news about a sequel. Well, I recommend reading the light novels for those who have already watched the anime and want more.
As for those who haven't watched it yet, No Game No Life is a series that embodies the love of games the technicalities that come with them. The spirit of competition and the ambition to embrace it all.
Two prodigies named Sora and Shiro are brother and sister who end up in a world where games decide the survival of the fittest. Definitely a must-watch for any adventure fantasy fan out there.
---
04. Is It Wrong To Try To Pick Up Girls In A Dungeon?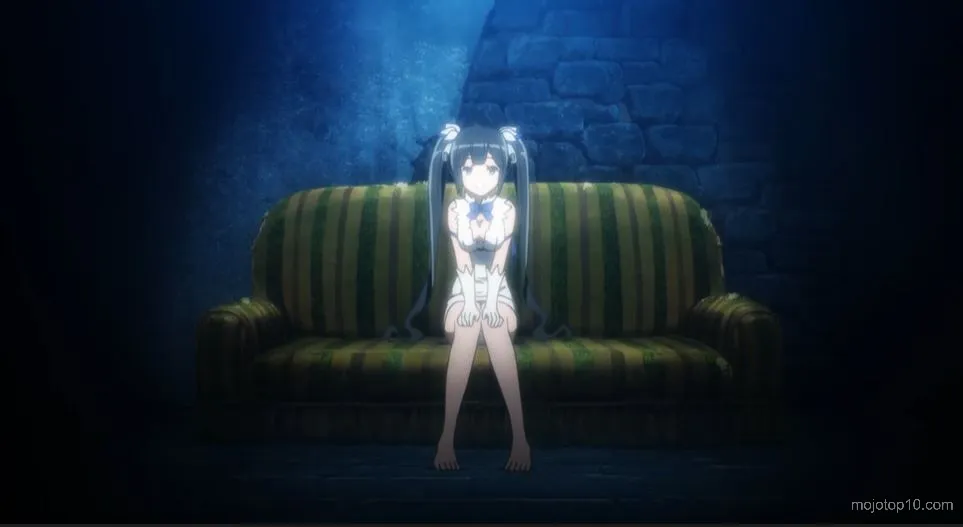 This story takes place in a world where the energetic streets of such a city as Orario are always full of life. Especially a young boy named Bell Cranel. He is a man who hopes to become the greatest adventurer in the land and after he meets a goddess named Hestia, he comes a little closer to achieving his dream.
He explores deep dungeons with her and comes across several notorious monsters. One wrong move can mean instant death. So, how will things unfold for the main character as optimistic as Bell Cranel?
---
03. Btooom!
Btooom follows the story of two protagonists about how they came together, and how they are going to survive. There is Ryota Sakamoto. He is unemployed and lives with his mother. His only bragging point is that he is Japan's top player in an extremely popular game called Btooom.
However, one day he suddenly finds himself on a stranded island with no recollection of how he got there whatsoever. He soon realizes that someone has recreated the game in real-time and now what's at stake is his own life. Then we have a girl named Himiko who goes through a devastating experience and also ends up on the same island.
Now, how will the two survive, and how will their story continue?
---
02. Accel World
The protagonist named Haruyuki is living a social nightmare. He is overweight and gets severely bullied by his fellow classmates and because he doesn't really have a place at school.
He finds solace in playing the online games that he loves so dearly. Until one day, he comes to the realization that all of his top scorers have just been toppled by a username called Kuroyu.
As it turns out, she is the student council vice president and oddly enough, he gets an invitation to pay her a visit by coming to the student council room. Just like that, there is a friendly alliance between Haruyuki and Kuroyukihime and their objective is something you'll have to find out for yourself.
---
01. Log Horizon
Log Horizon is perhaps the intellectual answer to Sword art online. It is similar in its premise but vastly different in both its execution and narrative decisions. It is a concept-oriented series, after all. The story begins with around 30,000 Japanese gamers just suddenly ending up within the world of a popular RPG called Elder Tale.
This happens after the game's last update, and now they have no way of logging out. Unfortunately, among them is a guy named Shiroe, who instantly analyzes the situation and starts acting accordingly. He is the main character, and he knows how important it is to improvise, adapt, and overcome.
Things are about to get very interesting. So, which of these animes have you already watched or going to watch?
---
Also, Check Out
10 Best Upcoming Spring Anime of 2022
10 Best Upcoming Isekai Anime of 2022
Find out Best Action Anime of Each Year 2011-2021
---
Follow us on Facebook and Twitter for all the latest updates & top 10s.
---
Explore our full Top10 categories
Do you agree with our list of the 10 best anime like Sword Art Online? Tell us your favorite anime in the comment below.