Action and romance, the two most popular genres in anime are a great combination for storytelling. The best action animes are full of fighting and the best romance anime are full of love. But what about the best anime that combines the two? We're talking about the best action romance anime of all time. From the intense and thrilling to the tender and emotional, these are the 10 action romance anime of all time that all anime lovers need to watch.
Here are the 10 best action romance anime of all time
Whether you're new to anime or you just want to expand your collection, there's no better way to get into the genre than by trying out some of the best action romance anime of all time. From the classic "Rurouni Kenshin" to the modern-day "High School DxD", these are the 10 best action romance anime that you need to watch.
10. Sword Art Online
For many anime fans, Sword Art Online has become a must-watch. In addition, there are fascinating battles with the best RPG gameplay and swordplay. Sword Art Online is one of the most popular action anime series in recent memory. However, this anime is about more than fierce fights.
One of the story's high points is the development of our protagonist Kirito's connection with the female Asuna. From the instant connection they had during their first combat to the closing scene in the first arc, which finished with the two holding hands as the world came crashing down around them, the two have been on a roller coaster ride.
The narrative of Asuna and Kirito is one that is difficult to forget. As a result, it earns a place in my action romance anime collection.
---
---
09. Btooom!
Yes, Btooom. It seems to be one of a creator's latest titles when considering romance and action. However, within the plot of this anime lies a well-crafted satisfying and engaging romantic story with the tale of Himiko and Ryota unfolding before the viewer's eyes.
However, the anime is exceptionally violent and has very disturbing adult themes. The love story between the female and male acts as the silver lining of the series, and it is also a testament to the fact that even in the saddest of times love is the one thing that can make someone's life worth living.
---
08. Angel Beats
Angel Beats takes place in an afterlife high school for people who have faced difficulties or tragedy in their lives and must conquer them before being reborn. It includes ground-breaking fighting sequences that have been meticulously crafted and developed, as well as an amazing love tale that will make people cry. Besides, anime has become key visual art for most outstanding works.
The story of Otonashi and the enigmatic Kanade evolves during the course of the anime short run, which is one of the reasons why spectators enjoy essential visual arts and animation. Yes, there are only 13 episodes. Angel Beat's ability to present such an intense love tale is what makes it such a must-watch action romance anime.
Overall, Angel Beats is the kind of anime that'll allure you in with its action, then sucker punches you with romantic twists and successfully make the anime unforgettable.
---
07. Guilty Crown
In Japan, decades after the occurrence of the apocalypse virus, which was an event solemnly considered as lost Christmas. The once peaceful and pronoun nation has fallen under the kingdom of the GHQ, an autonomous military force devoted to restoring order. Funeral Parlor, a revolutionary group led by the scandalous Gai Tsutsugami, acts as freedom fighters and confronts GHQ's cruel despotism.
Despite having a few important assignments, Inori, our main character and a major member of Funeral Parlor, encounters the unsociable and feeble Shu Ouma, which leads him to obtain the "Power of King".
Now that Shu is a member of the gang, he must learn to control his newfound abilities if he is to assist the Funeral Parlor in retaking Japan. Guilty Crown is fascinating to watch if you're into a post-apocalyptic romance series.
---
06. Is It Wrong To Pick Up Girls In A Dungeon?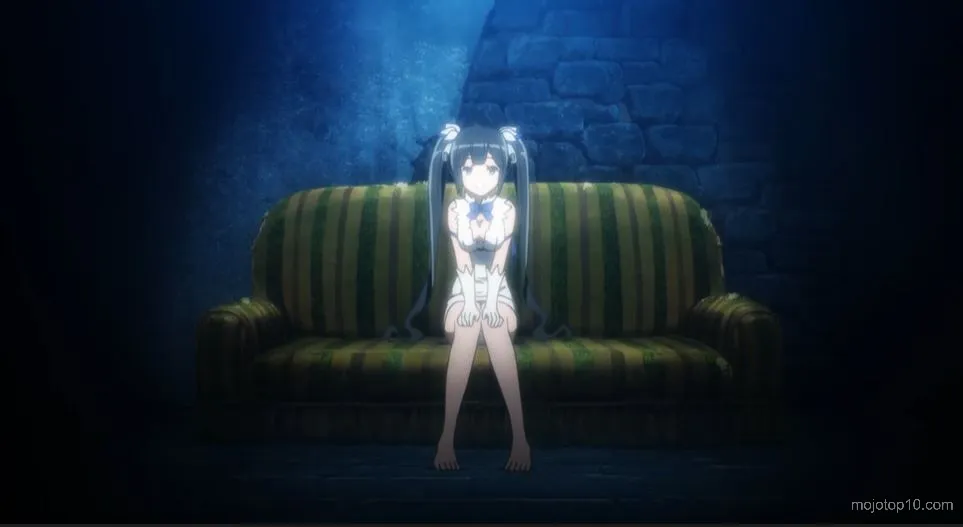 The story of this anime follows the feat of Bell Cranel, a 14-year-old solo traveler under the goddess Hestia. Since he is the only member of the Hestia Familia, he works his hands to make ends meet.
He also admires and falls in love with a famous and powerful swordswoman named Ais Wallenstein, who once saved his life. With its titles, this anime might give you the wrong idea and the anime has a little ecchy and the romance is virtually pretty thin in the first season.
The first season is based on establishing the core characters and the world while still giving you a taste of the relationship that is to come. With that, the scope of the action is also growing.
---
05. Steins;Gate
It is also a story about time travel and the consequences of its misuse. The anime's main characters are named Rintarou Okabe, a mad scientist who goes by Hououin Kyouma. He's been piecing together a method of time travel.
After successfully completing it, he begins to misuse his power by helping out friends with past predicaments, not considering the consequences of his actions. After encountering an impact so great, he questions whether or not time travel was actually a good idea.
A particular romance interest develops within Rintarou, which adds further danger and emotional impact to the overall plot. Now you all need to know that this anime is relatively slow in the setup, but once you hit around episode 12, you will be on the edge of your seat for the rest of the series.
---
04. Full Metal Panic
It is a classic action romance genre. You've got your hot, slightly sluggish protagonist and the tsundere girl you just know would fall madly in love with him later on in the anime. Well, there are several fights to face while you wait for that nut to crack.
One of the interesting bits of this anime is that our protagonist started as a soldier. So, he transforms into a school kid just to guard Chidori, making the series even more epic and exciting to watch.
---
03. Eureka Seven
Despite outward appearances, fans know that romance runs rampant in mecha animes. Between the apocalyptic themes and star blazing bullets, there is always room for some drama combined with romance tensions and while many mecha animes only use romance as a substory, Eureka Seven uses love that develops between Eureka and Renton as a central propulsive force in the overall story.
The entire theme of this anime revolves around Renton and the outlaw group Gekkostate, the mystery of the Coralians, and his relationship with the unfathomable mecha pilot Eureka as the story reaches its ending, the plot seems inextricably tied to Eureka and Renton's budding romance.
---
02. The Future Diary
You know what they say, love is an act of insanity in itself and no other anime can stay true to this other than the Future Diary. Sure, the anime is pretty violent when it comes to action but within the anime's plot is a pretty sweet story, which sounds strange. I will explain.
On the surface, Yuno and Yuki's love story seems to be a cliche tale of an insane girl going after a weak guy. However, as the plot evolves, their love for each other and other experiences takes to a new depth.
Yes, they do things far beyond ridiculous but at the core of it all lies their genuine liking for each other. For this very reason, the future diary is number two on my list.
---
01. Yona Of The Dawn
Those who prefer their romance improved with delectable historical costumes. Those who prefer to watch romance action animes with a historical twist will find much to admire in Yona of The Dawn. Yes, you guessed it, Yona is a princess but she is no damsel in distress. Upon walking in on her love murdering her father, she intended to publicize her engagement on the night.
Yona, along with her attractive bodyguard Son Hak must disappear during the coup d'etat. Later on, she discovers that the world is full of inequality and corruption and decides that it is her job to restore safety and peace to the people of her kingdom as a princess.
As Yona continuously tries to restore peace, she develops a relationship with Son Hak, parallel to the political trickery and battle arrangements that carry the show. It's safe to say that Yona of The Dawn is a coming-of-age story with various action elements and, of course, comedy and romance but that is not why this anime stands number one on my list. The balance of these elements makes it worth watching and more significantly than every other anime on this list.
---
Also, Check Out
10 Best Visually Stunning Action Anime
10 Best Rich-Poor Romance Anime
10 Best Romance Anime With Overprotective MC
---
Follow us on Facebook and Twitter for all the latest updates & top 10s.
---
Explore our full Top10 categories
Do you agree with our list of the 10 best action romance anime of all time? Tell us your favorite action romance anime in the comment below.