There's nothing more romantic than a good love story. Romance anime is a great way to let your emotions run wild and experience all the feels. I know you guys have already watched popular romance shows like Horimiya, Rent a Girlfriend, or Kaguya-Sama, but there are many great romance anime you haven't heard of.
With so many romance options, some best romance anime get overlooked because of popular titles. Luckily, we've done the legwork for you by picking out some of the 10 best underrated romance anime that you may have overlooked.
Here are the 10 best underrated romance anime you should watch
There's a lot of romance anime out there, but the best ones tend to get overlooked in favor of the more popular titles. That's a shame because the best romance anime are often some of the best shows to watch. If you're looking for some great underrated romance anime, then we bring you the 10 best underrated romance anime you should watch right now.
10. Holmes Of Kyoto
Wait, are we bringing Sherlock Holmes to a romance anime? Didn't we already get a Moriarty? That's the case but Holmes of Kyoto is completely different from your average Sherlock Holmes. Yes, this guy still solves odd cases, but he's got a waifu and there's a slowly building romance in the show.
The story starts when Aoi Mashiro unexpectedly runs into Kiyotaka Yagashira and the latter is really good at solving mystery cases. People come to them with various odd jobs and the two decide to solve them together. Yeah, that's right, this is your regular fun detective show with some good slice-of-life elements and a nicely built romance.
If you're a lover of Japanese art history, you'll definitely fall in love with this show because it shows these beautiful Japanese art pieces and their mysteries. The mystery might not be everyone's favorite, but you'll definitely love the romance.
---
---
09. Akikan
Here comes Japan and its weird premises. What if I tell you there is a show where juice cans turn into anime girls. Yeah, he'll laugh at me and say it's not biologically possible, but this is anime, so everything is biologically possible. Akikan is a show where a guy finds that juice cans turn into anime girls based on the flavor of the juice.
Yes, this is one of those shows where the creator was probably smoking something and then decided to write a story off the first crazy idea that came to his mind. Judging by the premise, you should know that this isn't going to be one of those serious shows, but if you want a fun, light-hearted comedic romance with a bunch of girls with colorful personalities, then this is the show for you.
---
08. Iroduku: The World In Colors
Let's speak about colors. No, not the opening of Code Geass. We're going to talk about real colors. How can colors add emotion to Hitomi Tsukishiro's monochrome world? You have to watch Iroduku to find out.
Before starting out, I need to tell you this is one of those symbolic anime you need to watch twice or thrice to enjoy it and grasp the hidden meaning even though the concept is something very simple. It involves your good old dull girl getting sent back in time by her grandma without telling why she's being sent back in time. Yeah, nice work grandma.
But soon, Hitomi meets a stoic artist named Yuito Aoi and her life begins to change. Iroduku has one of those slowly blossoming romances, so if you want a nice slice-of-life anime involving a ton of color, then this is the show for you.
---
07. Rokujouma No Shinryakusha!?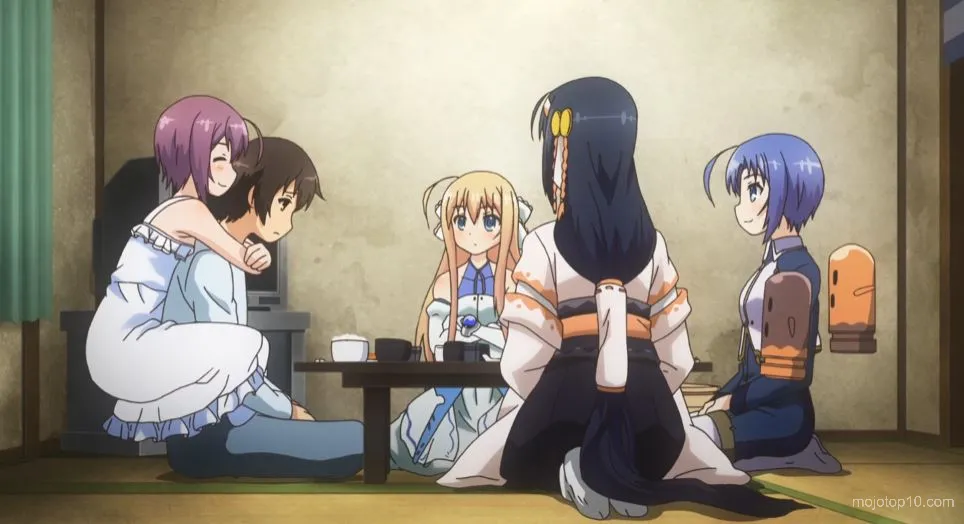 This is why you should double-check before renting an apartment. The next thing you know, a bunch of girls surrounds you. Not just a normal bunch of girls but one ghost, one alien, one magical girl, and one human. This happens to Koutarou Satomi, who goes into an apartment known as the Corona house.
Don't worry, this anime was made way back in 2014, so the inhabitants here don't have the pandemic, but this mysterious apartment seems to have something hidden inside it because all sorts of ghosts and supernatural entities arrive to fight for Satomi's room.
All of these girls are created based on some stereotype and all of them parody a certain element popular in anime. But the overall comedy tone of the show and the characters' personalities are what makes this show a masterpiece.
---
06. Kids On The Slope
If you are tired of regular romances, then let's move on to some drama mixed romance. Yup, the good old high school story about one guy trying to fit into the perfect high school group. Here we have a good nerdy boy Kaoru Nishimi meeting the school delinquent Sentarou Kawabuchi. Sentarou likes jazz music and seeing his passion, Kaoru also becomes invested in music.
This helps him break out of his social boundaries and enjoy life like a normal person. Kids on the slope has a mixture of drama and romance rather than a story-focused romance. This is a more character-focused romance show.
You'll sympathize with the characters, you'll enjoy their happy moments, cry at their sad moments, and you'll definitely be a fan of jazz music by the end of this series.
---
05. Hello World
Hello world is every programmer's favorite line, but this Hello World involves time travel. Yup, it's time travel again, but this time our main character doesn't travel through time but his future version comes to meet with him. Now, why does this guy travel from the future? Well, our main character has this girl he likes called Ruri Ichigyou.
As soon as they start dating, something tragic will happen to Ruri. So, our main character sends his future self back to warn his past self to prevent Ruri's death and not make the same mistakes as his future self. So, his future self is basically advising his past self not to be his future self.
If you don't understand a thing I said, then just think that this is a story about a guy wanting to save a girl from danger. That makes the whole concept a lot easier to understand.
---
04. Josee Tiger And Fish
Instead of a high school romance, we have a university romance. How refreshing is that? Here we have one hard-working guy called Tsuneo Suzukawa and his goal is to collect enough money to fulfill his dreams. On the other side, we have a girl called Josee, a girl in a wheelchair who is annoying and likes to insult everyone.
After a chance encounter, Tsuneo is appointed as Josee's caretaker and as we all know, jumping out of mount Everest is a better choice than looking after a tsundere. But when Tsuneo learns about the girl's dreams, he decides to help her and while helping each other, love blossoms.
This is one of those romance shows that breaks the tropes by showing how one thing goes wrong after the other and the tragedies our two main characters have to face.
---
03. After The Rain
You should watch After The Rain on a rainy day. It's one of those cozy series you can watch while sitting on your couch with a box of chocolates. If you can't do that, then at least watch it if you want good mental therapy after a day full of depression.
After The Rain shows the struggles of Akira Tachibana as she needs to come to terms with her feelings towards Masami Kondou, the manager of the Garden Café. Now, I know what you're thinking. Oh, it's one of those slow romances with a really naive girl and a guy who acts funny and kind.
Yeah, that's how most of these episodes are written, but the writers have put a lot of effort into developing a romance and showing why the couple falls for each other. As I said, it's a heartwarming anime so go with a box of chocolates.
---
02. Taishou Otome No Otogibanasti
Have you gotten tired of anime boys chasing after anime girls? Then watch an anime where the girl lands straight on the doorstep of the boy and says she's his fiancée. No, this is not happening in real life.
No need to say this is one of those sad boy cheerful girl love stories everyone likes to watch once in a while. My attention first went to this from the manga, which does a great job of showing the characters' inner struggles.
Yeah, I know this is labeled as a comedy anime and while there are plenty of comedy skits, there's also some genuine emotional tension going around the story. It was released recently and will probably get a second season soon, so keep an eye out for it.
---
01. Hitsugi No Chaika
Unlike other shows, Hitsugi No Chaika doesn't completely focus on romance because it has some good adventure and fantasy elements as well. Still, the execution of the romance subplot is really good.
Hitsugi No Chaika may look like every power fantasy fan's generic power fantasy premise but you need actually to watch the show to find how awesome it is. For example, the story's twists and turns hit right in the correct moment and make sure not to make the narrative more complex.
Trust me, this is a surprise for me as well because it is rare to find an underrated action romance anime that actually has a plot without all those cliches and overpowered moments and the romance is really great. We all need a white-haired witch in our life. Oh wait, never mind, our life is good as it is.
---
Also, Check Out
10 Best Romance Anime With Force Relationship
Best 10 Romance Anime Where MC Is Forced To Live Together
Top 10 Ecchi Anime With Romance
10 Best Upcoming Spring Anime of 2022
---
Follow us on Facebook and Twitter for all the latest updates & top 10s.
---
Explore our full Top10 categories
Do you agree with our list of the 10 best underrated romance anime you should watch? Tell us your favorite romance anime in the comment below.