The harem anime is one of the most well-known types of anime around, and with as many anime series as there are in the world, it can be hard to keep up with the latest and greatest. That's where we come in. We bring you the 12 best new harem anime that you need to watch right now.
Here are the 12 best new released harem anime you must watch
It's the moment you've been waiting for, the moment when you can finally join the harem genre. But wait, what is a harem anime, and why does it sound so appealing? For those who aren't aware, a harem anime is an anime series where the main character is surrounded by female characters who are constantly trying to seduce him.
In some cases, harem anime can be a parody of the genre, where the series is more of a romantic comedy than a straight genre piece. Here are the 12 best new harem anime that you can watch right now.
12. Hensuki
A fantastic romantic comedy series with strong harem elements. It's a brilliant anime series that we definitely want more. But with a long-running manga behind it, there's a lot behind Hensuki for diehard fans to get into. The series itself follows Keiki Kiryu.
Keiki is a second-year high school student, library helper, and a member of the calligraphy club. The story kicks off when our hero finds an anonymous love letter addressed to him with a pair of panties. Now, Keiki is determined to identify the identity of his secret admirer whom he refers to as Cinderella.
He then proceeds to investigate several possible candidates, everyone from the president of the calligraphy club, assistant librarian, and even his sister. However, as Keiki discovers the key to figuring out who this mystery girl is, he realizes that each girl he suspects is a pervert in her own way.
---
---
11. Peter Grill And The Philosopher's Time
One of the most enjoyable and interesting new harem fantasy comedy series to come out in a very long time. Peter Grill is a warrior who has been named "The World's Strongest Man." He intends to marry Luvellia Sanctus after his win. This, however, attracts the interest of women of various races who want to be with him as well.
Although he loves the innocent Luvellia and has dated her for two years and now peter wants to take their relationship to the next level. But because of her overprotective father, they have never gone beyond just holding hands.
Peter is now officially known as the strongest and most powerful fighter in the world and this attracts countless women from all around the land. From different races and countries, these women all come with the sole purpose of being with peter and try to satisfy him in ways that his darling Luvellia just does not.
---
10. Girlfriend Girlfriend
It is a well-made romantic comedy series that has sent huge waves across the anime community since its release in 2021. Girlfriend Girlfriend will have you coming back for more, and we absolutely cannot wait for the next season that's rumored to come out in 2022. The series follows Naoya Mukai, who recently started a relationship with his childhood friend Saki.
The story really begins to thicken when another classmate Nagisa reveals that she also has feelings for him as well. Mukai's got no choice but to accept her request and start dating her as well. Attempting to have two girlfriends and dating both Saki and Nagisa at the same time is no easy feat.
Mukai lives at home alone and both his girlfriends decide to live with him. The series follows their daily school life and day-to-day routines as they encounter many difficulties and challenges in trying to maintain and develop their strange love triangle relationship.
---
09. The Hidden Dungeon Only I Can Enter
A brilliant fantasy haram series that started as a novel but has since been adapted into both light novel and manga form. The hidden dungeon is an exceptional harem series that really sets itself apart from the rest in some interesting ways. These hidden dungeons are legendary and well-hidden places.
They're extremely hard to find and filled with rare treasures and other magical items. We follow Noir Stardia, the third son of nobility that has the powerful ability of great knowledge. Noir teams up with his childhood friend Emma as the two of them set off and aim to become adventurers then we start to learn more about our heroes.
Noir is an anime MC unlike anyone else. A self-proclaimed coward who would like to take it easy. With a collection of interesting powers and additional characters that all add naturally to the strong core storyline of this anime. Well, we just can't help but tune in and follow the journey of Noir and the many beautiful women that begin to surround him.
---
08. Osamake: Romcom Where The Childhood Friend Won't Lose
Osamake is a fantastic series that's still running to this day as a light novel and manga. The recent anime was hailed as one of the biggest in 2021, and we can't wait to see what's next in the second season. The story itself surrounds Sueharu Maru, a 17-year-old high school boy who has never had a girlfriend.
Our MC is a former childhood actor traumatized by his mother's death and is now an average high schooler. He is extremely easy to read and very naive in romance, and many girls make fun of him. The chord plot really starts to take off when Sueharu's childhood friend reveals her love for him, but he rejects her.
He then confesses his feelings to one of the most popular girls in school, but she reveals that she's already got a boyfriend and embarrasses him. Sueharu and his childhood friend team up to get revenge on this popular girl and can't help but fall in love with each other on the way there.
---
07. Val X Love
A brilliant action series with some strong fantasy features. The addition of many beautiful women in this interesting harem-type series really sets Val Love apart from the rest. Starting as an ongoing and highly successful manga, the anime series impressed us with the story of Takuma Akutsu.
A strong and scary MC with a timid personality. Takuma was bullied as a child due to his scary face and was actually shunned by his classmates. In fact, he developed social anxiety due to this and was unable to converse with people properly. The story kicks off one day when Takuma saves a girl by the name of Natsuki and hears the voice of Odin.
The Lord of Asgard informs him that the world is about to perish and that it is up to Takuma to stop it. Odin sends his nine daughters to assist him in his quest. The nine Valkyries have arrived on Earth. Takuma must demonstrate that love can save the world, as love is supposed to be the source of a maiden's strength. As you may expect, this is the ideal setting for any haram anime.
---
06. Immoral guild
Our MC Kikuru Madan finds he has missed out on a lot in his life after attending a friend's wedding. During his teen years and the same will continue in his youth. To maintain his prime time, he planned to retire and handed all of his responsibilities to his successor, but first he wanted to fulfil one more request that would make his life more hectic.
Our main character must go on one more hunt with the hunting females. It turns out that our girls have no knowledge of monsters and are constantly trapped in their traps, and everyone else has the same experience. He quickly learns that none of the girls are worthy of being its successor, and our MC's dream of retiring happily is now completely destroyed.
The series' primary objective is to deliver a core harem comedy, and based on the teaser, we can't expect much from it.
---
05. Harem in the labyrinth of another world
This is one of the best ecchi harem anime that you should not overlook. The truth is, harem and isekai have a link like no other, and after watching a few episodes, I can tell it has more of it. Our MC, Michio Kaga, experiences the same challenges with life and society as any other irresponsible weed. He started playing an internet game one day that he had discovered while looking through a sexy website.
Just as he was getting into the game and having fun, he quickly realized that he was now trapped in it. Fortunately, our MC isn't a brain-dead isekai protagonist who, instead of wasting time, equips himself with strong cheats and goes on a quest to build his own harem to take care to all of his own needs.
One thing I like to mention is the series does get violent, by that means in Redo of Healer kind of way. Still, it has solid action fight scenes, similar to Sword Art Online, so consider it a mixture, and why not enjoy the drill? I mean thrill.
04. Oresuki: Are You The Only One Who Loves Me?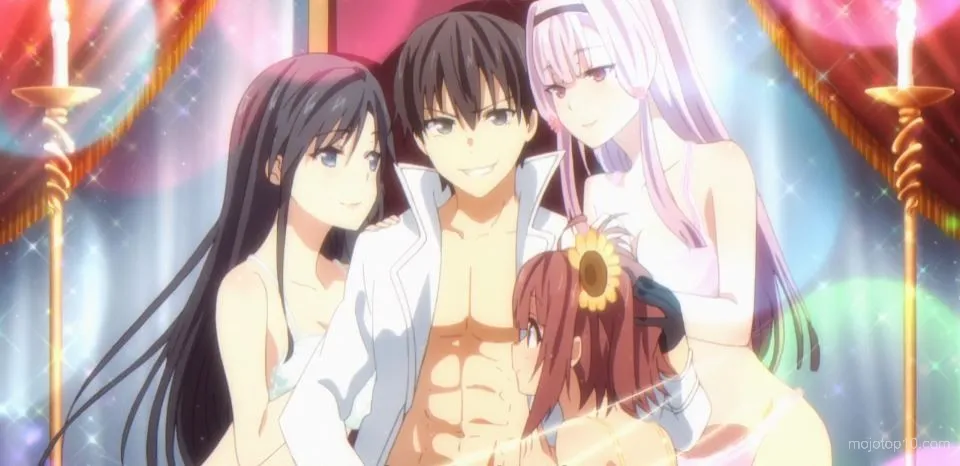 Oresuki is an interesting series that focuses on human connection more than anything. This is due to the fact that the series originated as a light novel that only recently ended. It is a well-made romantic comedy series that had us laughing and crying both at the same time.
Oresuki follows an ordinary high schooler by the name of Joro. Joro was invited out by two insanely beautiful girls, a hero can't wait to hear their confessions, but things take a turn for the worst when both of these beautiful women reveal that they are actually madly in love with their best friend and not him.
Joro has no choice and is awkwardly roped into helping both of these girls pursue his friend romantically in the hopes that he could end up dating the loser. An interesting comedy of errors, twists, and turns at every corner.
There are many great haram elements but some absolutely hilarious scenes scattered throughout. It's an anime series that you should definitely be checking out.
---
03. We Never Learn
The slice-of-life format is perfect for the romantic comedy and harem anime genres. It is quite strange that only a few anime realized the value of this short form and episodic format. We Never Learn, also known as We Never Study, is one of the best examples of a high-quality harem anime that you need to look out for.
The story itself follows Nariyuki Yuiga, a senior high school student looking to secure a university scholarship. Nariyuki Yuiga needs to tutor three female geniuses on different subjects. These three beautiful girls all work together with Nariyuki to achieve their academic goals and can't help but develop feelings for him too.
With around five girls actively looking to see Nariyuki romantically, it's a brilliant series that is more of a juggling act than anything else. With some intense scenes, heavy emotions, and pleasant romance We Never Learn is an anime series we recommend you watch.
---
02. Spirit Chronicles
The first season of this excellent Isekai action series demonstrated how powerful and innovative the source material is. In an intriguing blend of genres, we are soon lured into a world of death, the afterlife, and the supernatural.
The spirit chronicles were continuously second-guessing ourselves in anticipation of what was next to come, thanks to a powerful inner mystery at his heart. We read about Haruto Amakawa, a young guy who died while attempting to meet with an old buddy.
Then reborn into the body of a youngster named Rio who lived in the slums. Rio has his own mission: after seeing his mother's death, he wants to avenge her. However, Haruto has taken over his body, and the two opposing souls are compelled to work together.
Rio and Haruto become entangled in an epic tale of kings, queens and kidnapped princesses. Traveling around the Isekai realm and meeting plenty of interesting personalities along the way.
---
01. Rent A Girlfriend
The story kicks off with our hero Kazuya Kinoshita, a college student from Tokyo, breaking up with his girlfriend. Using an online dating app, our hero has a moment of weakness or strength, I'm not sure which, and decides to rent himself Chizuru Mizuhara.
Easily one of the most beautiful anime girls I've ever come across. She's actually so cute it hurts. Another college student that works part-time as a rental girlfriend is really proud of her five-star rating, and she hides in plain sight with a nerdy disguise. We can't help but laugh when we realize that Kazuya slowly has no choice but to keep on renting her.
Taking her to family events and meeting his grandma. After a while, Kazuya realized that he actually had to keep on lying to them and even picked up work at a karaoke bar just to pay and keep renting her. After a while, he starts to develop feelings for her, and that's when this series really takes things to another level.
---
Also, Check Out
10 Best Upcoming Isekai Anime of 2022
10 Best Upcoming Spring Anime of 2022
10 Best Watch Alone Uncensored Anime
---
Follow us on Facebook and Twitter for all the latest updates & top 10s.
---
Explore our full Top10 categories
Do you agree with our list of the 12 best new harem anime? Tell us your favorite harem anime in the comment below.